Namibia Africa Dream Trip
One of the most exciting things on our Namibia Africa trip was that we spent a long time watching two giraffes pushing each other and hitting each other with their heads and their backs [necking]. I found that to be one of the more interesting wildlife kind of thing that I've ever seen.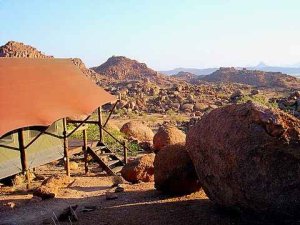 Describe the accommodation that you stayed at in Namibia Africa?
At Etosha we stayed just outside the park for a couple of days at Makuti Lodge, and then we actually stayed in the park which I would recommend to anyone.
The one particular camp we stayed at is semi-fenced off from the environment but at the same time it allows you to sit there as long as you like, which we kind of did, at the waterhole and watch the animals come in. We saw a lot of giraffes and black rhino, white rhino, lion and so forth.
Is that the one with the spot lights?
Yes, exactly. That was a wonderful experience. The highlight of the lodging was in Damaraland at Mowani Mountain Lodge.
| | |
| --- | --- |
| Which safari company did you use? | |
They were wonderful. It was called Wild Way Safaris. The guide was extremely knowledgeable. He's been around Namibia Africa for a very long time, he was with the military. He knew the animals but I found it interesting that he also knew the birds, he knew the plants and enough to keep it interesting during times when we didn't see as many animals, he could talk about some other things as well so you could learn even more.
And the vehicle you were using?
It was a Toyota Land Cruiser I think. I should point out that Wild Way does have bigger vehicles as well, I think they can accommodate groups of up to 8 people. When they found out that it was just going to be the three of us, they selected the smaller vehicle.
Did you book the safari over the internet, or was the company recommended to you?
I mentioned my stepfather is a hunter and goes over to Namibia Africa a couple of times a year. His professional hunter (PH) was in the military with the guy who owns Wild Way Safaris. So he recommended him to us.
It was done over the Net, meaning we used e-mail primarily. I must admit for us that was easy because we had the implied endorsement of this PH that my stepfather knows quite well. It would be more difficult for someone who had no context to make that decision, just send an e-mail off to some far off land and assume it will go well.
| | |
| --- | --- |
| What would a typical breakfast and dinner consist of? | |
We stayed at a lot of places that were more westernised, so it was the typical croissants and muffins, that sort of thing, whereas the dinners were primarily game. My wife likes to tell the story that she had 8 new meats on our trip. Which is hard to do, you can't just do that anywhere as you can imagine!
It was delivered in a variety of different forms, we had sausage, biltong (that of course wasn't a meal, just snacks) there was springbok stew with curry which was wonderful, I didn't have a bad meal at any of the places that we stayed at, or went to.
What did you think of the biltong?
I liked it, actually. We had three different types. Again, our guide was so thoughtful. He spent half of the day, while we were doing something else, looking for (a) a birthday cake for my wife and (b) biltong, you know different flavours. So we had gemsbok, eland and kudu. I liked all three, but the eland was certainly the most like the beef of the US: more mild, but they were all very good.
Did you have good weather there?
We did. It didn't rain one day, nor was it too hot. That was of course partly due to the timing of when we went - late May early June - it was about 80 degrees Fahrenheit in the day. It was a little cool at night, but we planned for that so it was actually wonderful weather.
| | |
| --- | --- |
| In terms of wildlife, did you see a lot? | |
We did. A couple of years before I had been to Botswana, Zimbabwe and South Africa before and I didn't see very much. I had a couple of interesting experiences but we saw a handful of elephants, no cats, tsessebe and wildebeest, that was about it.
Whereas this time we saw groups of elephant beyond 25; we saw lion, we saw leopard which I haven't seen before, enormous amount of kudu, gemsbok, springbok. I tell you Etosha was just a wonderful place.
We didn't see rhino at Etosha - no, I'm sorry, we did at the waterhole, at night. We did at Mount Etjo which is a little bit more of a stage thing if you will and it's more of a park, but we still spent an hour and a half tracking the rhino when we were there, and we saw about 12 rhino there.
What would you say your wildlife spotting highlight was of the whole Namibia Africa trip?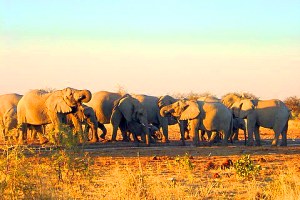 Probably the most memorable was our last night in Etosha. It was getting dark and we had to leave. We had seen some elephant but we hadn't seen enormous amount of elephant and that was one of the things that my wife was particularly excited about. And we were watching something else, some giraffe walking and a couple of kudu and then a line of elephants came in. I think it was about 24, with babies and everything. It was just an exciting experience.
Did you see some of the cats?
What was interesting with the leopard - it was on the road. Our guide said he'd never seen anything like that - we saw it on the main road outside Etosha, not in the reserve itself. The guide couldn't believe that was the case.
We saw lion at Etosha. Not during the day, we saw during that night at the waterhole. You could see their eyes and you could see them walking in the slight darkness. They were kind of positioning themselves for a hunt, so that was quite exciting.
And actually, this falls in the category of a lot more stage, at Mount Etjo - the hotel that we stayed at, there was a lion feeding every other night. You sit in this cement bunker, you didn't feel like you were watching wildlife so much, obviously you were but as much as just the impact of sitting about 3 feet away as they're growling and crunching bones, I can still hear that today, so that was an interesting experience.
| | |
| --- | --- |
| To give people an idea what it's like, can you describe a typical day? | |
I wouldn't say there was an absolute typical day in Namibia Africa. What often happened was you'd get up at some early time, before the sun was up, have breakfast and go on a game drive during the morning (I'm focussing now on Etosha and the wildlife bit), we'd drive quite far into the park. Of course, they say Etosha's twice the size of Belgium so you can go pretty far in, even though half of it is actually blocked off to the public you can still go pretty far in.
Then we'd generally eat inside the park at one of the three places you can stay at, not at the one we stayed at but at Halali Resort, which was a nice experience and they had a waterhole there as well so once we'd finished lunch we'd walk up to the waterhole.
They had quite a few kudu round that area so we watched the kudu - one of my favourite animals - and then head back and we'd spend most of the afternoon relaxing because you know the game viewing isn't quite as good during the afternoon or at least during the hot time.
So we'd go back and relax and take a dip in the pool and then go out again in the evening for another game drive and those tended to be the ones that were more productive. Our guide was very conscious to check at the entrance to the park, the logs where people document what they'd seen during the day, and he would then try to track based on that.
Were you bothered by the insects, mosquitoes or anything like that?
That was the other point, one of the things my mother said when they recommended Namibia Africa, and which I found to be true, is that relative to the other countries it has the least amount of insects. It's probably because it's high desert and certainly because of the time of the year we were there. I was in Botswana about the same time of year, which obviously isn't very far away, and the amount of mosquitoes and tsetse flies was such an enormous amount different. I stopped taking my malaria medicine halfway through our trip because I hadn't seen a single mosquito anywhere on our trip.
| | |
| --- | --- |
| Was there anything that didn't meet your expectations about the trip, any disappointments or regrets that you had? | |
I don't think so, I think Namibia is a wonderful country. It was the perfect place to take my wife who'd never been before. My parents go often, in fact my stepfather is a big hunter so they go a couple of times a year, and they specifically said for your wife, for first time you go to Namibia Africa is just a wonderful place because it's clean, the food is great, you can drink the water, you feel safe, the infra-structure is good and if anything goes wrong, the health-care system is very good. And I found all of those to be true.
So it made my wife feel at ease the whole time even though there was some danger you know at any one time, which she would have been far more conscious in say Botswana, where I've been in the past. So no, I found it to be just a wonderful experience.
The biggest concern I have is I've been looking for Namibia since in different travel magazines (and I get quite a few of them because I love to travel), I find Namibia Africa showing up more and more in those magazines which tells me it's becoming a bit more of a trendy place to go and I would find that a shame because one of the things I especially liked about it, was - even in the Etosha National Park - so often you were the only ones there as opposed to say the Ngorongoro Crater (Tanzania) where you see 3 or 4 cars around some poor cheetah who's trying to have dinner.
The one thing I'd like to do in the future some time, is - my wife made the comment that it's not as lush, and she didn't get to see a hippo which she wanted to see - and that's certainly accessible in Namibia but more along the Caprivi strip. So I'd like to do that and take her up there. We've heard mixed reviews on whether or not it's safe up there but most are it's absolutely safe and it's, there was one incident about 4 years ago which still seems to colour some people's opinions as to whether or not it's safe up there.
I wouldn't say I'd replace anything because we had a wonderful time but I would just add onto it and go up to the north, so we could see a wider variety of animals, the more water-type creatures.
| | |
| --- | --- |
| Any advice for people who might be planning a Namibia Africa safari? | |
One is: make sure you hit Etosha. I can't say this yet, because I haven't been there yet, but the Caprivi strip would be interesting.
My primary advice would be is to know what you want, because there are different kinds of tours out there. Certainly in terms of where you go, but also in terms of the kind of operator you choose.
We chose someone we'd heard does a very nice job with small tours, that was a little bit more expensive, no question about it but we got wonderful service. Our guide went out of his way to make sure we were engaged the entire time, whereas if we'd been on a bus with a larger group of people we certainly wouldn't have felt that way. We wouldn't have had the opportunity to customise our trip and wouldn't have gone to Mowane Mountain Lodge in Damaraland which was just a fantastic experience.
So - the pre-planning and coming to terms with what you want, and what that cost will be, I think is the primary suggestion that I have.
What would you say was the most useful item in your luggage?
The headlamp. It's generally pretty dark when you're going back to your tent or your room and you want to be able to see around. You often have your hands full with different things. It feels ridiculous wearing, but it was a wonderful thing to have with us and as a result of having it we saw one night while walking back to our tent, a hyena following us from not very far away, whereas if I just had a normal flash light, I probably wouldn't have seen it. I just was kind of looking around and I saw this brown hyena with the skinny legs.
***Learn what to take to Namibia Africa from our Safari Packing List***
Lastly, how would you rate the safari overall?
10! I don't have to think about it. It was wonderful. I can't say enough about it. It was the kind of thing that my wife talks about on a regular basis and can't wait to go back and do it again. She's turned into the kind of evangelist for going to Africa that I became after I went the last time.
This one was even better as far as I'm concerned, because of those reasons. It was approachable, it felt safe, I felt comfortable taking my wife. I've been trying to talk my in-laws into going (one of them are definitely afraid of snakes) because it's fairly safe. We saw an enormous amount of wildlife, we met a lot of really interesting people - the Namibians were extremely gracious and nice.
Depending where you are in Namibia Africa, there are different cultures. You get the experience of people, the wonderful animals, of not having a lot of people around as I mentioned. It was wonderful, I'd go back in a heartbeat.
| | |
| --- | --- |
| Safari Location: | Etosha, Namibia |
| Safari Company Used: | Wild Way Safaris |
| Duration: | Two weeks, May to June |
| Traveller Details: | Joe Garber, USA. Three people in the group. |
| Rates & Availability: | Plan your own safari. Make a Namibia Africa enquiry |
More Namibia Safari Reviews