Tropical Birding Review
by Larry Kay
(USA)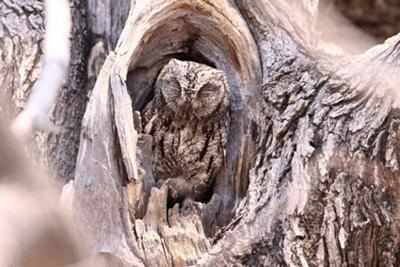 Our guide, Josh Engle, was outstanding!! His attention to our enjoyment and complete safari experience was above and beyond anything I expected.
Safari Operator Performance
I travelled with Tropical Birding. They were referred by friends and I also did research on the internet.
They were fantastic! They worked very hard to put together a private safari for my wife, daughter and myself. Everything we wanted to see and do they put it into our trip.
I originally wanted to go to East Africa but Christian Boix talked me into Namibia instead and he was spot on!
Accommodation
In Windhoek we stayed at Pension Onganga. Very nice, clean good food, very old German.
At Spreetshoogte, we stayed at Namibgren's Guest Farm. Older farm lodge, clean, excellent home cooking, interesting area around the farm. The farm has a pet Meerkat named Spookie.
While in Swakopmund, we stayed at the Eberwein Hotel. It is a very old style German Hotel. Very formal, clean, excellent food for breakfast only, dinner is at a local restaurant. Radiant heating in the floor was nice.
Next stop was Omaruru. We stayed at the Omaruru Guest House. It is a freshly remodelled lodge that has been open about 2 years under the current ownership. The hospitality was good, although the owner seemed to be somewhat uncomfortable in her role as a hostess. The food was only breakfast and snacks in the afternoon. Dinner was at the lodge next door.
Next up was Twyfelfontein. We stayed at the Twyfelfontein Country Lodge. What a spectacular lodge set in a beautiful setting. Comfortable rooms, excellent buffet food, night game viewing and nice people. We were there only one night, but my daughter got traveller's tummy.
Following the Country lodge, we went to the Grootberg Lodge at the Grootberg Pass. Wow! This lodge sits on the edge of a bluff where the earth just split in half. The lodge overlooks the Klip River Valley and is beautiful. The staff goes out of their way to make you comfortable. We left our traveller tummy daughter in good hands at the lodge and my wife and I went out to search for Damara Rhino. Well, after a broken Land Rover, lost trackers, radios that didn't work and the sun going down behind the mountains, we got the Land Rover moving again, found our trackers and, much to our delight, the Rhinos. When we arrived back at the lodge, everyone was on hand to greet us, including the man in charge. You see, this lodge is going to be turned over to the local people after they learn how to run it. The staff made us a beef dinner at 9:30pm, well after the dining room was closed and the owner had wine and cheese put in our room to make up for the Land Rover breaking. The rooms are traditional local style housing, built of natural materials. So beautiful. One thing you need to know...the road to the lodge from the main road is a 4 wheel drive only. There is a small guard house at the base of the drive. Park your car and get the man in the little house to call the lodge for a ride. Your car will not make it up the hill.
Following our rhino drive, we moved on to Etosha National Park.
Our first stop was Okaukuejo Camp. Wow!! Great rooms, very nice setting and a well lit waterhole right at camp. The food was ok at the buffet. Not the best of the trip, but it filled up our empty tummies. The camp location allowed us to see a vast amount of wildlife. Birds and mammals were everywhere. One bit of advice, the gates into the camp get locked at sunset. Be back on time or sleep in your car outside the gate.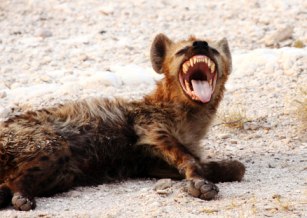 The next camp was Halali Camp in Etosha National Park. Freshly redone to reflect natural landscaping, the camp was nice. The waterhole was smaller than the one at Okaukuejo, but had more variety of animals and birds. We sat by the waterhole for a couple of hours and got some really nice pictures. The room was nice and the food was similar to the buffet in the last camp. We did a night drive here and it was really good. Some hyenas, night cats and owls made the drive worthwhile. We had our laundry done here and they folded the socks one at a time. Different but nice.
Leaving Etosha, we headed to a very interesting place: Roy's Camp - very hard to describe. It is a collection of interesting things hanging around everywhere you look. Bones, dolls, horns, old bathtub as part of the pool… Almost everything you could find in southern Africa will be hanging around here somewhere. The room was quaint and very interesting. A 2-storey, plaster, wood and rock structure that added to the flavor of the place. The food was home cooked, excellent and more than we could eat. We bought some gifts there to take back with us. You have to be there to truly understand what it is like.
After Roy's we went to Shamvura Camp. The first thing we saw was the pet goat, sitting in the living room, in a chair, watching soccer on the tv. We knew this was going to be a trip to stay here. The other "pet" was an otter that was friendly and liked to swim with us in the pool. Our room was a permanent tent without electricity. Lanterns, headlights along with complete peace and quiet were the norm. We did a boat ride on the Okavango River and touched Angola while we did our bird and mammal adventure. The food, again, was home cooked. Excellent and more than we could eat.
Leaving Shamvura, we headed to Botswana and Shakawe Lodge. Nice rooms in traditional African style with a river view. Quiet and clean, the lodge is on the shore of the Zambezi River. Great birding and surrounding area. We did a boat ride on the river and it was great. The walk down to the river has 208 stairs. The sign at the top states "It's not as bad as it looks." Well, going down is not too bad, going up…well.. you get the idea. The food was good but not as outstanding as some other places we stayed.
Next up is Kalizo Lodge back in Namibia. Kalizo Lodge, on the bank of the Zambezi River, is quiet and nice. Small, southern African style cabins are standard. The food is good, but not as good as some of the other lodges we stayed at. Great river views and good birds.
Our last stay was in Livingstone, Zambia at the Taita Falcon Lodge. Wow! What a way to end a fantastic safari. This lodge is about as true Southern African as it could be and still have all the comforts of a fine hotel. The lodge sits on the edge of the Zambezi River Gorge below Victoria Falls. The staff dress in traditional African clothing and are there for your every want and need. The food was very good with beef as the main course for dinner. An open air bar and dining area overlooking the gorge, make dining there a great and unique experience.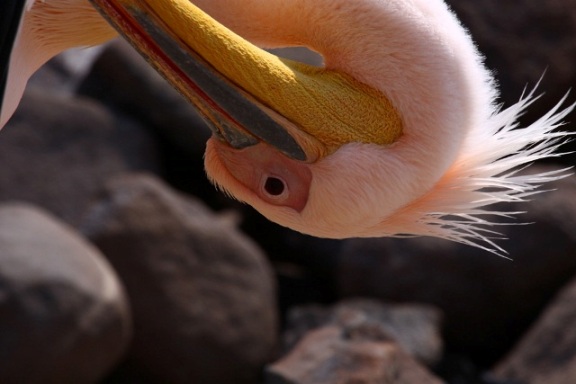 Food
Food was soooooo good. Breakfast was usually a continental style followed by eggs and bacon and great coffee.
Lunch, due to our constantly moving schedule, was usually a box lunch from the lodge the night before. A sandwich, boiled egg, fruit and water along with some juice.
Dinner, oh so good. Usually a salad to start followed by a game dish, Kudu, Oryx, Springbok or Ostrich, or beef with vegetables, bread, pasta and occasional fish. Desert went on for as long as you could eat.
I am not a beer drinker, but I discovered Namibian beer. Like the food, it was just really good. Too bad I can't buy Tafel Lager here in the good old USA.
Part 2 ...
Larry's Safari Details:

Rating: 10/10!

Safari company used: Tropical Birding (make an enquiry)

Parks visited: Namibia (Etosha National Park and Mahango Game Park), Botswana, Zambia and a touch of Angola

Date of safari: 2 September or 21 days incl 4 days of air travel

More Namibia Safari Reviews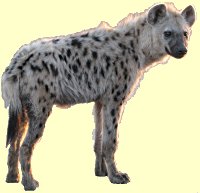 Join in and write your own page! It's easy to do. How? Simply click here to return to Africa Tour Operators Reviews.