Tropical Birding Review Part 2
by Larry Kay
(USA)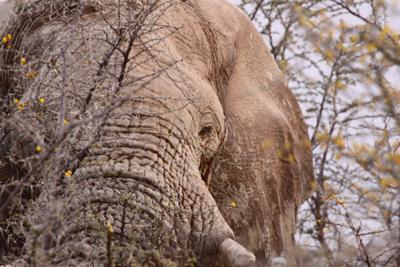 With the tips in the e-book, I was able to change my composure from the whole animal to a shot of only part of the animal i.e.: eye, tail, mane, ear, etc. This gave my shots much more interest.
Wildlife
Where do I start? We saw over 330 species of birds and over 40 species of mammals including 26 lion, over 100 elephants, Oryx and Kudu.
I suggest you read the trip report from our guide, Josh Engle, on the Tropical Birding website titled September 2009, Namibia, Botswana and Victoria Falls, for a complete list of birds and mammals we saw.
The highlights were fighting Giraffe, Damara Rhino, White-backed Night-heron, hippos and of course the elephants.
Typical Day
We rose before sunrise and were out of the room by 6 am or so every day.
We would usually bird for about an hour before breakfast and pack the car and head to our next stop, birding and mammal watching along the way. We would usually stop along the road for a lunch break eating a box lunch from the lodge the previous night.
After arrival at our lodge, we would settle in and go birding, picture taking and exploring the surrounding area. This we would do until sunset and then dinner.
After dinner, we would usually go out looking for nocturnal wildlife and birds. At the end of the day, sitting around with a cold beer, we would talk about the days adventures and id the birds and mammals seen that day.
Other Activities
At Walvis Bay we did a kayak trip to see Cape Fur Seals and dolphins.
At the Grootberg Pass, we did a Land Rover trip in the Klip River Valley to look for, and find, the Damara Rhino.
At Shakawe, we did a late afternoon, early evening boat trip on the Okavango River.
At Kilzio Lodge, we took a boat ride on the Zambezi River.
The last and most thrilling thing we did on this trip was, my daughter and our guide, bungee jumping off the bridge over Victoria Falls.
Along the way, we stopped and visited some Herero and Himba women at a little stand out in the middle of nowhere.
The highlight of the trip was the trip. This was the best trip my wife and I have been on in our 40 years of marriage. I think the experience of Africa before it becomes commercialised, is the greatest part of the experience. I don't think I can separate the trip, sights and interaction with local people from the wildlife. It all just fit together.
Photography
"Better Safari Photography" was useful. It gave me ideas I did not think of on my own and more insight into what it takes to get good safari photographs.
I even tried some black and white shots, which I never tried before.
The tip about having a steady camera mount..tripod or beanbag.. was the absolute best. I bought a beanbag with me and it was the most used mount on the whole trip. I gave the rice from the bag to the staff at our last lodge and they were very happy.
I used 2 bodies. A Canon 50d as my primary bird and wildlife body and a 20d for all the other shots. Canon lenses I brought were 500 f4.0 IS, 100-400 f4.5-5.6 IS, 100 f2.8, 18-200 f3.5-5.6, 1.4x tele and a 2.0x tele. Along with these, I brought my old Sigma 18-125 as a spare. Good thing I did, I fell and the 18-200 was the victim of the landing.
One of the best things I brought was a laptop. On previous trips, all my shots were kept on the CF cards and notes were written in a notebook. On arrival home, the work began and it went on and on and on. With a laptop on the trip, I loaded the day's shooting into the laptop each night and by the end of the next day, all photos had been id'd and the data was in the file with the picture. This works so much better. I even worked on the pics while on the airplane.
Tips and Advice
Don't pack too many clothes. Most lodges have laundry service. It is very inexpensive and quite fast. I could have done fine with 20% fewer things in my luggage.
Bring a headlight.
The only regret I have is Africa is too far from California. We would go there every year if it were closer. This trip far exceeded our wildest expectations for a safari and I would recommend anyone wanting to experience Southern Africa to do what we did. You will not regret it.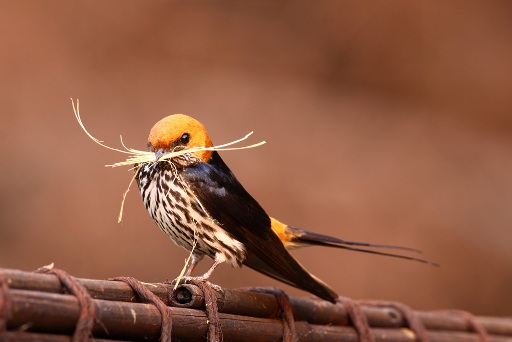 Back to Part 1...
Larry's Safari Details:

Rating: 10/10!

Safari company used: Tropical Birding (make an enquiry)

Parks visited: Namibia (Etosha National Park and Mahango Game Park), Botswana, Zambia and a touch of Angola

Date of safari: 2 September for 21 days incl 4 days of air travel

More Namibia Safari Reviews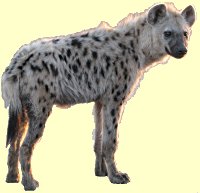 Join in and write your own page! It's easy to do. How? Simply click here to return to Africa Tour Operators Reviews.