Trip of a lifetime with Jenman Safaris
by Tash Rodriguez
(Sydney, Australia)
Our group hanging out at Dead Vlei near Sossusvlei Namibia
After being in several tours over the last 10 months I would have to say that Jenman Safaris is definitely one of the best.

In May 2010 my partner and I decided to do a 22 day safari from Victoria Falls to Cape Town which would be perfectly timed for the start of the World Cup in Cape Town.

We were very lucky that the other couple on our safari were of similar age to us and also shared a passion for football like we did which made the trip even better.

Here's a quick breakdown:
Guide
Our tour guide Peter is best described as a big friendly giant!
He was so knowledgeable of every animal, bird, plant that we came across (we had various animal/bird books) and really was an asset to have on our safari.
On very early game drives Peter knew which watering hole or areas to go to for animal spottings like lions, rhinos, zebras etc.
He briefed us every night on what we would be doing, expected time-frames for our drives to new destinations and estimated times of arrival, it was all quite organized.
Food
Although we were on a 'budget' safari the food was far from that! All meals were solid, hearty, healthish and tasty.
After a few days we all added our own suggestions of what we would like to eat and our guide accommodated to our needs/wants.
Participation
As we all had the participation camping we all had to pitch in to help prepare food, clean up and pack away food.
This wasn't too bad as everyone seemed to pull their own weight so was quite civilized. We all pitched and packed our own tents.
Itinerary
We had such a fantastic itinerary that from day 1 was highlight after highlight -
Victoria Falls
, sunset cruise on Chobe River, game drives in the National Parks, canoeing through the amazing
Okavango Delta
, exploring
Etosha National Park
, cultural visits, quad-bike riding (this was an optional activity) in the dunes Swakopmund and walking on Dune 45 in Sossusvlei plus the optional flight over Sossusvlei, seeing Fish River Canyon which is the second largest canyon, canoeing on the Orange River in Namibia, Cederberg Mountains and finally Cape Town.
Basically there was a daily 'wow' from us all!
Vehicle
We seemed to have an older edition of the typical Jenman vehicles as we saw newer 4WDs on the road. But its age didn't seem to be a problem - we were able to arrive at our destinations, it was comfortable and there was ample space as we were 4 in a 10 seater 4WD.
The only flaw I saw was with the windows - on the road we couldn't have it only partly open it had to be completely shut or open. We fixed this by just leaving one of the back windows open to amply ventilate the car.
Camping/Accommodation
The tents we were given were quite spacious. My partner is 6'2 and there were surprisingly no complaints from lack of space. The foam mattress was also very thick which made for a comfortable sleep.
The camping sites were very clean and well facilitated (much better than most of the campsites in NSW).
For 4 or 5 nights we were in simple lodges/permanent tents/hotel rooms all with bathroom which was a very nice change. All were clean, comfortable and cozy.
The itinerary we were given prior to our safari had the different camping sites or hotels which enabled us to look up where we were staying at beforehand.
Great picks for camping venues and lodgings!
Overall
We loved our experience of the Southern African Safari from Vic Falls to Cape Town, so many amazing memories! When we explore more of Africa we will definitely use Jenman again!
Here is a short clip of our journey
Tash's Safari Details:

Safari company used: Jenman Safaris (make an enquiry)

Parks visited: Victoria Falls, Okavango Delta (Botswana), Etosha National Park & Fish River Canyon (Namibia), Cederberg Mountains (South Africa)

Date of safari: May for 22 days

More Jenman Safaris reviews »

More Namibia Safari Reviews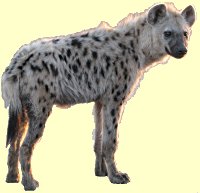 Join in and write your own page! It's easy to do. How? Simply click here to return to Africa Tour Operators Reviews.