Self Drive Overland Safari
by Glenn Kincaid
(New Zealand)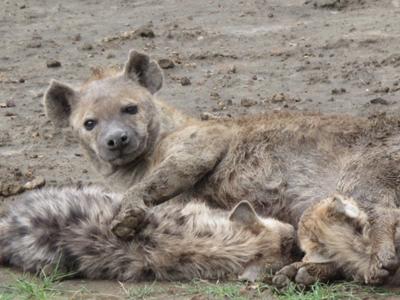 Hyena pups
Our wildlife highlight was seeing a lion kill in Etosha. I attribute this to being on a self-drive trip and being able to wait around to be in the right place at the right time.
Safari Logistics
Not all of our trip was safari, we visited other places as well.
Our trip was primarily self-drive. Hired vehicle from Bushlore. Did a night drive in Etosha NP (Namibia Wildlife Resorts). For the Tanzania portion we used Tropical Trails.
Bushlore was generally good. We picked up vehicle in Windhoek, their affiliate there was not terribly good - disorganized, bad communications, tired equipment.
Namibia Wildlife Resorts: Excellent night drive, guide was excellent.
Tropical Trails, in Arusha, was excellent. Booked last minute, they were responsive, organized, equipment was good and guide (Hassan) was excellent, very good on the birds as well.
Accommodation
Etosha NP: all 3 camps.
Okaukuejo had the best waterhole - tons of animals, we saw a group of over 50 elephants there one day - and campsites. If you are out by the fence you'll be able to see game passing by the fence.
Halali waterhole was good too, although a bit further from camp.
Namutoni waterhole had limited visibility and fewer animals. Also the waterhole there produced swarms of mosquitoes, in our opinion the least nice of the 3 camps.
During the dry season it was really nice to retreat to the swimming pools during the heat of the day.
Khaudum NP: Sikereti Camp. Very basic but comfortable. No animal problems in camp when we were there.
Chobe NP: Ihaha - nice riverfront sites with good views, some (like ours) did not have much shade. Antelope and buffalo near camp when we were there.
Savuti - nice large and secluded sites. Impressive animal-proof ablution block. Elephants and lions in camp when we were there.
Moremi GR: North Bridge - Campsites nice and shady, equipment a bit run down. Hippos nearby but not in camp.
Xakanaxa - Nice sites along the waters edge. Monkeys, elephants, and hyena in camp.
Third Bridge - Some sites are small. There is a baboon problem here, they are very aggressive, although we had no trouble with them. Lions and hippos in camp.
Makgadighadi NP Khumaga - Nice large and shady sites. Elephants in camp.
Tuli Block: Kwa-Tuli Island Camp - GREAT camp on island in Limpopo River. Spectacular location reached by swing bridge. Very nice tents, fantastic communal area where you can sit and watch the animals.
Limpopo River Lodge (Campsite) - nice sites right along the river.
Tanzania: Ngorongoro Farm House - Brilliantly luxurious but understated place. Best service we have ever had anywhere in our travels.
Ngorongoro Sopa Lodge - On South rim of crater, amazing views from rooms and bar/dining areas. Great service.
Food
For the part where we were not self-driving, a buffet breakfast (baked goods, fruit, cereal, cooked items), box lunch, and set menu dinner (starter, main, dessert). All excellent.
Wildlife - Lion Kill
We saw so much wildlife it would be hard to describe! Everything from lesser bushbabies jumping over our heads to herds of elephants surrounding our vehicle. About the only major animal we did not see was a cheetah.
In addition to this we identified 223 bird species in Namibia/Botswana and 116 in Tanzania.
Of course we could have seen more, but overall it was a fantastic experience.
More about the lion kill in Etosha:
We had seen a pride of lions near Charitsaub waterhole the previous day, so we returned to see if they were still around, which they were. We watched for a bit, until they moved to some taller grass where we could not see them.
We then drove over to nearby Salvadora waterhole, where there had been large herds of animals (zebra, wildebeest, oryx) coming to drink the previous morning. At the time we arrived there were no animals there, but we expected that if we waited, they would eventually arrive.
As we were waiting we saw a female lion crossing the plain from the pride we had been watching towards the waterhole we were at. Eventually the lioness came to the waterhole in front of us. There were no other animals nearby.
With a dainty hop she positioned herself down in the reeds in the centre of the waterhole. The wind was blowing from behind the distant herd towards the waterhole, so approaching animals could not smell the lion.
We waited about 45 minutes for the herd to come to the waterhole. During this time several vehicles (including tour vehicles) came to the waterhole but left soon as there did not appear to be much happening.
The herd approached the water with caution, and were very nervous, getting spooked and running away several times, but returning closer after each scare.
Finally, with the herd up at the water's edge, the lioness burst from the reeds, chased down a wildebeest, got it down and held its throat until it was dead.
At this point there were maybe two other vehicles there watching. As the lioness dragged the body under a nearby tree and began eating about a dozen vehicles had arrived, but by then the main event was over.
Typical Day
We were out for a long time and went to a variety of places so there were few "typical" days.
In general we would go for a drive in the morning, usually waited until 7 or 8 as the few times we went out really early we did not see much, back to camp or somewhere for lunch depending on what we were seeing, more driving in the later afternoon and back to camp for dinner, campfire, and bed.
Other Activities
In Namibia we volunteered for Na'an Ku Se, a wildlife sanctuary, which was a fantastic experience.
We visited Nhoma Camp in Bushmanland near Tsumkwe, where we spent a couple of days with the bushmen.
Both were highlights.
Photography e-book Feedback
As the free wildlife photography book says, the best advice was definitely to do a self-driving tour.
Although guides tend to have the eye to spot animals and may know their local habits, the flexibility of self-drive more than compensates for this, and of course a great deal of your success is chance - that you'll be there when the animals are. Being in control definitely resulted in our best game sighting.
Information regarding equipment was very good although we were not 100% focused on safari photography so at times did not follow the advice! This trip was part of a greater around-the-world family adventure, so other factors came into play when we made equipment decisions.
Also really appreciated the tip about paint.net, have found it to be a great little program and very useful.
Tips and Advice
Drive yourself.
Almost as important, give yourself enough time. If your time is limited consider spending more time at fewer places, which based on our experience will greatly improve your chances of seeing wildlife.
Bring the best equipment you can afford and of course know how it all works before you depart.
One of our most useful items was the hardware to charge batteries in the car.
Two disappointments: 1) That the trip was not longer! 2) Near the end of the trip the rainy season was upon us, which diminished our game viewing.
Thanks for putting together your publications
(Guide Your Own Safari and Better Safari Photography e-books)
. Very helpful and definitely contributed to the success of our trip.
Glenn's Safari Details:

Rating: 9/10

Safari company used: Self-drive; Tropical Trails
(find out how to guide your own safari)

Parks visited: Namibia: Etosha NP, Bushmanland, Khaudum NP
Botswana: Chobe NP, Moremi GR, Makgadighadi NP, Khubu Island, Khama Rhino Sanctuary, Tuli Block (Kwa-Tuli Game Reserve)
Tanzania: Lake Manyara NP, Ngorongoro Conservation Area

Date of safari: 25 Sept - 29 Nov (2 months)


More Namibia Safari Reviews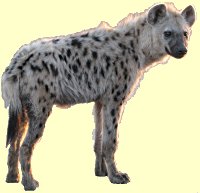 Join in and write your own page! It's easy to do. How? Simply click here to return to Africa Tour Operators Reviews.