Southern Africa Gap Safari
by Anna Walton
(UK)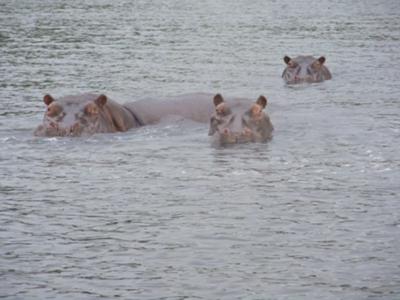 Hippos - too close for comfort
No more than 10 metres away the most enormous male hippo popped its head up in the same pool of water as us. There is nothing more beautiful and overwhelming in my opinion than seeing these animals in their natural habitat.
Safari Operator Performance
We used Gap, through STA Travel. We had an excellent experience with very friendly people.
Accommodation
We stayed at a place called Trailblazers in Nambia, on the 1st night near the Kalahari desert, then we went onto Maun and stayed there for 1 night.
Then we went on and spent 3 days 2 nights camping in the wilderness of the Okavango delta, we then spent a night at another campsite in Botswana called Planet Baobab which was lovely.
Then we headed to the Chobe river and from there went to Zambia and stayed there for 2 nights.
Food
Breakfast normally consisted of cereals and breads, occasionally hot breakfast if there was time.
Lunch would normally be sandwiches etc and dinner would be a variety of different meats with veg, salad, rice etc.
Wildlife
We saw lion, zebra, wildebeest, impala, springbok, giraffe, monkey, baboon, hippo, elephant, buffalo, eagle, vulture, crocodile.
The wildlife spotting highlight and definitely the scariest was when we went on a Mokoro Sunset cruise in the Delta. We all got in the Mokoros and the polers guided us through these thick reeds until we got to an open pool of water.
We all sat in the canoes chatting until we were suddenly ssshh'd by the polers. I looked up to see that hippo I was talking about earlier.
I could hear my heart beating I was petrified, we were told to keep completely still and not make any noise, the hippo kept going under and coming back up looking right at us until it went under and disappeared, we didn't hang around along after that as it the hippo could have popped up anywhere.
Typical Day
It would all depend where we were but a typical day in the delta was normally wake up at 5am, ready to go on a 4-hour unarmed game walk through the Delta.
Come back and then have breakfast, then all go for a swim in the delta water and play cricket, then maybe back out for a walk in the early evening or have a go on the mokoros, then dinner round the campfire, then bed.
Other Activities
Extra activities I did were taking a walk with the local bushmen, watching the traditional African dancing, scenic flight over the delta, sunset cruise down the Chobe River and walking with the lions in Zambia.
It's difficult to pick a highlight as it was all so amazing but I would say it would either be the sighting the hippo in the same pool of water or walking with the lions in Zambia.
Photography
The e-book was extreamly useful both prior to and during my trip.
Tips and Advice
Just make sure you are completely organised before you go and have everything you need,
make a list
.
Remember to pack useful items like Deet mosquito spray and head torch for the campsite.
Prevent getting malaria...
Anna's Safari Details:

Rating: 10/10

Safari company used: Gap through STA Travel (make an enquiry)

Areas visited: Namibia, Botswana and Zambia

Date of safari: 25th Nov for 10 days

More Namibia Safari Reviews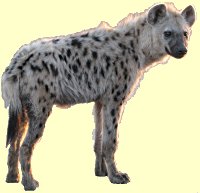 Join in and write your own page! It's easy to do. How? Simply click here to return to Africa Tour Operators Reviews.