Volunteer Work in Kruger - Part 2
by Kathrine Stewart
(Canada)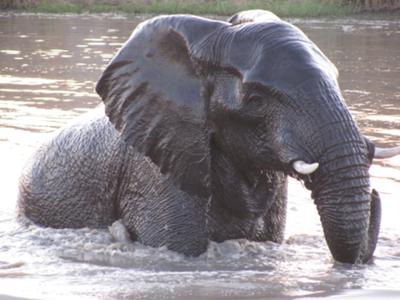 We watched two elephants tumbling over each other in a water hole. These majestic animals played for about half an hour as the sun set behind them, and all we could hear was their contented rumbling accompanied by the background murmurs of dusk. It was such a whimsical, yet peaceful scene.
The Volunteer Work
Every morning, we woke up at around 5:00 am, wolfed down an apple or some rusks, packed our open-sided, 4-wheel drive vehicle and were on the road by about 5:45am.
It was extremely cold in the morning and we all looked like mummies wrapped in our woolly blankets.
Each day, we did four 10-minute point bird counts at four different sites before 9:00 am.
Basically, we stood in a circle around the centre stake of our 100mx100m survey square and recorded all of the birds we saw or heard during the 10 minute interval. Specifically, we recorded the species, distance, compass bearing, activity and number.
Driving between sites, we saw tons of
wildlife
including lions, leopards, elephants, giraffe, zebra, loads of birds, rhinos, crocodiles, hyenas, impala, baboons, bushbuck - the list goes on and on.
Counting birds, we also saw and heard a variety of wildlife including hippos grunting, white rhino and lions roaring. Getting up early to do these counts was one of my favourite parts of the day because each count was a fresh experience full of discovery.
Once we watched a group of lions antagonize a herd of buffalo. They were right in the middle of our survey site so we stopped to watch them alternately play with each other and intensely study the herd. They eventually moved away but at one point, we were only 800m from them on foot (according to our GPS). It was amazing!!!
After a quick lunch (yes at 9:00am), we did one to two habitat surveys depending on the difficulty of the terrain. The habitat surveys required a cohesive team effort and each person played a role (we switched up roles every day to keep it interesting):
two people laid out the transect and 5mx5m survey squares within the site using a compass, hammer, rope and stakes;
one person worked with the conservation ranger to identify all the species of trees/shrubs above one meter and if they had any elephant, fire or other damage;
one person recorded the density of the trees/shrubs (>1m) along each square diagonal;
one person measured the vegetation volume (<1m) along the same diagonal; and
a final person recorded the measurements called out by the other two.
We used a GPS system to mark and/or relocate our sites. These surveys were hard, hot and sometimes tedious but I always felt so satisfied at the end of each one. It was such a whole feeling to sit in the truck on the way home, the cool breeze drying your sweat, and watch the world pass by knowing you've done a good job.
The data we collected will be used to assess the impact the growing elephant population and fire management practices are having on the ecology of Kruger National Park. WEI hopes to partner with SAN parks in the future to collaborate on effective management strategies to conserve the wildlife.
Though the work seems technical, it was a great learning experience for me as I am a student of biology.
I also learned a lot outside of the science. We had ample time to interact with the local people and they were incredibly rich in stories, smiles as well as sorrow. Residents of western countries are so spoilt compared to these people; yet with so much, westerners (myself included) don't seem nearly as happy as those that I met.
Sure, there was a lot of poverty and discontent among people, but overall, the locals were friendly and had a strong sense of family. There was a strong sense of "we can't change the past but we can strive for a better future".
So to these people, I say thank-you: thank-you for reminding me to smile and be silly because sometimes laughter is all I will have.
Typical Day
(see above) - four bird counts before 9am; 1-2 habitat surveys; finished by about 2pm.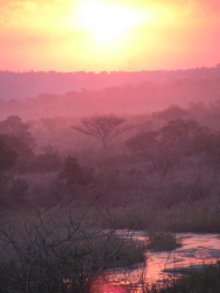 After work, we would usually visit the rest camp for supplies, go home and chill for a bit (sleep, do laundry, read, input data etc.), and then go out on a game drive or visit a nearby bird hide.
Two people would cook dinner every night and we would eat it out on the porch, talking and laughing as the sun sank behind us. Many nights, we listened to hyenas whooping, bush babies shrieking and even lions roaring as we chowed down.
Because of the early mornings, we were usually in bed by eleven (at the latest).
Weather
For the most part, it was wonderfully sunny and hot; however there were some cloudy days and we did experience one fierce downpour that left our yard under a scum of water.
The temperature rose from close to zero degrees Celsius in the morning to up to 35 degrees Celsius during the day. Needless to say, layers were essential!
Disappointments or Regrets
For myself, none whatsoever. I have never been so happy or felt so at home than I was in South Africa.
This was the best experience of my life and I am already looking forward to my next adventure (hopefully in Egypt). My volunteer experience has inspired me to write my own adventures instead of just reading the adventures of others. Hopefully, you will write your own adventures too.
However, I was a quite upset at how a disabled team-mate was excluded from a lot of the research despite being assured at the start of the trip that she could participate in most of it.
Tips
Most important: If you go, go with an open-mind and an adventurous spirit.
Do not take doxycyclin as your
anti-malarial
. Though it is cheaper than other types, it makes your skin very sensitive to the sun and I got some nasty burns on my hands and arms from taking it.
Layers, layers, and more layers. Bring warm
clothes
for those cold mornings (I'm not kidding: toques, mitts and wool socks are invaluable).
Bring a good, supportive pair of waterproof hiking boots, as you will be out on foot most of the time.
Finally, do not be daunted by the cost. I worked many over time hours to participate and it was worth every penny. I know it's cliché, but the best things/experiences in life are those that you really have to work for.
My compass and hiking boots were the most useful items in my luggage, my toothbrush the most appreciated and my camera the best decision ever.
Part 1 »
Kathrine's Volunteer Project Details:

Rating: 9.5/10

Volunteer company used: Operation Wallacea

Location: Kruger National Park, South Africa

Date of safari: 18 July - 14 August (4 weeks)

More wildlife volunteer info & reviews »

More Volunteer Africa Reviews