Safari Cheetah Pictures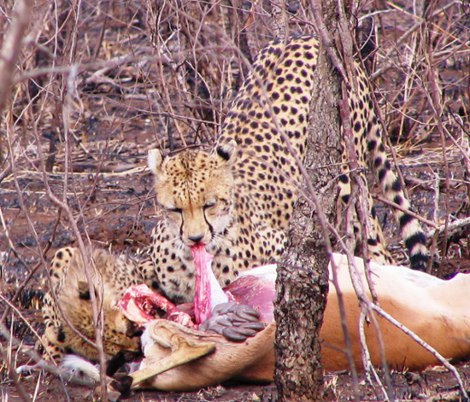 The fastest land animal has to rest and eat, which makes it a bit easier to capture cheetah pictures than when they're pursuing prey. Of course the ultimate would be to see them demonstrate their speed but more often than not when they are seen on safari it is in a resting or lookout position.
I was fortunate enough to see the above mother and her two older cubs on their impala prey in the Kruger National Park, on the S28 dirt road near Crocodile Bridge Rest Camp.
It was an amazing sighting because after a while a variety of vultures arrived on the scene and believe it or not, chased them (the cheetahs) off their kill. The various vulture species' pecking order was interesting to observe and finally a spotted hyena appeared and stole the last of the carcass.
After about 1.5 hours at the site only a few vultures were left sitting around, and anyone arriving at the scene would be none the wiser that the circle of life was displayed.
Best Chance To Get Cheetah Pictures
Because the African cheetah is classed as a vulnerable species (by CITES), there are various rehabilitation and conservation centres (e.g. this project in Namibia) across Africa where you can "cheat" and get some pics up close, often without a fence in the way.
However, to capture them in the wild, your best bet is probably the open savannah of the Masai Mara (Kenya) and Serengeti (Tanzania) and fairly good odds in the Kgalagadi Transfrontier Park's Auob River bed area. This is backed up by numerous trip reports on this website, e.g.:
Top Three Safari Companies


These are the best safari companies in Africa ranked by African Safari Journals using thousands of safari travel reviews.