First Safari Experience
by Jill Hudgens
(USA)
Cheetah Scanning the Horizon
At one point we saw three lionesses begin to stalk a wildebeest. Hezron had told us how they stalk in a group, and they did just as he had told us. It was interesting to just sit and watch.
Safari Company Performance
Excellent. Always on time. Hezron, our guide, even met us at the airport for our layover after we visited Rwanda.
Hezron always made sure we had plenty of water and had box lunches made for us. He was very knowledgeable about the wildlife, life in the Crater and the Serengeti, and had a fun sense of humour.
It was just two of us on a private tour. Don't know the type of vehicle but the roof was off during the safari.
Food
The food was very good. Basic breakfasts with eggs, bacon, bagel; lunch was usually sandwiches, fruit; dinner provided a wide variety of choices.
We stayed at the Sopa Lodges and Arumera River Lodge in Arusha.
Wildlife Highlights
Cheetahs were the highlight.
Ngorongoro - Zebras, grand gazelles, wildebeest, warthogs, Thompson gazelles, ostrich, hippo, hyena, flamingo, elephant, buffalo, African spoonbill, golden jackal, blackfaced vervet monkey, crown crane, kori bustard, sacred ibis, lions.
Serengeti - topi, Egyptian geese, hamerkop bird, hyrax, dwarf mongoose.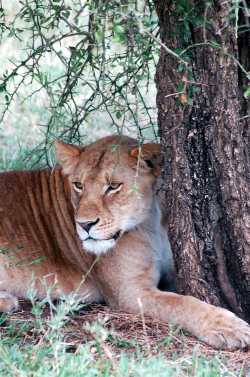 Typical Day
Woke, had breakfast, left for game drive around 8:00-8:30; lunch around noon, and back to the lodge by dinner. Hezron was very accommodating and would wait for pictures; he seemed to know where all the animals would be based on the time of day.
Advice
Take a layover in Europe somewhere before and after the trip (we did Amsterdam on the way).
The most useful items in my luggage were my camera and sunscreen.
It was our first safari so we had nothing to compare it to, but it definitely met all of our expectations. Should we return, we will definitely use Hezron and Across Tanzania Expeditions again.
More Serengeti Safari Reviews