Livingstone Devils Pool
by Debbie Phippen
(Canada)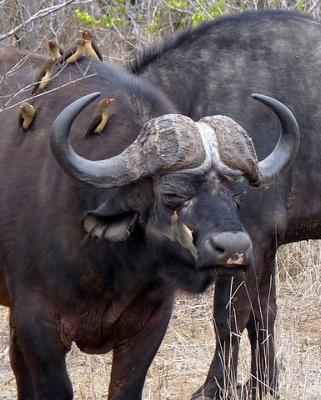 Cape buffalo close up
The highlight (non-wildlife) was going to the 'Devil's Pool' on Livingstone Island at the edge of Victoria Falls. You can see Youtube videos of folks jumping into the pool. It was without a doubt one of the most frightening things I've ever done in my life!
Safari Operator Performance
I went to Kruger with Acacia Tours and stayed at Panzi Bush Camp.
In Chobe I stayed at Elephant Valley Lodge. My niece owns Jollyboys Backpackers Hostel in Livingstone, Zambia and made all the arrangement for me (and her parents – her Dad is my brother).
Our guide at Kruger as well as Chobe was really good. Both catered to our requests (more time for photos, getting closer, raising plastic windows when it rained).
Accommodation
Johannesburg - Shoestrings Hostel near the airport (not terribly clean but bearable and they'll pick you up at the airport for free).
Kruger National Park - Panzi Bush Camp about an hour's drive to the Orpen Gate (it was lovely, the food was great and our hosts really made us feel right at home).
Livingstone, Zambia - Jollyboys Backpackers Hostel (my niece owns it so... it was positively FABULOUS - actually they won an award for the 'Best Backpackers Hostel' while we were there), air conditioned rooms, a bar serving meals and very friendly staff, one block from the main drag and ten minutes from the airport, perfectly situated to see the
Victoria Falls
and many other tourist attractions.
Chobe National Park - Elephant Valley Lodge (about half an hour's drive to the park entrance. The accommodation was in a big two bedroom tent and was really neat).
Food
BREAKFAST
At Shoestrings we had access to the kitchen so I made my own meals.
At Panzi Bushcamp I would leave the camp about 5:15am so there was self service coffee/tea and biscuits and then a packed meal we could dip into whenever we wanted.
At Jollyboys there was a kitchen for the backpackers with a big fridge which was cleaned out once a week.
Otherwise we had poached eggs on toast from the kitchen. At the Elephant Valley Lodge we had a buffet breakfast which was great.
LUNCH
At Shoestrings I made my own lunch. At Kruger we had a packed lunch from the Panzi Bush Camp lodge which was fine (juice, fruit, sandwiches and chips).
At Jollyboys I'd walk into town for lunch, make myself something in the kitchen or order from the bar (most meals were about $5 Cdn or less). At the Elephant Valley Lodge in Chobe Park we had lunch back at the Lodge.
DINNER
At Shoestrings I went to a restaurant at a hotel across the street twice. One night I ordered in a pizza. At Panzi Bush Camp we were served dinner and the food was really tasty and fresh.
At Jollyboys I had dinner from the bar/kitchen (about $5 Cdn) which was usually a curry with rice or slow cooked chicken, went to one of the many restaurants in town - the Ocean Basket was a favourite and about a 10 minute walk away or a quick and cheap taxi ride (negotiate!).
At the Elephant Valley Lodge I could order game meat which I was really looking forward to. We all enjoyed the meals and the waiting staff was very pleasant and tried really hard.
Wildlife
At Kruger we hit a cold spell of 12 degrees, rain and wind. Despite the weather we saw the 'Big 5' during our two days in the park.
I enjoyed seeing a leopard up a hill above its recently killed and partially devoured impala lying in the dry river bed below. The Cape Buffalo were also neat with tick birds on them.
We also came across a family of hyenas hanging around a pride of lions resting after having eaten a zebra. We saw Saddle Billed Storks which are really rare. Two rhinos calmly ate grass beside the road and then ambled to the other side right in front of us.
In Chobe Park we did a river safari in the mornings and we saw loads of interesting and colourful birds as well as hundreds of elephants often right in front of us. Hippos in the water and on land were fascinating.
In the afternoons we did a truck safari and came across a pair of lions (she was in heat) and watched them for over half an hour and, at times, they were no more than 15 or 20 feet away from us.
Other Activities
We did a half day walking tour of the Mosi O Tunya park just outside Livingstone which was an easy stroll and we saw white rhinos and some really neat bugs.
We also walked around the Victoria Falls National Park where you can take super photos of the Falls and there is a great craft market where you really need to practice your bargaining skills.
The fellows staffing the stalls will sometimes give you small carvings for foreign coins, pens and pencils and hair elastics so toss some in your pocket even just to give them away.
I did the zip line over the Batoka Gorge. You can wear a harness so you are seated or a 'Superman' harness so you fly out face down and look like you're flying.
I took a micro-light flight over Victoria Falls (a little expensive but worth it). The pilot was very informative and the 15 minute flight went by far too quickly.
We went to the 'Lion Encounter/Walking with Lions' where we walked with and patted juvenile lions and also visited cheetahs (scratched one under the chin so much it licked my hand!).
We also went to the 'Zambezi Elephant Trails' - you get to feed elephants and pat them. In the afternoon we did an elephant safari where you ride one of the adult elephants on a trail for an hour.
We went white water rafting on the Zambezi from rapid 10 to 25 and even flipped over at rapid 13. The rafting experience was a piece of cake compared to the half hour descent to the river on a handmade ladder.
I ended up going down crab walking on my butt and could hardly stand up at the bottom of the gorge as my legs had turned to jelly. At least I didn't have to walk back out as there is a gondola to get you back up to the top of the gorge.
We went jet boating on the Zambezi which is worth doing once I suppose. We zoomed up and down the river sometimes seeming to go by the rock banks with an inch to spare. The boat captain (Tony) does twirls in the water making the passengers swing wildly from one side of the boat to the other. There is also a brief talk when you go through the local village.
Going to Livingstone Island and being guided to the 'Devil's Pool' at the edge of Victoria Falls was amazing.
Tips and Advice
Just go with the flow - your tour companies and guides are professionals so trust them to look after you. If you feel you aren't getting the service you feel you deserve speak up and say something.
Always make sure you can get your hands on a bottle of water and never never give up an opportunity to visit the bathroom when you get a chance when your tour takes a rest stop.
The free Better Safari Photography e-book was quite useful with tips and suggestions. I did bring a digipod and must say I never used it once.
The most useful item in my luggage was my new camera (Panasonic Lumix FZ-35). It took better photos than my brother's Nikon SLR! My two 4GB memory cards and spare battery were useful add ons as well. Don't forget lens cleaning fluid and tissues for the dusty days.
Rating
The Kruger safari would rate an 8 (mostly due to the cold weather – boy we were cold!). The Chobe Park was a 9.5 for the duality of the water safaris and land safaris and the weather was better too.
Debbie's Safari Details:

Safari company used: Acacia Tours (make an enquiry)

Parks visited: Kruger National Park, South Africa and Chobe Park, Botswana

Date of safari: 3 Nov - 12 Dec

More Chobe Safari Reviews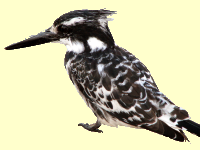 Join in and write your own page! It's easy to do. How? Simply click here to return to Botswana Safaris.