Jenman Safaris Review
by Marden Phelps
(Idaho, USA)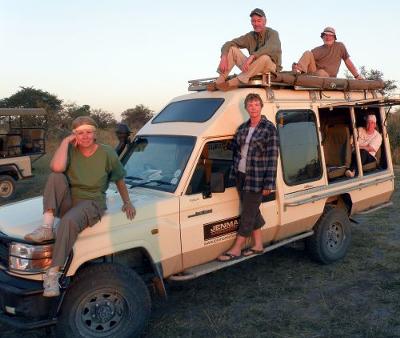 The Trusty Safari Vehicle
During the evening boat ride at Chobe we saw over two hundred elephants at one time. It was one of the most amazing things I have ever seen. They would come down the hill and into the river in herds of twenty to fifty and just frolic and play.

There was one young calf that kept plopping down in the mud and getting stuck. The older elephants would help him out and he would run right back in and get stuck again. We watched the sun go down and took some amazing photos of elephants against the setting sun.
Safari Company Performance
I looked at many companies, on the internet, when I began planning and they were one of several that offered the kind of safari I was looking for. I wanted to do participation camping because my daughter and I had done that in East Africa, about five years ago, and loved it.
I emailed a number of companies and explained what I wanted and Jenman Safaris was not only the first to respond but they offered a number of suggestions that proved very helpful. I checked them out on every web site I could find and heard only good things (
well, with one exception
) then sent them a suggested itinerary. They responded with what I believed was an excellent price and the planning of details followed.
The entire experience was wonderful. For over a year, during the planning, they responded to every question and concern in a timely and helpful manner. We made several changes to the original itinerary, at their suggestion, and the safari proved them right in every case.
We did do a participation camping safari (
although we spent some nights in lodges
) and the Jenman equipment was great. The tents were in good condition, the sleeping bags clean and warm and the food trailer was wonderful. We had cold, or at least cool, drinks all the time and the food preparation was very organized.
We had only one minor hitch in the whole safari and that was the failure to make a hotel reservation in Johannesburg for our last night. Jenman caught their mistake and we worked things out with no real problem.
The biggest problem we had was not Jenmen's fault. The airline lost my wife's luggage and we had to go shopping (
what a terrible ordeal for a woman
) because the luggage didn't catch up to us for ten days.
Our guide, Chauntel, was great. She was very knowledgeable and had prepared well for our safari even though she had not been to all the places we visited on a regular basis. Her game spotting ability astounded us.
She did a really good job with meals. The food was plentiful, well-prepared and tasty. It amazed us how she could drive all day and then put together a great meal in the time it took us to set up camp and wash up.
When we met her, in Lusaka, she had a suggested revision to our safari that made a major difference in the canoe trip, on the Zambezi, and greatly enhanced our experience. I am 65 and my brother-in-law is 63 and yet we didn't mind being "bossed around" by a 29 year old so that tells you something about her people skills.
Accommodation
Pioneer Camp near Lusaka, Zambia. Nice chalet with well kept grounds. A variety of fruit trees and flowers.
Kafue NP at confluence of Kafue and Lufupa rivers. Much of the camp was still under construction but it had showers and flush toilets and a nice reception area that was nearly finished.

The crew was still learning to operate the camp and one evening built too much fire under the donkey (device used to heat water) and there was steam blowing everywhere. When I flushed the toilet boiling water came out. Thank goodness I wasn't still seated.

We pitched our tents under a tree with little fruits and by day the birds would eat and then their droppings would land on our tent and at night bats and bush-babies would do the same. We learned a good lesson about picking our shade more carefully. We saw many birds right in camp as well as warthogs and one night a hyena. We were warned not to leave our shoes outside the tent because the hyenas would carry them off.
Breezers Camp on the Zambezi River. Beautiful camp with lots of grass and trees which is right on the river bank and the scenery was stunning. Camp has a three-legged dog that they keep to impress tourists to stay away from the crocs. Showers and toilet facilities were adequate.
Islands in the Zambezi River. It was interesting to set up camp on an island and then listen to the hippo grazing around you in the dark.

One morning we awoke to find an elephant had joined us during the night but fortunately the island was big enough for all. This was the most primitive camping we did with no facilities at all. We had local guides for this part of the trip and Chauntel stayed at Breezers Camp. The tents were smaller than the ones Jenman uses but they were OK and we took our Jenman sleeping bags with us.

The gas stove quit working and our guides had to cook over an open campfire. They did an excellent job and then entertained us with stories while the campfire burned down to coals and the stars came out. I was surprised at the total lack of biting bugs. Even though it was winter I had expected some mosquitoes or gnats but there were none.
Zambezi Waterfront in Livingstone. We stayed here two nights in the middle of our safari and one night at the end. The rooms were not great but the beds were a welcome change from ground mats and sleeping bags. This is the only place where we were bothered by mosquitoes and with the netting they were not really a problem.

Both times we stayed here my daughter and I got bites at night. My wife used her bag liner and didn't get any so I assume there was some sort of bug in the beds. These were the only bites I got the whole safari.
Toro Camp in Botswana and near Chobe NP. The camp was sandy and not very pleasant. Toilet facilities were average and there were quite a few campers in a relatively small area.
Planet Baobab was a disappointment in most ways. The camp was hot and dusty with little shade and no grass. There was no wildlife, not much in the way of scenery. We did take a hike with a local guide who showed us a lot of plants and how they were used but other than that it was not too great. If I had the trip to do over I would skip the long loop we made to get there and spend the time in Chobe.
Camp Mankwe was my favourite area. It is a brand new camp and we were the first people to stay in it (there is an old camp with the same name). We had permanent tents on concrete slabs and the area was very scenic. Our tents looked out over a watering hole and we saw birds and antelope often.

The staff was still working out the bugs in the water system and the first night our shower kept going cold but they fixed it and the second night was much better. And speaking of working out bugs, the tents had been up for a while but no one had stayed in them, so a variety of bugs had set up housekeeping and I had to collect them in an empty juice bottle and transport them to a new home before my wife and daughter felt comfortable.

The game drives we had out of Mankwe were the best of the safari. One day was spent in Moremi Reserve which had a great variety of birds and animals. The staff was wonderful and did everything possible to make our stay enjoyable.
Audi Camp (just outside Maun) is a place to stay on your way to somewhere else. There is nothing there to see or do but we did stay in their luxury tents and it was nice to catch up on journals and naps.
More Chobe Safari Reviews
Join in and write your own page! It's easy to do. How? Simply click here to return to Botswana Safaris.