South Africa and Botswana Safari
by Dawne Thomas
(Anglesey North Wales)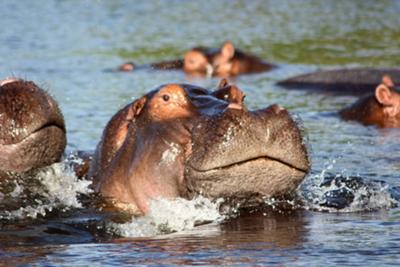 The sheer amount of animals we saw was amazing, and just being there in the middle of them. Wildlife programmes back home have a whole new meaning for me when I watch them as I know a lot of the animals and I have spent some time with them and most of all, they were mine for a short while.
Safari Operator Performance
We booked ourselves.
Our guides were fantastic making sure we got everything we wanted out of each drive and their knowledge of animals, birds, flowers & habitation is outstanding.
Everyone was so friendly wanting to make our trip special, the accommodation, facilities, level of service and food was simply the best.
Accommodation
Camp Figtree Safari Lodge Eastern Cape
(in Addo NP)
really in the wilderness, colonial lodges.
The staff were fabulous - we really got to know them and they could not do enough for us.
The accommodation was lush with plenty of space.
Beautiful scenery to look out onto from our large balcony with a table & chairs to look out and see the sunsets/rises which were out of this world. Also the main lodge had a lounge with sofas and a bar, with dining room and outside area to sit and enjoy the sounds of the animals in the evening with comfortable chairs and lamps. A swimming pool with sun beds for those who wanted to just chill & relax.
Portswood Hotel, portswood Square in Cape town, with air conditioning - the service, food and accommodation was fabulous with a beautifully dressed doorman, you could eat inside or outside and it also had a swimming pool with sun beds and you could also use the gym/spa facilities of the sister hotel just across the road.
Cape Town is a beautiful place to visit with lots of shops.
Muchenje Safari Lodge in Chobe Botswana - again beautiful individual lodges overlooking the Chobe River so you can imagine the sunsets/sunrises and again the sounds of the animals drifting through, each lodge had a balcony, bedroom with mosquito net around your bed & a large fan, clean fresh bed linen and bathroom with a shower they also supplied shower wash.
There was also tea & coffee facilities in each lodge topped up daily and a very quick laundry service, the rooms are cleaned daily.
Then there was the main lodge with seating areas inside and out also a 2nd level balcony so you could look out onto a water hole at night and see/hear the animals bathing and drinking, also a gift shop. You could also use the internet facilities, then you moved onto a large bar with comfy seats looking out onto the trees/sky/birds flying, then the large dining room and they would bang a gong to announce dinner was ready to be served, nice wine with the meal, beautifully served to us. There was also a swimming pool with sun beds.
Then onto Victoria Falls hotel the old one, oh my goodness talk about a step back in time, all the staff dressed in Victorian uniforms and are you looked after very well and the Hotel itself is very comfortable, very big & grand.
We stayed for one night at the Peach Boutique Hotel in Johannesburg the complete opposite to all the other hotels we stayed at. Very modern, with a bar, restaurant, reception area, swimming pool and outside eating area, the rooms were big with a bathroom with the little extras we were getting used to, television, tea/coffee facilities, dressing gown & slippers, small balcony with table & chairs again nothing was too much trouble.
Food
Food was fabulous, wide choice.
Breakfast you could have a typical English cooked breakfast or fruit, yoghurt, cereal, omelettes, pancakes, toast, tea & coffee, mainly eggs.
Lunch- pasta/ omelettes/ salad/ sandwiches/ meats.
Evening meal at Camp Fig Tree was 3 courses which we were informed of each evening and it was fabulous the best out all the places we went to.
The Boma was a self service we had so much choice, we did try Impala, buffalo and crocodile we also ate a mopani worm known as (Macimbi) as a bet from our brother in-law and we received a certificate to say we had eaten one I thought he was going to choke!!!
At Muchenje there was again a wide choice and they would cook eggs anyway you wanted them.
In the evening at the main lodge the guests staying would all meet together and sit at a large dinning table with the managers and guides to be served dinner and discuss the day's adventures.
We had a starter, main course of beef, fish & pasta, sweets & or cheese & biscuits all good food but not quite up to Camp Fig Tree standard.
When we stayed at Hotels in between safaris we ate out at local restaurants and the sea food platters were fabulous but the wine was expensive – keep to spirits. Most of these were open air but they all had outside heaters for those who felt the cold.
At the Victoria Hotel the food was self service with a wide range to suit all pallets but the service was very slow, you can have afternoon tea like you would at the Ritz with sandwiches. Scones with tea in a silver tea pot. The grounds are fabulous overlooking the Victoria Falls and the sound of the water falling as you sit having a meal, drink or just a cup of tea.
Wildlife
Animals - Elephants, lions, Giraffe, buffalo, tortoise, dung beetles at Addo Park & flying Dung beetles in Botswana, zebra, warthogs, wildebeest, impala, Kudu, antelope, Cape buffalo, large spiders large and their webs, Ostrich, waterbuck, Baboons, crocodiles, hippos, Monitor Lizard, vervet monkeys, springboks, squirrels, black backed jackal, red lechwe, steenbuck.
Birds - Bateleur, little Bee-eater & bluecheeked, Cormorat, Darter, Fish Eagle, Snake Eagle, Martial eagle & tawny eagle, Yellowbilled Egret, Egyptian Goose, Greenshank, Guinea Fowl, Grey Heron, Ground Hornbill, red-billed hornbill, Pied Kingfisher, grey lourie, Golden Oriole, pearlspotted Owl, Oxpecker redbilled & yellow, plover, redbilled Quelea, lilacbreasted Roller, Double breasted Sandgrouse, sandpiper, Marabou Stork, Whitethroated Swallow, Whitebacked Vulture, Paradise Whydah, Woodhoopoe.
Other Activities
We flew by helicopter over Victoria Falls and we went on an Elephant back safari in Zimbabwe.
We went to see the penguins at Simons Town Boulders Beach and Cheetahs at Spier. We also went for dinner at Spier in the Mayo restaurant in bedouin tents & gazebo.
We saw lion & white lion cubs, tigers, meercats at Seaview game & lion reserve at Port Elizabeth.
Cable car up to the top of Table Mountain at Cape Town, Green market in Cape town with so many stalls with African artefacts/clothing.
We went to a Boma which was fabulous they showed us how to play Bongo drums and got us up dancing plenty of entertainment all under the stars.
Disappointments
The night safaris as we did not see many animals and you only really get to see their eyes whereas during the day safari you see the whole animal which is far more exciting.
Also the Zimbabwe border control, they were hostile and frightening and fleeced us with a 90 Dollar fee to enter and as we were told not to take too much money was hard to cover and the whole process took a very long time making the trip a very long day.
Tips and Advice
You do not need to pack loads of
safari clothing
as all the accommodation have excellent laundry facilities which are very reasonable.
Always take your
malaria tablets
/complete the full course.
My most useful item was an expandable bum-bag for all the safari drives.
Dawne's Safari Details:

Rating: 20/10

Safari company used: Booked directly (ask for help)

Parks visited: Addo Elephant NP South Africa & Chobe in Botswana

Date of safari: 5-19 April

More Chobe Safari Reviews