Bushbaby Safaris Review
by Yvonne Fox
(UK)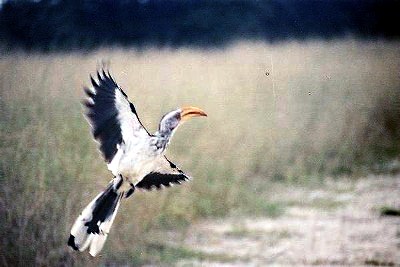 Flying Hornbill in Botswana
We spent two hours cruising the Chobe river, watching the birds and the animals. Nearly got dunked in the river when the pontoon boat tilted forward (luckily escaped with only wet feet) and got chased by a huge hippo when the board sailed over him in a deep channel. Never seen a hippo breach the water before!
Safari Company Performance
This safari was marketed as an exploratory trip. The service was good because it was more tailored to the individuals.
However, even though it was an exploratory trip it did feel that not enough prior research had been done into the route and the areas we would be travelling in. The guides were very knowledgeable about the birds and the wildlife and also good company.
This was a small group safari (8 people) in two 4 x 4s (Land Rover discovery and Land Rover Defender), both with trailers for the luggage.
Accommodation and Food
Cape Heritage Hotel, Cape Town
Hotel was excellent. Only a small place but the rooms were lovely and the customer service brilliant. Only ate breakfast in hotel (v. good and usual mix of fruit, cereal, and/or cooked breakfast made to order).
Ate dinner twice at the Five Flies restaurant – this was excellent both times! Had beautiful steak and had a great wine recommended to us, but can't remember what it was called.
Ate once at the Ferryman's Tavern at the V&A Waterfront. Nice pub grub.
AfricaSky Lodge, Jo'burg
Another excellent place to stay. Described as a guest house with about 16 rooms, again the rooms are excellent and so are the welcome and the service.
Breakfast – choice of cereals etc and cooked breakfast made to order.
Nata Lodge, Nata, Botswana
Very nice accommodation in individual lodges with verandas.
Dinner was a buffet style and very welcome after the long, long drive from Jo'burg. Breakfast was ok.
Maun Hotel, Maun, Botswana
Adequate accommodation (
just a regular hotel, a bit tired round the edges, not a lodge
).
Breakfast was ok. Dinner in the boma (BBQ) was good.
Chobe Safari Lodge, Kasane, Botswana
Lodge itself was nice and the view from the bar watching the sun set was spectacular. Rondavel rooms however have definitely seen better days. Think the river view rooms are nicer.
Breakfast was a nice selection of fruit, cereal, yogurt, the best muffins I've ever tasted (
freshly baked
) and cooked to order omelettes. Dinner was buffet style (
hot and cold
) and very nice.
Victoria Falls Hotel, Victoria Falls
Hotel was lovely and the room was small but well maintained and furnished. Service was excellent.
Breakfast was served on a terrace with a view of Vic Falls bridge and you can see the spray rising into the air from the falls.
Went to the Boma at the Victoria Falls Safari Lodge for dinner but wish we hadn't bothered. It was fully-booked and therefore very crowded with long queues for food. There was a selection of game meat (
crocodile, kudu, warthog, ostrich etc
).
Good if you like meat but not so good if you want a bit more variety. Sweets were awful. They did have Mopani worms to try if you felt brave enough - I didn't but my husband did – he said it tasted gritty!
House Boat on Lake Kariba
This was supposed to be for 3 nights but we mutinied and after just one night onboard abandoned ship!
The houseboat was moored at Binga on Lake Kariba. It had definitely seen better days a long time go. The bathroom defied description. I didn't even want to lie down and go to sleep on the beds.
The cooks did manage to cook a decent meal on the first night but we left very early the next morning to drive back to SA.
Ilala Country Lodge, Messina, SA
The booking here was brought forward 2 nights and the accommodation was ok but then anything would have felt good after the house boat!
AfricaSky Lodge
We managed to get two extra nights here and spend sometime relaxing after a hectic trip and visiting the Apartheid Museum and a Gold Mine.
Wildlife Seen
Nata Sanctuary – springbok and too many birds to mention. We also saw bush babies at Nata Lodge.
Chobe – warthog, crocodile, hippo, lion, elephant, impala, bushbuck, sable antelope, roan antelope, giraffe, zebra, puku, buffalo, kudu, vervet monkey, baboon, waterbuck. So many birds but here are a few of my favourites: African skimmer, darter, pied kingfishers, kori bustard, jacana, malachite kingfisher, African fish eagle, lilac breasted roller, southern ground hornbill, blacksmith plover – the list goes on...
Victoria Falls reserve – elephant, zebra, giraffe, buffalo, impala, hyena and again lots of birds, some we hadn't seen before like the racket-tailed roller. We also saw trumpeter hornbills in the VF Hotel grounds and a troop of banded mongoose.
Typical Day
No two days were the same but my favourite day was in Chobe. Up early for a 7am river cruise on the Chobe River as the sun rose.
Back to the lodge for a hearty breakfast then some shopping in Kasane before leaving for the game drive in Chobe National Park.
We saw an amazing amount of animals, loads of elephant, which is what Chobe is famous for, but one of the highlights was watching more than a dozen beautiful sable antelope cross the road in front of us in single line, the last one posing for the camera before entering the bush on the other side.
We spent five hours in the park and loved very minute and would go back in a shot. Back at the lodge enjoyed a pre-dinner drink in the bar watching another incredible sunset before dinner. Then another early night. I don't know why safaris are so tiring!
Other Activities
Table Mountain – terrific views, great cable car ride.
Helicopter trip over Vic Falls – only 12 minutes but spectacular view.
Riding an African elephant called Mbangi then feeding him pellets and stroking his trunk– awesome.
Walk with lions: 2 lionesses and 1 lion between 12 and 18 months old. Not yet fully grown but impressively large all the same – truly awesome.
Victoria Falls – viewed the falls and got thoroughly wet through despite the hilariously long yellow so'ester. Never had so much fun getting wet and being mesmerised by the view of the Zambezi River falling into the gorge over the Victoria Falls.
Zambezi River cruise – very enjoyable couple of hours on the river with a few sun-downers.
Disappointments
Some of the distances and the time taken to travel between stops were too long. It would have been better to stop the first night just over the border of Botswana in the Tuli block rather than travel from Jo'burg to Nata in one day.
The Delta was a disappointment. We only did one trip into the delta by mokoro and it was only on the outer edge. I think in order to really get the most from this you need to fly in and stay right in the middle. It was interesting to see the delta and experience the mokoro but it was not a comfortable ride (
it leaked!
).
We were really looking forward to the novelty of the houseboat but it was a huge disappointment. It was so run down and dirty. We should have stayed 3 nights and sailed down the lake but one night was more than enough.
Clearly, the situation in Zimbabwe in recent years had taken its toll but the price we paid for this accommodation was way more than it was worth.
Tips and Advice
Don't do anything that involves a houseboat in Zimbabwe.
Take only US$ to Zimbabwe (
lots of small notes
) and don't underestimate the distances and the time it takes to travel them. Some of our travelling days were very, very long. Roads in Botswana can be very long, very straight and very boring.
The most useful items I took with were cameras and binoculars, insect repellent, torch, sweets or non-perishable snacks to relieve the monotony of a long drive.
More Chobe Safari Reviews