Overland Safari With GAP Adventures
by Donna Gentry
(USA)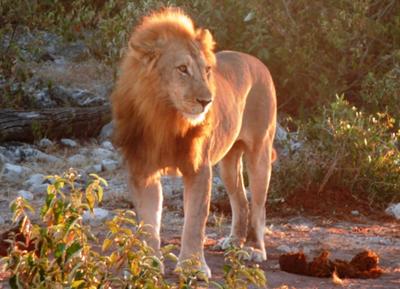 My African Safari was amazing! I had a wonderful time. However it was not because of the company I went with, it was because of Africa itself. The animals and sights exceeded my expectations. I will be going back to Africa someday soon!
Safari Operator Performance
We used GAP Adventures.
I have seen their tour groups while travelling on other holidays.
I also "googled" overland safari and their company was one of the results.
The places we went to on the itinerary were great.
The people on the tour (fellow travellers) were also great…we all were very relaxed and easy going.
The guides were lacking. They were rude and acted like they were on holiday instead of our guides.
They drove our overland truck drunk and caused us to miss out on some of the items on the itinerary because of their drinking and lack of organization.
They would get mad and yell at us if we didn't have thing they had forgotten to tell us we would need. (Like shoes out for Mad Cow checks).
They caused/were involved in more than one disturbance in the camps that we stayed at (one involved broken beer bottles).
I will never be traveling with GAP Adventures again!
Accommodation
Our itinerary included Zambia (Livingstone), Botswana (Chobe NP, Okavango Delta and Ghanzi), Namibia (Windhoek, Waterburg Plateau NP, Etosha NP, Swakopmund, Namib Desert and Fish River Canyon NP), South Africa (Cape Town).
We stayed in campgrounds in two person canvas tents mostly. The tents were easy to put up and take down. We had provided sleeping mats and our own sleeping bags.
Most of our campgrounds had flush toilets and warm showers.
We did two nights bush camping in Okavango Delta.
We stayed in the A frame village in Swakopmund, Namibia (they were nice but were at the edge of town).
Travellers Lodge in Windhoek, Namibia (not close to anything and out of the way of places to eat).
In the Tulip Inn in Cape Town, South Africa (nice, a short walk from the waterfront).
Food
Food was great.
We had cereal/coffee/toast for breakfast, sandwiches and salad for lunches, and dinner was a variety of things.
One night we cooked steak over the fire and the next we had pasta.
We did go out to restaurants when we were in towns. Windhoek had one of the best…can't remember the name but it was Safari something and they had all the game meats to try on platters. I tried Zebra/Springbok/Kudu, all of which are amazing.
Wildlife
In Chobe NP we saw Elephants, Buffalos, Kudus, Crocodiles, Hippos and Springboks.
In Etosha NP we saw Elephants, Giraffes, Lions, Zebras, Hyenas, Blue Wildebeests, Red Hartebeests, Gemsboks, Springboks, White Rhinos, Black Rhinos, Black faced Impalas and Ostriches.
In Etosha, we saw a pride of lions in the morning that was fabulous. There were two males/two females and two cubs, we watched them for about an hour.
That night in Etosha at the watering hole, we saw 9 black rhinos (2 of them babies) and 1 white rhino.
Typical Day
Wake up, pack up and take down tent, pack everything in overland truck, have breakfast, take off on travel (to next camp or to the day's activities).
Stop and make lunch along the way, get to activity or game drive.
Get to camp, set up tent and unpack. Make dinner and then watch the animals. Head to bed.
Other Activities
Some of our activities were hiking, abseiling, sand boarding, bush walks, game drives or relaxing around camp.
In Livingstone, Zambia I went abseiling and gorge swinging with www.thezambeziswing.com - what an amazing time, it is just down from Vic Falls and the guides are great.
Disappointments / Regrets
My guides on my safari may have been knowledgeable about the area and animals, but they acted like they were on holiday and could not be bothered to show us a good time. They drank too much and were rude to us most days. We missed seeing some sights because of their drinking the night before and late start the next morning.
My luggage never made it to Africa, so I made it through 3.5 weeks with only my carry-on.
Despite the bad guides, I still had a great holiday and regret that I was not there longer.
Tips and Advice
Make sure to remember you are on holiday.
Make sure all the items I really need are in my carry on!
My luggage did not make it to Africa. It showed up at my house 1 week after I arrived home! I had to get by with only what I had in my carry-on bag and what I could get at the stores.
I would advise that when packing, you really think of what you cannot live without for the first two days. Then place that in your carry-on.
I was wearing a set of clothes and my hiking boots and placed a full set of clothes in my carry-on. I had my camera, binoculars, sunglasses, hat, fleece, rain jacket and water bottle. I also had some of my travel books.
The only thing I would pack different would be I would have had my sandals, swimsuit and towel in my carry-on as well.
Donna's Safari Details:

Rating: 9/10

Safari company used: GAP Adventures

Countries visited: Zambia, Botswana, Namibia, South Africa

Date of safari: 1 May for 22 days

More Zambia, Botswana, and South Africa safari reviews »

More Chobe Safari Reviews