Overseas Adventure Travel
by Dolores Splane
(USA)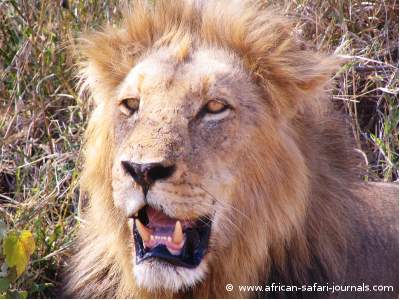 We saw all of the big five except for the rhino. We saw two packs of wild dogs, zebras, and giraffes. The spotting highlight was the lion and leopard.
Safari Operator Performance
I went with Overseas Adventure Travel - I travelled with them in the past.
The main guide and safari guides were fantastic. They were knowledgeable, courteous, and accommodating.
Accommodation
We stayed in Baobab Lodge, Lianshulu Lodge, Wilderness Tented Camp in the Okavango Delta, and Linkwasha Lodge.
All places were situated in the middle of nowhere. The lodges and the staff were very great. Always willing to help in any way they could.
Each place had cottages or tented shelters. All had their own showers and bathrooms.
Each place was very pleasant. Each place had a lodge where we had all our meals.
Food
I am vegetarian and my needs were accommodated. They were all full course meals. We had a lot of fruit and vegetables.
Breakfast consisted of omelettes made to the guest's specifications. There were choices of cereals and meats, toast, and potatoes.
The food was excellent. Each camp had a chef. The meals and their presentation were exquisite.
Typical Day
Up early, breakfast, game drive, tea time, back to camp for lunch, time in our rooms for rest or activities of our choice, back out on the game drive, stop for snack, back to the lodge for dinner.
Some nights we went on sunset cruises.
We also visited villages and schools; had guest speakers and people coming in for demonstrations, such as basket weaving; and we visited Victoria Falls and The Lion Encounter.
Tips and Advice
Make sure you take clothes that you can layer. If it rains it gets cold.
My flashlight came in very useful.
Full safari packing list...
I used a Nikon P90 camera. All the tips in the Better Safari Photography e-book were helpful. I used the rule of thirds on my pictures.
Dolores' Safari Details:

Rating: 10/10

Safari company used: Overseas Adventure Travel (OAT) (make an enquiry)

Parks visited: Chobe National Park, Mudumu National Park, Moremi National Park and Hwange National Park (Botswana, Namibia & Zimbabwe)

Date of safari: 7-29 November - 23 days

More safari reviews »

More Chobe Safari Reviews