Tsodilo Hills Review
by Anthony Waller
(UK)
Tsodilo Hills were amazing. Somewhat humbling as a European living with a few thousand years of history to be in a place with 80,000 years of human habitation.

Also, it is unspoilt and almost devoid of tourists. If that were in Europe, you'd be fighting to see every rock painting rather than being the only people on the whole site.
Safari Operator Performance
I can recommend Karibu. The guide in particular (Keeme) was brilliant.
I can't fault Karibu, but Africa Calls was even better.
Africa Calls took us to the Tsodillo Hills. They were excellent. It is run by a guy called Pius Tebele.
He is very charismatic, well connected in Botswana and does some interesting cultural tours too. I met him a couple of times.
Being from Botswana he appears to have a really close affinity to the country and its people.
The guide was slightly more open (we had some great chats about the culture in Botswana and Africa in general, which taught us both a lot).
The food was even better (always 3 courses rather than two and all the drinks, hard and soft, were included).
Pius even came and sought us out when we were in the hotel in Maun between the Tsodillo Hills and the Karibu safari.
Victoria Falls
From what I can see at Vic Falls, Zimbabwe is worth considering as a base. It greatly reduces the cost of visas if you see both sides (and you really have to see both sides, but I knew that already), has the better hotels and seems nearly sorted.
Africa's Magnetism
I seem to have captured my son's imagination with Africa too. He wants to go back. There is little that is more satisfying than being able to see your children grow and be part of it.
The holiday was fantastic and went like clockwork.
---
Itinerary
Anthony has been to Botswana before but this time brought his teenage son along. They flew into Johannesburg, did a half-day tour of the city and spent a night at a lodge near the airport.
The next morning they flew to Maun from where their 2-night camping excursion to Tsodilo Hills ensued.
After a night in Maun they then joined Karibu Safari for a 10-day Botswana camping safari (Moremi, Xaxanaka, Khwai area, Chobe, Savuti) which ended in Livingstone Zambia.
They spent an extra night there and finally returned to Johannesburg for onward travel arrangements.
Ask for our help
to arrange your African safari...
More Okavango Delta Safari Reviews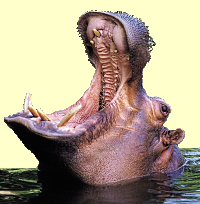 Join in and write your own page! It's easy to do. How? Simply click here to return to Botswana Safaris.