Wilderness Safaris Review
by Janice Mondry
(USA)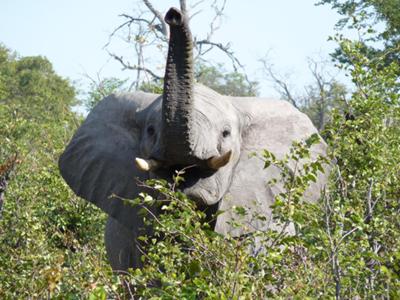 Getting close to elephants
There were lots of babies around so we saw lots of nursing animals and we actually hung out a little too long with the elephants and were charged by a herd. Quite an adrenaline rush!
Safari Operator Performance
We used Wilderness Safaris and we were semi escorted.
They were wonderful.
Julian Harrison from Premier Tours was our US contact and his expertise was invaluable.
He put together the entire trip for the 4 of us and it could not have been better.
We had many internal flights and everything went off without a hitch.
He also arranged a private guide for us in Cape Town who was also wonderful and added much to our trip.
Accommodation
We stayed at the Cape Grace Hotel, Mombo Camp, Vumbura Plains Camp, Toka Leya and Rattrays in Mala Mala.
Food
Food was fabulous.
We had the most spectacular buffets for breakfast, lunch and dinner.
We were all a little nervous about the food and we could not have been happier.
Breakfast buffets had just about everything you could imagine in a gourmet buffet.
Lunches were a combo of cold salads and a hot entree, all of which were wonderful.
Dinner gave us a communal meal at a long table with usually three choices for main courses.
We ate like kings the whole time we were there.
Wildlife
We got incredibly lucky as our first camp was Mombo and we saw the big 5 the first day, so the "pressure" was off.
Apart from the elephant herd mentioned above, we saw a lioness kill a baby buffalo and we saw a lion kill a warthog.
Typical Day
We were woken up by a gentle knocking on our door.
We ate a wonderful breakfast and started out for our morning game drive. The morning drives lasted anywhere from 3-5 hours depending on what we saw.
Back to camp for a fabulous lunch and usually a quick nap.
Three o'clock was tea time (and more food) and then out for the afternoon drive.
We arrive back in camp in time to take a shower and change for dinner with the entire camp and a night of sharing "sighting" stories.
Photography
I looked through
the e-book
for clothing and photography info and suggestions and was pleased with the depth of info available. Found it very helpful.
Tips and Advice
My best advice is to GO NOW!! My husband and I are already talking about our return to Africa and we can't wait!!
Like most people on their initial trip, we brought way too much
clothing
.
The most useful item would have to be extra SD cards for pictures because we took way more than we could have imagined.
We did not have a single disappointment other than we had to come home.
Janice's Safari Details:

Rating: 10+/10

Safari company used: Wilderness Safaris, arranged by Premier Tours (make an enquiry)

Areas visited: Cape town & Kruger Park in South Africa; Botswana and Zambia

Date of safari: 21 May for 15 days

More Botswana, Zambia and South Africa safari reviews »

More Okavango Delta Safari Reviews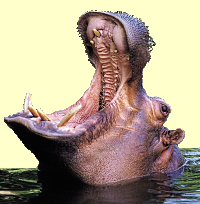 Join in and write your own page! It's easy to do. How? Simply click here to return to Botswana Safaris.