EASTCO Private Safari
by D
(USA)
We had a fantastic experience with Eastern Africa Safari and Touring (EASTCO). I highly recommend them. We saw the big 5, went to a Masaai village and just really enjoyed our time.
Safari Operator Performance
We went with East African Safari and Touring Company (EASTCO). Read about them on TripAdvisor.com
They gave an excellent private safari for reasonable price. They catered to my food allergies perfectly. See my review on TripAdvisor.com.
Guide was excellent – ask for Mohammed. I'd use this company again.
Accommodation
EASTCO booked us in Ngorongoro Wildlife Lodge per my request, we did tented lodges owned by EASTCO, Boundary Hill Lodge (also owned by EASTCO), Jacaranda in Arusha the pre safari night (was ok) and Arumeru River Lodge the post safari night (lovely).
Food
EASTCO had chefs prepare all our meals.
I have food allergies. My meals were fruit, potato, fish, chicken, kasava, rice, lentils and vegetables.
My partner had the same, but also some beef, eggs, pasta and breads.
All very good food on safari.
Wildlife
We saw everything. Truly.
The highlight was waking up to a noise right in front of our tent which was a giraffe eating off a tree overhanging the tent.
Typical Day
Breakfast, 4 hour-ish game drive, lunch and rest, a shorter game drive, rest, dinner.
Other Activities
We visited a Maasai village in Tarangire which was very good and interesting.
That plus the tented lodges and stay at Boundary Hill Lodge were the highlights other than game drives.
Photography
This guide
made me feel more confident in my choice of camera for safari. I struggled to decide what to buy and was still a bit unsure even after my purchase (Panasonic Lumix - it worked perfectly!) until I read this.
Tips and Advice
I am glad we did a private safari so no jostling for angles in the jeep to get photos.
Know you will get dusty on game drives.
Research whomever you choose as a safari operator. A bad choice would have made this a nightmare since you are with them the whole time.
We did 10 nights, which in the end was good because it wasn't all game drives. But had it been, it would have certainly been too long a safari. Most people do shorter safaris.
Bringing a hair dryer and flat iron…well I used them maybe 3 – 4x only. No power in many places we stayed :)
Make sure to bring Pepto and a course of Cipro just in case.
The most useful items I brought along were my camera, comfy
clothes
to change into in the evening (yoga pants),
safari hat
, long comfy pants for game drives, bug spray, snacks.
Also very handy were our mini lantern, head lamp and flashlight. We used these in the tented lodges (particularly the head lamp in the shower if at night) because there is no electricity. So when it gets dark, the gas lamps are there, but not enough light.
Safari Details:

Rating: 9/10

Safari company used: Eastern Africa Safari and Touring (EASTCO) (make an enquiry)

Parks visited: Ngorongoro, Serengeti, Tarangire, Lake Manyara, Lake Babati - Tanzania

Date of safari: June for 10 nights

More Tanzania safari reviews »

More Tarangire Safari Reviews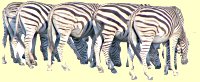 Join in and write your own page! It's easy to do. How? Simply click here to return to Safari Tanzania.