Maasai Wanderings Review
by Dorit
(U.S.)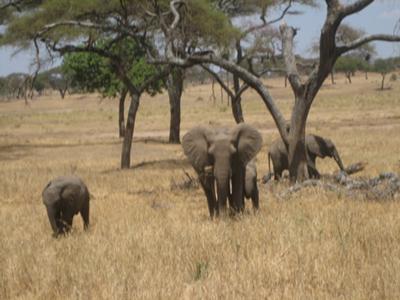 I found Maasai Wanderings in the Lonely Planet. They were wonderful; fabulous in every respect. Easy to work with on the front end, very helpful, excellent guides, great service - I'd give them a recommendation any time.

Didn't care much for camping sites but that wasn't their fault.

Our safari was beyond wonderful. The places we went (Serengeti, Ngorongoro, Tarangire - followed by Zanzibar) couldn't have been more perfect for us.
Accommodation
Arusha Karama Lodge (lovely); Tarangire Campsite (hideous); Nasikia Luxury Camp near Serengeti (fab); Simba Campsite near Crater (ok); Ngorongoro Farmhouse (fab).
Also went to Zanzibar.
Food
Food wasn't exciting but we didn't care.
Porridge & bread/fruit for breakfast; chicken, eggs, sandwiches for lunch; dinners were various stews/meats.
Ngorongoro Farmhouse and Naskikia were best (large buffet at Ngorongoro Farmhouse). But this wasn't a big deal to us.
Wildlife
Elephants, zebras, giraffes, hyena, cheetah, monkeys, lions, gazelles, wildebeest, hippos, herons, lots and lots more that I'm forgetting.
The highlight was watching 9 lions devour a zebra (previously killed).
Typical Day
Early breakfast, most of the day in the jeep with lots of stops (we were our own trip – 8 people, 2 jeeps, 2 guides), stop for lunch, more jeep, evening in lodgings.
Other Activities
We visited a Maasai village; went on a hike at Olmoti crater (with a Maasai guide and a troup of children following); spent four days in Zanzibar (including snorkelling, swim with dolphins, a little hang-out time on the beach, Stonetown walking.
Loved all of it.
Tips and Advice
Only the campsites were disappointing – we did it to save money, but I wouldn't do it again.
Don't be afraid to deal directly with a reputable local safari operator rather than a (much more expensive) U.S. based tour company.
Remember your camera.
More Tarangire Safari Reviews