Quiet Safari
by Sabina Jones
(LA, USA)
Nature was the highlight of my trip. The silence, the birds singing, animals making quiet noises as they eat or play. Working for a busy office with the telephone ringing constantly, the silence at Ol Mesera was heavenly.
Accommodation
Ol Mesera Tented Camp was our basic camp. We took lots of day trips, or two days trip then came back to Ol Mesera.
I have been to a few corners of the earth, each different and each perfect in its own way. Ol Mesera is one of those corners that you want to go back to refuel. To escape. I loved it and miss it.
Ms Barbara (of Ol Mesera) provided her personal transportation for us.
The guides were great, they knew the area and were always cheerful and ready to go.
Seronera lodge had wonderful sunsets.
Wildlife
My six year old son spotted a leopard by a tree. He was very excited.
We were also lucky to see cheetahs and rhinos in the crater in Ngorongoro.
We saw lots of elephants, hippos, crocodiles etc.
Typical Day
We would have an early breakfast (local coffee or tea, homemade bread or chapatti, plantain etc.), quiet except for naughty monkeys who jumped and raced on the roof of the hut.
Our meals for the day were already packed and the car was ready by the time we finished breakfast. We would leave and spend the day driving, looking and sometimes stopping for a while to gaze at the animals eating or just resting.
After lunch, which we would have as picnic in the park, while we chase more naughty monkeys, we would head back home slowly.
Tips and Advice
Make plans so you know what you are doing each day, that way you don't waste time, but to stay flexible in case something doesn't go your way.
Don't go there expecting the efficiency that you are used to where you come from, things might not run efficiently but that's the attraction.
Have plenty of water, don't rush, be still and really look.
Safari hat
,
safari jacket
(Ngorongoro was colder than the other parks), and insect repellent were all very useful.
The trip was perfect, we had no trouble and everything run smoothly from the moment we landed to the moment we took off. We were relaxed and did not rush anywhere…
Sabina's Safari Details:

Rating: A perfect 10/10

Parks visited: Lake Manyara, Tarangire, Serengeti and Ngorongoro Crater in Tanzania

Date of safari: 1 June for 3 weeks

More Tanzania safari reviews »

More Tarangire Safari Reviews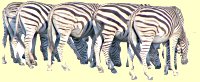 Join in and write your own page! It's easy to do. How? Simply click here to return to Safari Tanzania.