Tanzania Elephant Safari
by Lisa Hiam
(USA)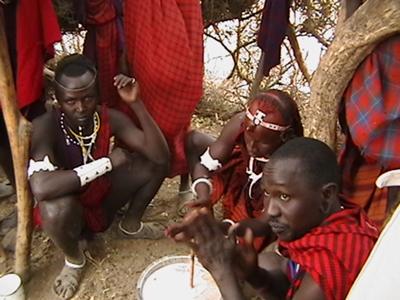 Warriors watching
Meeting all the African people on our trip was a highlight. I wish I could do it again. I loved Africa – the people, the scenery, the wildlife! There is no place on earth like it.
Safari Company Performance
My friend booked the safari with the same company she had used in the past.
They were excellent. We were a group of 13 and had two drivers (and two Land Rover Defender vehicles), Musa and Sylvester, who were with us the whole time and we became great friends.
They helped teach me a little Swahili and taught me a lot about the animals we were seeing and also helped teach me some tracking skills. (I was the only one in the group who was really interested in learning the language and getting in-depth knowledge about the animals – was a wildlife biology major in college at the time).
They gave the rest of the group all the generalized knowledge they wanted. They were always very helpful, kind and friendly. Once, our whole group went for an afternoon visit to Musa's home to meet his family and see his village. We all enjoyed it very much.
Accommodation
Because I went with friends from Tanzania, our trip included many home visits and also overnight stays in hotels that cater to Africans and not necessarily foreign tourists. It was so great to be able to experience a wide array of accommodation styles – from very simple, to moderate to upscale. I feel as if I was able to get more of a feel of the "real" Africa than an average tourist might.
We stayed at the Arusha Hotel, downtown Arusha - this was our "home base"; The Ngorongoro Crater Lodge, on the rim of the crater; Ndutu Safari Lodge, in the Serengeti, and near Olduvai Gorge, Tarangire Safari Lodge, tent camp on bluff overlooking river in Tarangire National Park.
Food
Breakfast was usually fruit, yogurt, coffee, and tea.
Lunch was often a large avocado stuffed with veggies, a rice dish with meat and veggies and dinner was often some type of buffet with all sorts of yummy choices.
Very rarely while staying in the upscale accommodations was the food strictly traditional. However, when eating in local restaurants and while visiting homes and/or villages, we were lucky enough to experience traditional and local food.
Once, during a village visit by Mt. Kilimanjaro, we ate a goat. It had been skinned from the head down, cooked all day in a pit, then stood back up and fastened onto a piece of plywood and presented to us that way. It was rather horrifying. Once we were over the initial shock of seeing the poor goat standing there looking at us, when we tasted it, it was very good. Again, another experience I will never forget.
Wildlife
I have always had a passion for Africa and African elephants. I had always said, "if I can see an African elephant in the wild, I can die happy."
The first time I saw an elephant was at Ngorongoro Crater. I spotted a herd of them in the distance and couldn't believe what I was actually seeing – and then we got close - it was heaven.
Later in the trip while staying at a tent camp at Tarangire NP, I woke up to my roommate saying, "Lisa, Lisa, wake up, there is something outside the tent and I think it's really big!"
I woke up, unzipped the tent and looked outside – and saw a tusk within 1 foot from my face – a female elephant was standing right outside! It was one of the most exciting (and scary) things ever! I zipped up the zipper and told Debbie my roommate it was an elephant – we danced around in excitement for a minute and then unzipped the tent and we watched the elephant for a few minutes before she walked off down the trail.
I should also mention that the night before while walking back to our tent from the restaurant, I shined my flashlight out into the brush behind the tent and there were glowing eyes looking at us everywhere – from down low to up high – really cool!
And then once in bed with lights out... we heard lions roaring rather close by. I will never forget these experiences and I still love thinking about them and telling about them.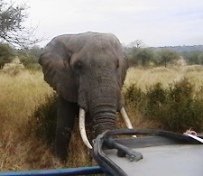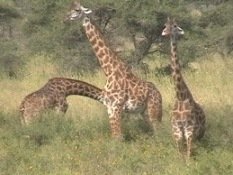 A Typical Day
Get up early, have a quick breakfast and coffee, after a quick squabble over who gets the best seat (the passenger seat) get in the land rover to start the day.
Drive through the park looking for animals. Attempt to learn Swahili and speak it with our drivers. Watch animals – elephants, zebra, giraffe, Cape buffalo, impala, springbok, and baboons to our hearts content.
Come back in for a rest and a beer before dinner. Dinner and some form of entertainment – traditional dancers usually.
Then relaxing and talking around a fire - socializing and with the drivers and hotel workers and other tourists – exchanging stories, life experiences, etc.
Other Activities
We visited an authentic Masai village about a 3-hour drive away from any type of "civilization". A friend of ours is Masai and he took us to his village. We were able to see an actual village that is very sheltered from the rest of the world.
It was like being in the middle of a National Geographic documentary! The people were amazing!
They allowed us to film and photograph them. Most of them had never seen themselves before. When I showed them the screen on my video camera, they were fascinated – it was incredible to watch everyone see him or herself for the first time. They would touch parts of their head and make faces and when the person on the screen did the same, the sense of recognition was wondrous.
When the children did this is was fun and exciting but to see the old women and men look at themselves for the first time in a very long and hard life, was an experience I will never forget.
They sang and danced for us and gave us chai to drink.
Needless to say, in an area where the closest water is a two day walk away, and cows and cow dung and flies are present everywhere, the cups were not the cleanest. I have never been around so many large flies in my life. The sky was thick with black clouds of them.
Disappointments or Regrets
I felt like it was too rushed – there was so much to see and do that relaxation didn't factor into the trip very much.
Also, I would have liked to have more compatible travellers on the trip with us. A large number of the women wanted to spend their time shopping in fancy, upscale shops while I would have preferred to see more game or spent more time in markets.
Tips and Advice
Don't rush from site to site. Slow down, relax and enjoy the experience.
Talk to and get to know your drivers and the hotel workers. They are usually very nice, interesting people who deserve our respect and consideration. I saw so many of the stereotypical tourists treating "the help" with little courtesy or consideration. I have found that when taking the time to know the people who are working very hard to make our stay run smoothly, I met some really nice people who have taught me a lot and made my stay so much more enjoyable than it could have been had I ignored them.
The most useful item I took along was a warm coat. It was very cold in the mornings and evenings.
Lisa's Safari Details:

Rating: 9/10

Parks visited: Tanzania - Serengeti, Ngorongoro Crater, Mt Kilimanjaro, Arusha, Tarangire

Date of safari: June/July (17 days)

More Tanzania reviews...

More Tarangire Safari Reviews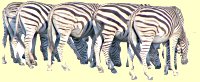 Join in and write your own page! It's easy to do. How? Simply click here to return to Safari Tanzania.