Tanzania - Paradies Safaris
The Seronera lodge at Serengeti and Wildlife lodge at Ngoro Ngoro were beyond our expectations. Excellent service, unique locations, great buffet food.
Safari Operator Performance
This was our first safari (family of 2 adults and 2 children, ages 10 and 8).
We chose Paradies Safari (mainly through positive reviews on the web and excellent impression in the initial contacts by phone and e-mail) and were overall very happy with the experience.
Paradies is operated by Hilde Keil, a German native living in Arusha, Tanzania for many years.
In our view, a successful safari experience combines the following points. Quality of parks, driver/guide, cook, vehicle, accommodation, overall efficiency/professionalism of the operator.
Hilde is a very thoughtful, enthusiastic and communicative person. There were no glitches in the overall process (i.e. we were always taken care of at airports, during transfers etc...)
James was an amazing guide and driver. He has eagle eyes...able to spot animals camouflaged hundreds of meters away...we would have missed so much without him....and with a large body knowledge beyond animal spotting. Also a very pleasant and friendly person to spend time with.
Vehicle - we drove a Toyota Landcruiser, very reliable, clean and comfortable, seats 6 so we had lots of room.
Accommodation
We travelled from April 3-14 2010 (7 days safari in Tanzania and 5 days in Zanzibar).
The safari starts in Arusha (we flew into Kilimanjaro airport (with KLM) which is about 1 hr away by car).
Hilde can tailor to your needs. We opted for a mix of lodges and camping.
The camping was in large 2-bed tents at campsites in or near the parks. Clearly shower and wc facilities are much more modest than the lodges...but this helps keep the overall trip cost down.
In Zanzibar we stayed at the Blue Oyster Hotel. This is located on a very nice but less developed beach South East of the island. It is managed by a German family - friendly staff, very clean, and good food.
This is not your typical "touristy" beach. In fact Blue Oyster seems like the only hotel on this 5km beach, the rest is mostly fishermen villages. The beach is very nice but you can tell it is somewhat "wild" (i.e. the tides naturally wash algae in and out which occasionally gets cleared in front of the hotel by the staff).
Water is crystal clear. Swimming is safe but sea urchins need to be watched out for esp at low tide.
There is a soothing laid back atmosphere to this place. There are a number of activities (snorkling/diving, dolphin tours, sailing etc..) nearby.
Food
The cook, Zuberi, cooked wonderful food for breakfast, lunch and dinner.
Delicious pancakes, eggs, pasta, vegetables and meats...and even popcorn for the kids! No tummy aches for anyone!
Wildlife
Parks: we did Serengeti, Ngoro Ngoro, Lake Manyara, Tarangire.
The first 2 were absolutely stunning, amazing quantity of animals (big 5 of course... leopards seems to be a rare event) and Lake Manyara full of animals (except lions).
Tarangire was stunning scenically but not many animals at this time of the year and many Tse Tse flies which ultimately forced us to close the roof.
Tips and Advice
It was an overall very happy and recommendable experience, at reasonably lower cost than going through a Europe or US based operator.
My suggestions for improvement were to start with the less known parks and end with the best (Serengeti and Ngoro Ngoro) and improving some of the camping equipment.
More Tarangire Safari Reviews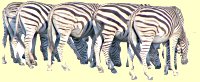 Join in and write your own page! It's easy to do. How? Simply click here to return to Safari Tanzania.