Tanzania Safari Video
by Heidi and Shane
(Toronto, Canada)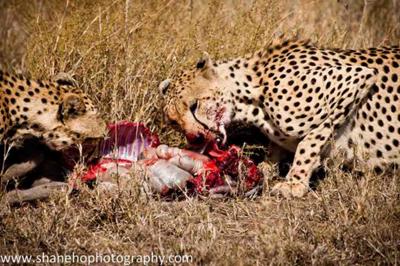 Cheetah on warthog kill
It has been 4 months since we returned from Tanzania and our Honeymoon Safari with Africa Dream Safaris. We could not have dreamt a more perfect execution of events over our 10 day adventure.

Lynn, our safari planner, proposed and helped tailor the perfect itinerary given our love for photography, our want to be pampered on our honeymoon, and our history of being avid travellers.

As soon as we stepped off the plane, we knew we were in for a pampering when our Jane met us at the terminal to get our Visas. While everyone was waiting in line and filling out paper work, we stretched our legs and had a drink of water.

Then we blasted by the line and didn't even pass through customs to meet Emmanuel (the meet and greet staff in Arusha).

He gave us an authentic African wedding mace and jewellery and taught us some Swahili!

He made sure we were always looked after and kept us company even when our flight into the Serengeti the next morning was delayed 45 minutes.

Then we met Wilfred: our guide, driver, human binoculars, nature encyclopaedia, and friend. There is not enough praise that can be given to the Wilfred and the other Africa Dream Safari drivers we met during our Safari.

He was there every morning with a smile to attend to our every needs and wants. If we wanted to see a certain animal, he was sure to stay out on the roads until we saw and captured it.

He was extremely sensitive to our needs as photographers and made every effort to get the best vantage point no other vehicle around us was willing to move into.

In the Central Serengeti, while all the other vehicles were watching a Lion couple copulate, Wilfred suggested we come back after we checked a hunch of his out.

Sure enough, moments later we were on top of 2 cheetahs eating a fresh warthog kill a few hundred metres down the road. The other vehicles didn't even have a clue what was going on. What a shame!

At the Mara River, even after 90 minutes of waiting, after other tours came and left, Wilfred was adamant something was going to happen. And like clock-work, a small herd of Wildebeest decided to cross the river right in front of us.

We saw a river crossing kill by 3 crocs the size or horses! Talk about National Geographic, my heartbeat was racing and my wife couldn't believe what she was seeing!

The private camping was a once in a lifetime experience and just to be able to sleep on the Serengeti plains would've been enough. But a hot shower with plumbing whenever you want, a privately cooked dinner by your own chef, hot water basins to wash your face in the morning, hot chocolate in bed, electricity, hearing the Hyenas, Jackals, Zebras roaming around our tent was just indescribable.

Wilfred even helped us with our other passion: Geocaching. Wilfred helped us track 12 of them down throughout our trip. It was incredible that I could describe a landmark from the cache description, and he would know exactly what and where I was talking about. What a resource to have!

We could go on and on about the wonderful lodgings (including the heavenly Swala Camp), the amazing food, the kindness and hospitality of the Tanzanians...but really, it's something you should experience for yourself.

Africa Dream Safaris has lived up to its name and I will be sending anyone who is looking to scratch one off the bucket list to Lynn.

Asante Sana for everything!!

Our highlight Tanzania safari video:




Heidi & Shane's Safari Details:

Safari company used:
Africa Dream Safaris (make a direct enquiry)

Parks visited: Serengeti, Ngorongoro, Lake Manyara and Tarangire in Tanzania

Date of safari: June for 10 days

More ADS reviews »

More Tarangire Safari Reviews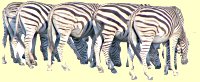 Join in and write your own page! It's easy to do. How? Simply click here to return to Safari Tanzania.