Utalii Safaris Review
by Marie-Louise Buergi
(Switzerland)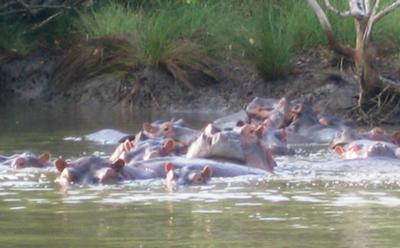 Hippos, my favorites!
It was not our first time in Tanzania and we visited already many villages and made many new friends we go and visit every year again. We just love Tanzania and its people.
Safari Company Performance
We travelled already in 2006 with Utalii and I found their address in the internet.
Their service is exceptionally nice, they really care about their customers, the office staff is superb and all the guides we had (2006 and 2009) have a great knowledge about Tanzania, the animals and all the parks in particular.
We always had a wonderful, interesting and funny time with them and felt save and very well taken care of.
We will definitely book other safaris in Tanzania with them. I also recommended them to members of my family and they also booked safaris with Utalii Travel and were more than content with their service.
Safari Accommodation
In 2006 we went to the Serengeti, there we camped at Dik Dik camp site, then we went on to Ngorongoro Crater, stayed at the Simba Camp site. From there we went down in the crater and then they brought us to Arusha and helped us find a nice hotel.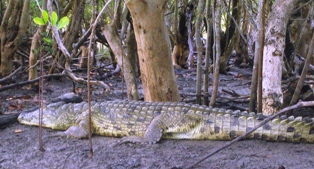 In 2009 Utalii Travel picked us up in Tanga, from there we drove down south to Saadani National Park. Because of the uncertain weather our guides took us to a camp site with bandas, instead of just tents so even if it would be raining we would be comfortable. They didn't charge us extra for that.
After the safari we changed our mind and asked them if it was possible to take us to Dar es Saalam instead of Tanga. No problem for them, once arrived in Dar, they were very helpful to get us ship tickets to Zanzibar, even though that was not their duty anymore.
Food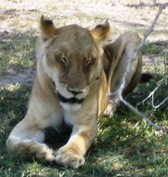 We had each time great cooks!!
Breakfast was bread or chapatti, jam, eggs, fresh fruit and tea or coffee.
For lunch we had pasta, salad, sometimes very good sandwiches, fruits and always enough drinking water and juice.
Dinner consisted of rice, ugali, potatoes or pasta with vegetables, chicken, fish or beef and very good sauces. Very delicious.
Wildlife and Highlights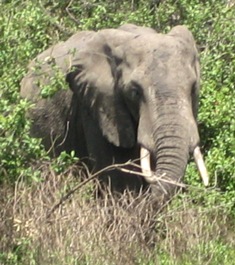 For the early game drives we got up shortly before sunrise and had breakfast after the drive. Later we would go on for another drive and come back for lunch and have a rest before in the late afternoon we went to other sites looking for animals.
Then we had time to clean us up and rest a bit until dinner was served. Usually after dinner we sat together with our guides and talked and philosophised about god and the world until we finally sank very tired with lots of African impressions into bed.
We saw gnus, zebras, hyenas, elephants, baboons, giraffes, warthogs, rhinos, cheetah, leopard, hippos (my favorites!), lions (a lot of them), spring bocks and a very big variety of birds.
The highlight, if you can call it so, was a lion killing a baby hippo. It was pretty incredible to see this life and not on TV, even though it almost broke my heart!
It was also great listening to all the nice African stories and in general the interaction with the guides. There was a lot of laughter : )
Tips and Advice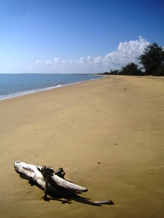 My advice for people planning a similar safari is to go and book with Utalii Travel.
For me, the sun tan lotion and a hat were the most useful items in my luggage ;-)
People, go to see Africa - it's just great!
Marie-Louise's Safari Details:

Rating: 10/10

Safari company used: Utalii Travel
(make an enquiry)

Parks visited: Saadani National Park in Tanzania

Date of safari: January 27th for 3 days, and February 10th for 5 days

More Utalii Safaris reviews »

More Tarangire Safari Reviews