Well Organised Safari
by Jack & Simone Boosman
(The Netherlands)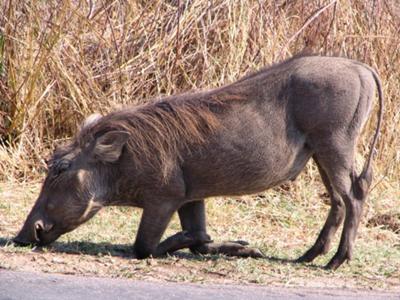 Warthog
On our Kenya safari we spotted two kills: both times it was a lioness killing a pumba. Which makes you realise everyone is part of the circle of life.
Safari Operator Performance
Our neighbours gave us very good references for Flash Safaris... they did great.
We had a very nice, experienced guide, the whole trip was very well organised, even all details.
The organisation is small and therefore the service is very personal. The Dutch manager even visited us in Holland to inform us about the trip.
Everything was according to expectations, or even better!
Accommodation
Arusha - in the owner's house was very nice.
Tarangire river camp: awesome views, great place.
Migunga tented lodge (Manyara) was very nice.
Ikoma lodge (Serengeti): lovely, situated on the edge of the Serengeti, many animals passed by.
Rhotia Valley (close to Ngorongoro): beautiful place, romantic, with great views.
Fumba beach, Zanzibar: great, great service, perfect place to relax.
Zanzibar Palace hotel: central in Stone town, beautiful rooms.
Food
At the owner's place we probably ate the most traditional - Ugali, pilau. The girls cook great there!
In the lodges the food was not always very traditional but really good!
Wildlife
Zebra's, gnoes (part of migration), giraffes, elephants, lions, 1 rhino, hippos, leopards, cheetahs, buffalos, gazelles (Thomson, Grant), impalas, baboons, warthogs, many kinds of birds, bush babies, 1 chameleon.
This is not half the list we have seen.
Typical Day
Usually we woke up at 7.30 am to have breakfast, and left at 8.30 am.
The whole day we were very active but relaxed spotting animals, hanging out of the roof of the 4x4. Great!
We had lunch at a beautiful place in the park at 1 pm or so. Around 5 - 5.30 pm we left the park.
At 6 pm we would be in the lodge to have a shower and relax some more, and dinner at 7.30 pm.
We went to bed early listening to the animals passing by at night, as dark sets in at 7 pm.
Other Activities
We did a night safari in Ikoma lodge, Serengeti, which was very nice.
In Fumba lodge, Zanzibar, we snorkeled/dived. Wonderful!
Other highlights were the beautiful views, and the people are really nice. Still interested in tourists, in the person (though their money gets more and more interesting, of course – I can't blame them).
Tips and Advice
Just
contact
Magda from Flash! She will arrange everything so you'll have the time of your life.
We Dutch are said not to rate 10's so easily, but I'd say, why not. We're really happy, so I rate our safari 10 out of 10!
Although torches are sometimes provided by the lodges, we were happy to have our own small, well-working torch with us.
Jack and Simone's Safari Details:

Rating: 10/10

Safari company used: Flash Safaris (make an enquiry)

Parks visited: Arusha NP, Tarangire NP, Manyara NP, Serengeti NP and Ngorongoro conservation area

Date of safari: 29 June for 7-8 days, + 7 days Zanzibar

More reviews for this operator »

More Tarangire Safari Reviews