10 Day Safari
by Lisa Chandler
(USA)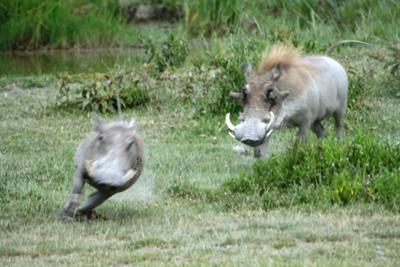 Warthog chase
We visited local villages, learned how to hunt with the bushmen, played with the children and had 5-star treatments in lodges and restaurants. I saw two different worlds in one.
Safari Operator Performance
We travelled through Tanzania, Tarangire National Park, Lake Eyasi, Serengeti and Ngorongoro Crater with Good Earth Tours.
They were totally professional and prompt in all their responses and a suggested itinerary.
The guide was totally awesome - very funny, knowledgeable of all flora, history, culture and animals.
The truck was in excellent shape and kept very clean.
The itinerary was great and the accommodations they selected were awesome.
No complaints at all - totally professional.
Accommodation
We stayed at the Arumera River Lodge our first night which is in Arusha. Very beautiful grounds, clean rooms, only had the breakfast and it was great - all the staff very nice.
The second night was at the Tarangire Safari Tented Lodge in Tarangire. Beautiful view off the terrace, very fun staying in the tents, the grounds were very well maintained, staff very friendly.
The next evening we stayed at Kisima Ngeda Permanent Tented Camps - probably one of our favourite places. It was small with a great pool, great ambience. They also have a tilapia farm which was very interesting. All overlooked the lake.
The food was great and they invited our guides to eat dinner with us which gave us time to visit and learn about African culture, ect…
The owners were awesome and the staff great.
Then we stayed at the Serengeti Sopa Lodge in the Serengeti for three nights. Very beautiful, great food, great staff - had entertainment every night of local singers and dancers.
The last night we stayed at the Ngorongoro Sopa Lodge and it was equally nice.
Each place had its own distinct personality and we thoroughly enjoyed all of them. We were very, very pleased and surprised at how much English the staff spoke and very well. One of our waiters spoke appx 12 languages very fluidly.
Food
Breakfast was typically a buffet of fruits, cereals, sweet rolls, toast, omelettes, bacon or sausage and wonderful fresh juices.
Lunches were box lunches made by the place that we had stayed the night before. They generally were either chicken or beef, hard boiled egg, several fruits, fruit juice, and a chocolate bar. You had plenty to eat in your box lunch.
Dinners were served at 7:30 and some were buffet style or your choice of two or three meat selections (beef, chicken, or fish).
There was a mixture of local dishes and mainstream type dishes - such as mashed potatoes, green beans, ect, and always 5-7 desserts to choose from.
Service at all places was impeccable, you would have thought you were at a 5-star dining place.
So, if you wanted to be adventuresome into the local food - it was available or if you wanted to be conservative you could.
Wildlife
These are just SOME of the wildlife we saw: Banded mongoose, warthogs, hyrax, dikdik, jackal, zebra, common waterbucks, impala, vervet monkeys, baboons, wildebeest, topi, baby monkeys, giraffe, cheetah, lions, hyena, leopard turtles, leopards, agama lizard, elephants, cape buffalo, hippopotamus, rhinos, black mamba, green mamba, all kinds of beautiful birds.
I believe one of our highlights was just seeing the massive amounts of wildebeests and zebras as far as one could see on the Serengeti.
Seeing the lions was also an incredible sight.
Typical Day
We would get up and start each day with a fabulous breakfast buffet.
Then we would head off to see whatever animals we could find. We would stop and watch and take pictures of different animals and birds as they lived in the wild.
We would stop at different rest stops for our box lunch and take off again for more animals.
We would arrive at wherever we were staying early enough to take a swim, shower and be ready for dinner.
Then enjoy whatever the accommodations offered for evening entertainment or sight and discuss whatever we saw that day. Usually we were off to bed pretty early to recover from a full day of activities.
Other Activities
We went hunting with the local Bushmen and visited their village. What an awesome experience. They are unbelievable with a handmade bow and arrow.
They were kind to us and stayed pretty slow and easy going through the brush! They are unbelievable fast and go a long, long ways (ours was short! For our benefit).
They also did some local dances and songs which we joined in on and then taught us how to shoot their bows. We had a great appreciation of their abilities!
We brought candy and cookies which was enjoyed by kids and adults.
We also visited a Masai village and learned a little about their culture which was very interesting.
We got to see how they built their huts, their schools, how they manage their livestock.
Photography
My daughter in law did most of the pictures and she took some lessons with a photographer before we left.
We rented a special lens, case and memory card for the trip.
Learn about safari photography...
Tips and Advice
If you can pack an extra bag - take candy, school supplies, extra shoes, clothes for the children. I wish we had taken more - next time we will.
Be patient getting in and out of the airport - when we left the computers had gone down and it took a long time to get checked in.
Make sure your truck has a lift up top - you don't want the sun beating down on you all day.
The most useful items on our safari were medicine for travellers diarrhoea, sunscreen, bug spray and cortisone cream.
Wish we had taken electrolytes that were good to drink.
We really didn't go with any preconceived ideas…we were totally open to whatever we discovered and saw. It was such a fabulous trip…my son said to me – Mom, I don't see how you are ever going to top this trip.
We have no disappointments except for maybe one…that we couldn't stay longer.
Safari packing list
More Serengeti Safari Reviews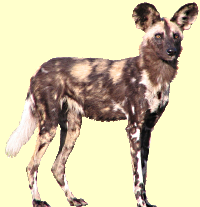 Join in and write your own page! It's easy to do. How? Simply click here to return to Safari Tanzania.