Across Tanzania Expeditions Adventure
by Susan Mays
(USA)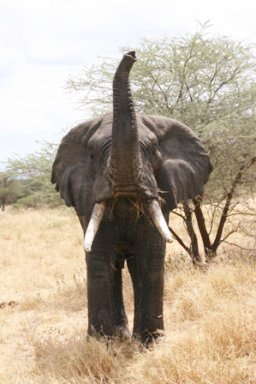 Tanzania Elephant Greeting
As we were driving through the Serengeti after a fabulous day, I was looking out the window, speechless, just staring at the beautiful wide open plains with nothing in sight. Suddenly, and I can't explain it, tears started to gently fall down my cheeks.

I was so embarrassed and didn't want the others to see, so I continued looking out the side window.

I now know that I simply found a sense of peace I had never experienced before in my entire life, and as I write this, those tears are returning.

As one good friend told me by listening to me constantly talk about my experiences to anyone who would listen, "Susan, you found your nirvana, didn't you?"

And, yes, I have.
Safari Company Performance
Across Tanzania Expeditions provided absolutely wonderful personalable treatment.
An individual safari for just my friend and I in a land cruiser with an open top and a guide who said "
I am not taking you on a safari, we are going on an adventure together.
" There is nothing not to like.
We heard about the company after I bought a donated auction item of a 5 day safari trip with a friend at the school we work at.
Accommodation
On arrival, stayed at the Impala Hotel in Arusha. Accommodations were very large and clean, and service was excellent.
In Tarangire National Park, we stayed at the Tarangire Sopa Lodge. The location was lovely, and Hezron, our guide, got us a room with a special view for the lovely sunset. Service was excellent, and large and clean rooms.
In Ngorongoro Conservation Area, we stayed in the Ngorongoro Sopa Lodge; very much the same as the Sopa Lodge in Tarangire.
And in the Serengeti, Hezron surprised us with lodgings at the Mbuzi Mawe Tented Lodge; our absolute favorite lodging. They are permanent tents, two double beds with netting, a huge bathroom, a desk area, and a sitting area.
And this was the only location that had hot water 24 hours a day. The other lodgings have specific times when the hot water is working.
And on our last morning, Hezron had arranged for us to have the staff set up a table outside our tent and serve breakfast for us without our knowledge. The first we knew was when someone was calling in through the tented door, "
Hello, hello, what would you like for breakfast?
"
Food
Most breakfasts were buffet style, and they had both normal western fair such as eggs, sausage, bacon, fruit, breads, as well as a few African items like millet (
which I tried, but did not find enjoyable
).
We usually chose to have a boxed lunch on safari so we did not waste time driving to and from the lodgings. They were probably some of the best boxed lunches I have ever had, and always too much to eat.
They always had a variety of foods, including steak wrapped in foil, roasted chicken, sandwiches, fruits, juice, hard boiled eggs, and candy bars.
Dinners were always wonderful. I can't even remember what we ate, but you generally had a choice of starters, entrée (
meat or vegetarian
), and desert. Nothing extreme from what we normally eat at home.
Wildlife Highlights
We saw everything possible. From the funny little warthogs to the majestic lion. And, everything was so close-up.
The imposing elephants, wildebeests with their wonderful mooing, the graceful zebra and impala, elegant giraffes, black-backed jackal, enormous Cape buffalo.
The ever-awkward looking ostrich, the funny baboons, the hyena, flamingos which I had no idea would be in Africa, the beautiful Egyptian Geese, lovely cranes, male, female and baby lions, the huge pools of hippo, cattle egrets, The Kori Secretary bird, the iridescent Superb Scarlet, and the spotted hyena.
Three of the most beautiful cheetahs lying right under a tree staying cool in front of us, topi, red-billed ducks, and yellow-billed storks.
Then, my very favorite – a leopard right up against a vehicle tire, Nile crocodiles, the funny little Goliath Heron, a red-billed hornbill, and an actual black mamba that crossed right in front of our vehicle in the road (
I have a picture
).
Typical Day
Started the day with an early breakfast and left for safari by 7:30 – 8:00 each morning.
Traveled, stopped to watch animals for as long as we wanted, or to just take photos (
Hezron was very indulgent of my need to take pictures, stopping everytime I asked
), stopping at some picnic area or just the side of the road for our boxed lunches.
And continued with the safari just as in the morning sometimes covering the same areas because Hezron kept track of where the animals would be moving to until about 5:00 p.m., which is when we usually returned to the lodge to shower, relax, and have dinner before retiring for the night.
Tips and Advice
Be open minded, don't have expectations, and enjoy every single thing around you; even the butterflies. Nothing is insignificant when you open your mind.
My camera and my journal were the most useful items in my luggage.
More Insights
The weather was nice and cool in the mornings, around 40°F, then warming to around 70°F in the day. Sunny all days.
Visited a Maasai Village, which was most enjoyable to me since my major in college was Cultural Anthropology. They are a beautiful people.
More Serengeti Safari Reviews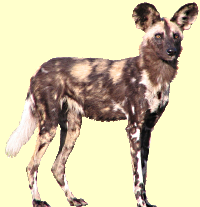 Join in and write your own page! It's easy to do. How? Simply click here to return to Safari Tanzania.