Africa Dream Safaris Review
by Kari McCloskey
(USA)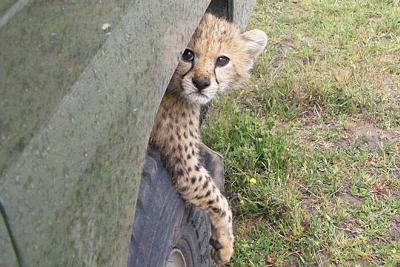 Cheetah Cub Straddling A Tire
We saw lots of cheetahs with babies. One cheetah family had six cubs that climbed on the tires of our car. The leopards were my dad's favourite. We saw four and one bringing a gazelle up a tree for dinner.
Safari Company Performance
The trip was better than we had even hoped.
Africa Dream Safaris took care or every detail and the driver guide and other support staff were all very nice and helpful.
I don't have a single negative comment about my experience.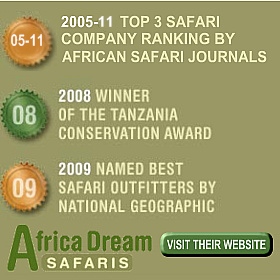 Accommodation
We stayed at the Ndutu Lodge which had a beautiful view and lovely accommodations.
We had a private camp which was amazing. I was so impressed at how nicely the camp was set up. It was wonderful being out camping and hearing the noises of the animals at night.
We also stayed at the Ngorongoro Serena Lodge the view was breathtaking. The lodge was beautiful.
We stayed at the Plantation which was lovely too. The grounds were large and beautiful. Our room was large and very nice.
Kikoti Tented Lodge was one on the coolest. We felt like we were in a tree house when we slept. The restaurant and bar were amazing.
We started and ended at Arumeru River Lodge. The room was nice and the grounds were beautiful.
We didn't stay anywhere we were not satisfied with. The service staff in every lodge was exceptionally nice.
Food
Breakfast was usually eggs, bread with meat, yogurt and fruit. Lunch was much the same with and sandwich and soda.
Both was in the car in route. Dinners were at the lodges and were delicious. It seemed like everyone made a great soup.
While we camped the staff prepared a meal of tradition foods for us. We LOVED it all and it was one of our favorite meals.
Wildlife Highlights
We saw EVERYTHING! I don't think we missed much. We saw lots of babies at the end of February and early March.
I will try to think of everything we saw: Owls, vultures, lots of lions, hyena, tons of cheetah, gazelles by the thousands, the wildebeest migration, warthogs, and giraffes.
We also saw duikers, dik dik, eland, elephant, zebra, jackal, mongoose, tortoise, flamingos, ostriches, too many beautiful birds to list, impala, agama lizards, aardvark, reed buck, leopards, hippos, crocodile, caracal cat, cape buffalo, mongoose, serval cat, topi, baboon, rhino, vervet monkeys, blue monkeys, water buck, and one monitor lizard.
We saw lots of chases. Seeing the 13 prides of lions was amazing.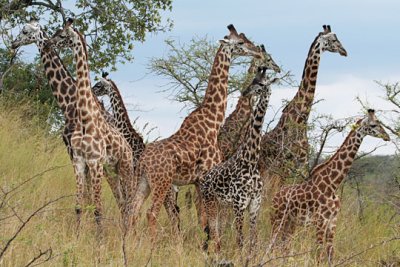 Typical Day
We wanted to wake up early and go before the sun rose.
We always found amazing things early in the morning. We ate breakfast at some beautiful spot we were at the moment.
Then more driving and spotting before another lunch out in the middle of nature. We would then stay out until almost dark, driving and stopping whenever we wanted to.
Then we ate dinner at the lodge and went to sleep to start a new day.
Other Activities
We visited a Masai village which was a great experience and not to be missed.
We did a little shopping at roadside shops too which was fun.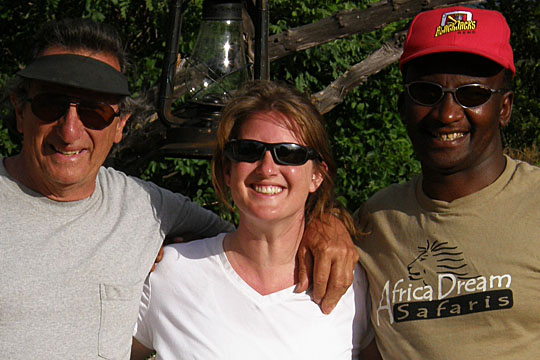 Tips and Advice
Think about what you really want to see and plan around that. I wanted to see the babies and I saw so many. The migration was amazing to see too.
Great binoculars and my camera were the most useful items in my luggage, as well as good sunglasses.
A thin long sleeve shirt with sun protection also came in handy.
More Serengeti Safari Reviews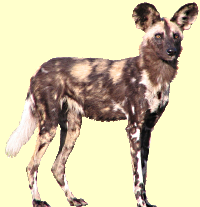 Join in and write your own page! It's easy to do. How? Simply click here to return to Safari Tanzania.