Big and Small Cats on Safari
by Rachael Macy
(USA)
An exciting moment for me was a serval cat hunting right next to our truck (maybe 10 feet away). I am a huge fan of the small cats so it was a real treat. But, the entire trip was a highlight as it was my first safari.
Safari Operator Performance
I travelled with Flash Safaris and Photography. I found them online.
They did a wonderful job. The guide was very knowledgeable and helpful.
Accommodation
Our accommodations were Rotia Valley Tented lodge and children's home, Kenzan tented lodges.
Food
The meals I had were a mixture of traditional foods as well as more westernized foods.
Breakfast was always fruits with toast and the offer of eggs.
Lunch had a wide variety ranging from sandwich to roasted chicken with fruit and hard boiled eggs.
Dinner was usually a westernized meal like for example spaghetti with meat sauce.
It was all very good.
Wildlife
I was very fortunate in that I saw all the big five (lion, leopard, buffalo, elephant and rhino). I was very excited to see some of my favourites like spotted cheetah, hyena, hippo, zebra, and giraffe.
It is hard to pinpoint a highlight as I had a couple. I saw three separate leopards (one even walking among the trucks). We watched a crocodile hunting zebra for a long time (it did not catch anything). We watched a jackal chasing off a hyena for quite some time as well.
Typical Day
My typical day started with breakfast at the camp. We would then proceed to the park for the day. We would drive looking for animals.
The driver was excellent at listening to what I was interested in seeing and trying his hardest to find the opportunities for me.
We would stop for lunch and rest for a bit. Afer lunch we would continue driving until around 5:30. Since I was staying in camps outside of the parks, we would head back to camp so I could shower and clean up before dinner.
Other Activities
I visited the Olduvai gorge which was wonderful.
We also visited a Maasai boma which I was not real comfortable in. My only regret of the trip I think was visiting the boma. I also spent some of my trip visiting local schools which seemed to be more genuine about their excitement for my visit.
Tips and Advice
The most useful item in my luggage was my headlamp.
More Ngorongoro Safari Reviews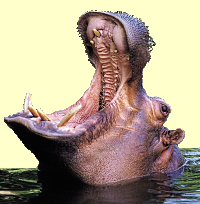 Join in and write your own page! It's easy to do. How? Simply click here to return to Africa Tour Operators Reviews.