Fascinating Wildlife on Safari
by Debbie Bruce-Duncan
(Italy)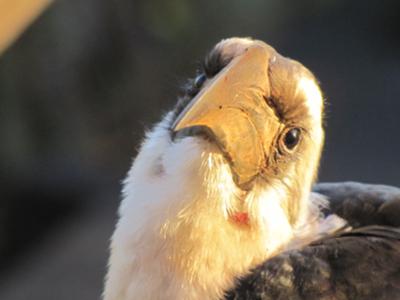 Our breakfast guest at Kirawira
The funniest thing we saw was a dung beetle. Our guide spotted him on the side of the road. It was fascinating to watch this industrious and determined little bug, roll this large ball up a hill and then try to dig a hole for it.

I know it was not the most glamorous sighting, but even the smallest creatures are amazing in Africa!
Safari Operator Performance
We used Roy's Safaris.
We heard about them in travel forums and through African Serendipity.
We really liked the service from Roy's.
The safari vehicle was reliable and clean.
The staff were very nice.
Roy's uses the African Tulip Hotel in Arusha for their clients, which is beautiful hotel, and the rooms are wonderful, but the staff there are not helpful and the food in the restaurant was not very good.
We were there only one night, so we ate our other meals away from the hotel.
We loved our guide, Elirehema.
He was very nice, treated us like royalty and had eyes like a hawk.
He was very knowledgeable and could spot wildlife unlike anyone I have ever seen.
Accommodation
Arusha - African Tulip (1 night)
Kambi Ya Tembo Tented Camp (2 nights) - a safari is the most amazing trip that anyone can take. Even though we had been to Africa before, here, at Kambi Ya Tembo, our guide could eat meals with us.
We learned so much about the culture and what it is like to live in Tanzania and the importance of family from him. I wish all camps allowed this practice. We experienced this at the beginning of our safari, so we felt our guide was more of a friend, not just a guide.
Lake Manyara (1 night)
Ngorongoro Sopa Lodge (1 night)
Mbuzi Mawe Tented Camp (1night)
Kirawira Tented Camp (2 nights)
Gibbs Farm (2 nights)
Food
The food at all of the camps and lodges were wonderful.
At Kambi Ya Tembo, food was cooked fresh and served family style. All drinks, including alcoholic drinks were free and they had a wide assortment of drinks.
Most of the meals were a menu with a choice of entrees for dinner. There was also vegetarian choices as well.
We mostly had box lunches because we were out all day on safari. I have to say, they are the WORST meals on a safari. Plenty of food in the boxes, it just was the same thing everyday and not tasty or good at all.
Kirawira's food was exceptional. We actually ate lunch there and the soups and salads were so good.
Gibb's Farm grows most of what is on their menu and everything is fresh, wholesome and organic. The coffee there is roasted fresh daily and served throughout the day. You can also see how they make their own cheese and yogurt that is served daily as well.
Wildlife
Our last safari
we were disappointed about not seeing leopards, but this time, in Tanzania, more than made up for it, as we saw 5 leopards during our safari.
We also got to experience the Migration, which was absolutely the most amazing sight I have ever seen. So many wildebeests all the way to the horizon.
We also came upon lions with their kills early morning in the Crater.
The bird life was fabulous as well.
Of course, we saw elephants, zebras, giraffes, Cape buffalo, bat eared foxes, gazelles and ostriches.
We also enjoyed seeing some cheetah brothers in the Crater.
We also saw a lot of different types of mongoose, including dwarf and the banded species.
I really liked the little klipspringers in the Mbuze Mawe area. They were so cute.
This is just a small listing of wildlife we observed.
Typical Day
We got up just before sunrise and had a quick breakfast, then took box lunches and went on a game drive all day until 6pm.
We then returned to camp for sundowners and dinner.
At Kirawira, they brought up muffins and coffee on our tent veranda. We watched the sun rise and had a breakfast guest (a very cute and polite little hornbill) that patiently waited for our crumbs.
Other Activities
We did a night drive at Lake Manyara, a wildlife walk at Kambi Ya Tembo and a tour of Gibb's Farm, along with a hike to the Elephant Caves near the farm.
Disappointments / Regrets
The NIGHT game drive at Lake Manyara was very disappointing. We only saw a few hippos and some hornbills.
I felt we disturbed some of the day animals (a poor giraffe was spotted and startled out of his hiding place) which bothered me. I would not do a night drive again for that reason.
The Kambi Ya Tembo area is known for its large elephants, but we did not see a single elephant. It seems that they are there only when it is dry elsewhere and we were there at the end of the rainy season, so they stayed in Amboseli, across the border. There was not much wildlife in that area, except for a few gazelle and giraffe.
The tsetse flies in the Kirawira area made it absolutely impossible to enjoy a game drive in that area. Needless to say, I still have the scars on my ankles and arms from them. Not the type of memory I wanted to bring back from Africa!
Photography
I took some tips from
the free wildlife photography e-book
and I used a Canon SX20IS and a bean bag.
I got some great shots.
Tips and Advice
I would not take the drive from Nairobi to Arusha, it is brutal. The flight is worth every penny!
I would not do a night drive, especially if the moon is almost full. I was told that is why we didn't see very many animals.
If you are going to an area of tsetse flies, wear long pants, socks and good
shoes
. They bite through almost everything, but that will give you some protection. There is no repellent for them.
I took my bean bag for my camera, which helped steady my shots; a flashlight for the camps.
Full safari packing list »
Also, we didn't want to pay the expensive price for wine at the camps, so we purchased a few bottles at the Shoprite store in Arusha at a substantially lower price before we started on the safari. We enjoyed having a glass of wine on our tent veranda each evening. We also gave one as a gift to our guide along with his tip.
The most useful item in my luggage was an electric power strip (220v). Three of us had so many electronic gadgets and we were able to charge everyone's items without a problem.
I rate the trip 10/10 - we enjoyed it very much, even with the small disappointments.
Debbie's Safari Details:

Rating: 10/10

Safari company used: Roy's Safaris (make an enquiry)

Parks visited: Tanzania - West Kilimanjaro, Lake Manyara, Ngorongoro Crater, Serengeti and Karatu

Date of safari: 23 May for 12 days

More reviews for Roy Safaris »

More Ngorongoro Safari Reviews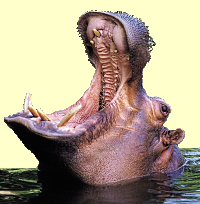 Join in and write your own page! It's easy to do. How? Simply click here to return to Safari Tanzania.