Great Tanzania Adventure
by Chirk
(Seattle, WA, USA)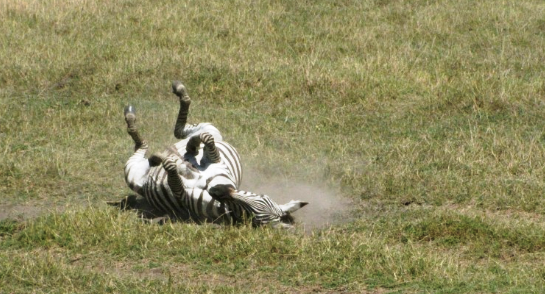 Silly zebra wallowing
Just back from terrific trip, with thanks to postings on this site. Just my husband and I on a custom trip that priced out well because we didn't fly much between countries. Here are some highlights!
Highlights
Magical day:
We had a once-in-a-lifetime day just driving out of the Serengeti: We ran into a herd of 30-40 elephants that we watched for a half hour + as they surrounded us and went about their lives. Then we tracked and waited for a pair of lions in mating mode. They were about 10' away when they "did it" - Randy caught on
video
while I got great stills.
The Migration:
Almost impossible to portray the extent of it. Millions of animals, mostly wildebeest, accompanied by zebra, often loping single file across the Serengeti Plain, which looks basically like any scrubland in the U.S. The magnitude and scope are astonishing; it's what we envision the great buffalo herds must have been like.
Animals in general:
The first views of giraffes, or antelope, or zebras were thrilling around each bend, sauntering, eating, watching us watching them, or completely ignoring us. Over the week, we became blasé: another giraffe, yawn. But we never tired of watching groups interact in actual habitat activity (baboon infants wrestling; elephants twisting trunks; giraffes scratching each other); and delighting in so many species co-habilitating. Seeing ostriches in the middle of nowhere, or running, was a hoot. It was exhilarating to be 3' away from an elephant staring at you or a lion thinking of mating. Yes, we saw the big five, but the black rhino and the leopard were waaayy in the distance.
The Masai:
We were fascinated by the Masai people, herding gaunt herds of cattle and goats, dressed in bright traditional robes, living in mud huts; going about their lives as their ancestors did a thousand years ago. They're beautiful; willing to be photographed for money.
Chumbe Island day visit:
This intimate eco-resort near Stone Town was a paradise, with sparkling coral, warm waters, gorgeous quiet sands, and seven charming bungalows. Very worthwhile for $80pp for a day visit (it's much pricier for overnight visits).
Logistics
Booking:
Upon the glowing recommendation of a colleague, we worked through Mike Toogood at Africa Safari Direct, which is based in London. He coordinated the trip with: Ranger Safaris; Fishermans Tours in Zanzibar; Savannah Tours in Dar. Overall we were very satisfied (see useful info below); may have been worthwhile to talk to Ranger Safaris ahead of time.
Useful information
Money:
US$ are all you need; make sure they're crisp and intact (even the Visa counter asked for a better $100 bill!). Pack more than you think you need. There's a little bit of trust involved as they use hand calculators to do the exchange rate between schillings and dollars.
Driving:
There are many long, hard drives on tough rugged roads. Then again, you see many animals and are treated to visual of natives throughout. Our driver did an amazing job and was obviously very familiar with the roads. Tanzania does not allow off-road driving. I used my airplane seat cushion in the car and often took my sandals off. Make sure your transport pops its top so you have built in sun shade.
Itinerary:
Our trip planner coordinated among three tour groups. Some items he confirmed were not physically possible, which was a little frustrating and surprising. May be worthwhile to go directly to the primary land tour guide to confirm. The northern circuit includes the major parks of Serengeti, Ngorongoro, Lake Manyara, Tarangire. But you're actually driving back and forth. We could have cut out Tarangire as it was mostly (more) baboons and elephants. Another idea is to fly into the small Serengeti airport and focus most of your time there and maybe bop into the Ngorongoro. We had expected a lot from that caldera, touted for having the highest concentration of creatures. But it was anticlimactic - the roads were further from animals than our Serengeti drives. It did have the best hippo pool. (We learned afterward that there used to be off-road driving allowed in the caldera, which explains why past visitors gushed so much.)
Dress:
our light quick dry shirts and pants were perfect. I wore a tank top most of the time, and covered up with a shirt as needed, rolling sleeves up and down. You don't really need hiking boots (unless you've confirmed climbing or hiking, obviously) nor sun hats if your car has a pop top.
Daily routine:
Breakfast 6:30ish; set out 7:30 or 8ish. Sometimes took lunches with us; returned to lodging mid day. Or take siesta during mid-day blaze and set out for afternoon drive around 3:30 (parks closed at 6). Some groups we passed were getting roused much earlier; our guide seemed confident we wouldn't be any more likely to see more at 6am than at 8am. Dinner started at 7:30 nearly everywhere.
Food:
Mostly plentiful buffet of medium quality. There are no drinks included in the meals except for coffee and tea. We started bringing our own bottled water to meals but didn't see many others doing that.
Safety:
We saw guards with rifles but fewer than we expected. We never felt threatened or insecure - though that may have been naïve, especially as we walked around the cities.
Language:
Although they are taught English, our guides had fairly poor command of the language; accents are incorrectly placed on basic words. Workers at the resorts had very poor English skills (no idea what "decaf" coffee was).
Swahili:
We regretted that we hadn't learned more of the language. Main greetings were "Jambo" (hello); "Karibu" (welcome for both you're welcome and welcome to join us); and hakuna matata in the highly tourist areas (this is an actual phrase, not something made up for Lion King as we had thought).
Bugs:
We had intermittent frantic bouts with swarms of flies, with the tse tse pervasive near the wildebeests in particular. We took care with sprays, long sleeves and pants, and avoidance of night time outings and mostly were OK. One 4 fl oz (Ben's 30 deet) spray was perfect for two of us for 8 days. We bought serious 95% deet and never used it.
Photography:
We had two Canon point and shoots, including a new SX110IS, which had 10x optical zoom and yet was fairly lightweight and compact. We felt very good about the quality of our photos and did not regret having fancier equipment.
Binoculars:
We brought one pair (very nice Nikon Monarch 8x36 waterproof) for the two of us and it worked pretty well as most things were very close anyway!
Internet:
Available in half the lodgings, but excruciatingly slow. Charge is not too outrageous but takes forever to do anything.
The people:
Natives were mostly beautiful in all manner of colorful garb. But most encounters with people involved hands out and the broken phrase, "gimme money." They're willing to be photographed for a price.
Zanzibar:
Old Stone Town is run-down, cluttered, with buildings falling apart, and aggressive hawkers who start out gentle and become noxious as you back away. The tide is extreme in the morning, you can walk out into the Indian Ocean for probably a mile!
Fabulous outing to Chumbe Island (departs close to Stone Town):
We couldn't afford to actually be one of the 14 guests who stay overnight, but were delighted by our experience as day visitors in this intimate paradise. For $80, you get a fun dhow ride to the island (about 45 min), a briefing of the eco-nature of the island, a bungalow to call your own while you're there (we presume this is standard but perhaps not as we had tagged along with a group of "dignitaries" including folks from the education department!), a snorkel outing on a motor boat (+- 1 hour), lunch, and spectacular idyllic, secluded beach and water for the day! The bungalows are very cool (literally air-conditioned by air), with thoughtful eco-design throughout.
Lodgings
All welcomed you with some refreshing juice and a wet cloth. All provided two bottles of water; sometimes daily; almost all had good bug-proofing, with mosquito nets and spray. I think most of our lodging chosen by our trip planner was considered moderate with Mbuzi Mawe the best, and on the higher end. (see reviews on Tripadvisor).
Video
lion mating video
. Enjoy!
Chirk's Safari Details:

Agent used: Africa Safari Direct (make an enquiry)

Parks visited: Serengeti & Ngorongoro Crater, Tanzania

Date of safari: Nov 14-27 (incl. 3 nights in Zanzibar)

More Tanzania reviews »
More Ngorongoro Safari Reviews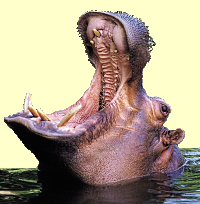 Join in and write your own page! It's easy to do. How? Simply click here to return to Safari Tanzania.