HM Safaris Review
by Sanj
(United Kingdom)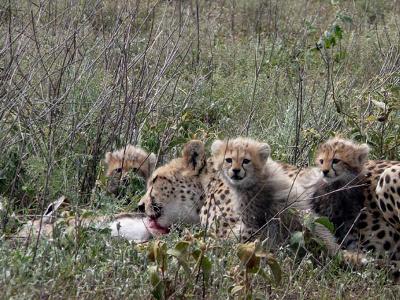 Cheetah and her cubs
We saw the wildebeest migration, tons of lions, baby lion cubs, cheetahs, leopards, you name it. My favorite would have to be the lioness with her cubs - they couldn't have been more than a few months old and were adorable.
Safari Operator Performance
I was thoroughly impressed with HM Safaris.
The company is relatively new and was started by a former Tanzanian guide (who still guides). He was really great and patient and took the time to give us a personal, special journey through his homeland.
Definitely look into HM Safaris if you want to try a mixture of lodging options and want a guide who knows the area inside and out.
We're already trying to figure out when we can go back again - we're hooked!
Accommodation & Food
We stayed in a variety of lodging from budget camping to luxury tented lodges.
Each was unique but the food was outstanding everywhere we went.
Tips and Advice
Definitely look around and decide what's most important for you. We almost went with another tour because they used only luxury private camping and were so glad we opted for HM Safaris.
The one on one with the guide was invaluable and I feel as though I know so much about the African wilderness now.
We'd been to Tanzania once before and went to Selous in the south of Tanzania. Our experience was not nearly as good. Although the lodging was spectacular (and expensive) our guides didn't seem to care at all about ensuring we learned anything on the trip.
The vehicles were also shared, which was ok but not the best when the animal you want to see is on the opposite side of the vehicle to where you are! One woman actually saw a leopard in the grass and had to ask the driver to stop!
Our experience with HM Safaris couldn't have been more different and our guide would often stop without being asked because he could see we wanted to take a photo! Perfect!
More Serengeti Safari Reviews