Tanzania with Flash Safaris
by Heather Cook Elliott
(Milwaukee, WI, USA)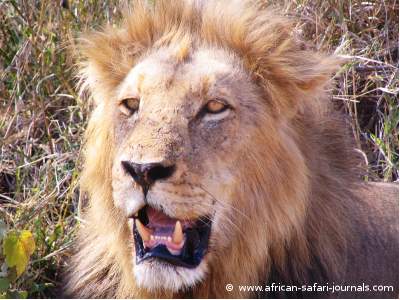 We saw the big 5 (lions lions everywhere!) plus spent many wonderful relaxing fun moments watching baboons, monkeys, hippos, giraffes, hyenas, mating ostriches, funny little warthog families and gazelles/antelopes of all kinds.
Safari Operator Performance
Flash Safaris and Photography was WONDERFUL!
Very attentive from the beginning to the end and even afterwards checking in on us as we continued onto Zanzibar on our own.
Our guide was AMAZING!
Accommodation
Karama Lodge in Arusha - wonderful place to recover from jet lag.
Magunda tented camp outside Lake Manyara.
Ikoma Tented camp in the Serengeti - great place with beautiful tents, food and awesome guards with bows and arrows to protect us from the hyenas ;)
Bouganvillia Lodge in Karatu - perfect place to spend Christmas with access to a local church, great service and the best gift shop.
Kisima Ngeda at Lake Eyasi - the absolute best place with an amazing staff and owners. The owners seemed to have a good honest relationship with local staff and invest in the local school and agriculture. The food was just delicious and we got to see the local family of golden hyena that live on the property plus lots of monkeys.
Wildlife and Activities
Our wonderful guide (Philipo) made us care about bird watching he was so knowledgeable - weavers are the best! - and never rushed a moment just enjoying the scenery and animals.
Apart from the big 5, we also witnessed a kill involving hyena, vultures and a jackal (with a zebra as prey.)
One of our best days was hunting - literally - with the Hadzabe "bushmen" of Lake Eyasi and visiting a Datoga family.
Plus hiking around a modern maasai village outside Arusha started our trip off right.
Tips and Advice
1) Bring $100 in $1 bill denominations so that you can jump into the local economy more quickly (we didn't go to the exchange place until day 2 so we had a hard time purchasing handicrafts and market items at Ilkiding'a and the Arusha market. Even then we would have only had large Tsh denominations and change was hard to come by).
2) Sounds crazy, but I would have brought a Polaroid camera to take pictures and share the results with locals. I think it would have been fun and a good way to give back. In general people don't like to have their photo taken because they think the photographer just wants to make money off of them. But if you did take their picture they were very interested in seeing it or would ask the guide if by chance they could get a copy...
3) Bring cigarettes or loose tobacco to offer to the Hadzabe as a kind of thank you.
4) When traveling over the holidays I would bring a small token for the guide. By Christmas day (day 5 or so on our safari) we felt that Philipo was part of the family and we wished we had brought a t-shirt or sweatshirt from our hometown to give him as a kind of souvenir!
5) We were told to use the tip boxes at the hotels but to do it over again I would bring lots of small bills and tip those that were deserving directly. There are so many staff members around to help you at every moment that we were told it would be too difficult to tip everyone directly, but I felt a little suspicious about whether or not all the tip money was really shared or if the house - inevitably a European owner, not a local- would take a cut first. So for that baggage handler that just lugged 4 bags to your room on his or her head, the staffer that just walked you into town, or the guard that stood outside your room all night I would tip directly.
6) I was so amazed at how nice and accommodating EVERYONE we met in Tanzania was. However, I wish someone would have told us very early on that taking pictures of people can be tricky - and that it is considered kind of rude. Also, I wish it would have been a little more emphasized that long sleeves and pants (covering up) for ladies is a respectful gesture.
7) Make sure that you get involved in some of the cultural tourism stuff besides the Maasai villages. Tanzania is a wonderful place so rich in assets - I can't speak highly enough of the people, our guide, Flash, and the whole experience!!
Heather's Safari Details:

Rating: 10+++++

Safari company used: Flash Safaris and Photography (make an enquiry)

Parks visited: Tanzania - Arusha to Lake Manayara NP, Serengeti NP, Ngorongroro NP, Lake Eyasi with cultural tourism opportunities

Date of safari: 20 December for 7 days

More reviews for this operator »

More Serengeti Safari Reviews