Wildlife Photography Safari
by Richard Richmond
(Winchester, MA, USA)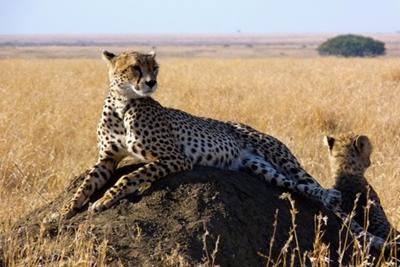 Female Cheetah (and one of three cubs), Serengeti Plain
Free access to your "Better Safari Photography" before the safari was appreciated and useful. It was particularly helpful to me in selection of a digital camera for this safari: Panasonic Lumix FZ35. The camera was just right for my needs and pocketbook.
Safari Operator Performance
My August 2010 safari in Tanzania was organized/managed by Overseas Adventure Travel (OAT) and operated under contract by Kibo Guides of Arusha. OAT focuses on clientele over age 55 in groups of 10 to 16 in number.
I had 13 fellow travelers. Kibo used one 7-passenger and two five passenger Land Cruisers for transportation.
Accommodation
Accommodations were Olasiti Lodge (Arusha), Burunge Lodge & Tented Campsite (Lake Burunge/Tarangire NP), Serengeti Tented Campsite (Rongai #1) and Tloma Mountain Lodge (Ngorongoro Highlands).
Wildlife
While on this safari I saw and identified 38 different mammal species, 66 bird species and 5 reptile species.
The wildlife seen included close-up views of Lions of all ages and both sexes, Leopards, Cheetahs, Cerval Cat, Elephants, Hippos, Cape Buffalos, Giraffes, Dik-diks, Elands, many Zebras and Wildebeests, Lilac-breasted Rollers, Paradise Flycatchers, Fish Eagles, Crowned Cranes, Nile Crocs, Nile Monitor Lizard and Agama Lizards.
A Serengeti safari highlight for me was to have come upon a female Cheetah with three almost mature cubs in the early morning light. We could sense their energy build as they stretched and searched the plain's horizon.
After sighting a gazelle from the top of an anthill, the female Cheetah crept quickly toward its prey, then charged but missed, perhaps because our presence had alerted the gazelle. With that, we left the Cheetahs, grateful to have shared a brief glimpse of these very athletic and handsome animals.
Typical Day & Activities
The safari experience (my 4th) was excellent for me.
In 11 days we had 8 half-day game drives, visited an elementary school, spent a morning with an extended Masai family, toured a coffee plantation and visited Shanga River House, a non-profit activity in Arusha that provides handicapped persons employment opportunities to learn how to and to produce attractive products from recycled materials.
I was to have taken a sunrise balloon flight over the Serengeti, but prior to take-off the balloon bag was damaged and the flight had to be cancelled for safety reasons.
Photography
While on this safari I exposed 1434 images and reduced them to 260 after edit using Photoshop elements 8 for Mac. Most images were taken with the FZ35, but some were taken with my older back-up, a Lumix TZ5.
Obviously, I am a very amateur photographer. Thank you for making your book available to me.
More Serengeti Safari Reviews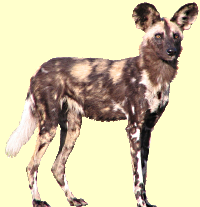 Join in and write your own page! It's easy to do. How? Simply click here to return to Safari Tanzania.