Access2Tanzania Review
by Nancy Andre
(Atlanta, GA, USA)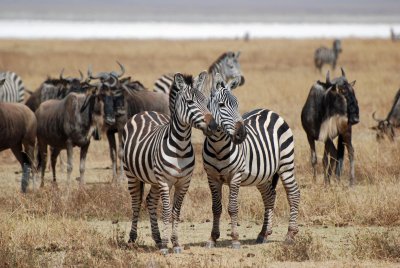 This was a dream come true for me. I had a strong desire to go to Africa and see wildlife in their own habitat since I was a child. I'm 60 now. It is hard to even find the words to describe how exciting this was for me!
Safari Company Performance
I knew almost nothing when starting our planning process, except that we wanted to go to Tanzania.
After doing a lot of research on-line, including TripAdvisor, we narrowed it down to Access2Tanzania by reading reviews, their pricing, and the pleasant phone conversation with Karen.
She seemed really tuned in to what we were looking for and was very responsive with good suggestions about our itinerary.
Their performance was absolutely perfect... not a single hitch. There wasn't a thing to not like about them.
Our guide was great - very knowledgeable, likeable, fun, and a very safe and skilled driver (important!). Making friends with him was a highlight... we will never forget him and can't wait to see him again!
In fact, we're planning on going back next February
(2010)
with Access2Tanzania and have asked for the same guide.
Accommodation
We stayed our first two nights at the Mt Meru Game Lodge & Sanctuary in the outskirts of Arusha.
We had a nice cabin and it was most enjoyable to watch the resident wildlife, including waking the first morning, looking out the window right into the face of an ostrich!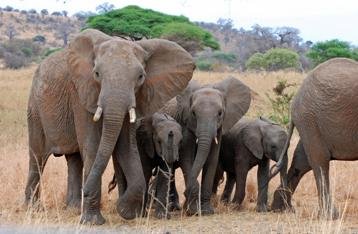 We spent our 3rd & 4th nights at Maromboi Tented Camp. It was a really fun "camping" experience. There were zebra grazing right outside our tent.

Our 5th & 6th nights were spent at the Ngorongoro Farm House... a beautiful place with gorgeous landscaping, great food and really nice, spacious rooms complete with fireplaces (didn't need it, but it looked good).

Our 7th & 8th nights were spent at Migration Camp, way out in the northern Serengeti. It was truly the most luxurious, beautiful "tent" experience I could imagine.

Our tent was huge, with comfortable beds, nice bathrooms (including hair dryers - something I missed from home!). Taking a shower and listening to the hippos bellowing down below at the river is something I'll never forget.

But, probably the most exciting thing was listening at 2:00am in the morning to two lions "talking" to each other.

It sounded like they were right in front of our tent (we were assured the next morning they were much further away). Nonetheless, it was quite a thrill to hear that! The staff at each of the places we stayed was very pleasant and helpful.
Food
The food at Mt Meru Game Lodge & Sanctuary was mediocre... possibly our only "complaint" about the whole trip (but certainly no big deal).
At Maromboi the food was very good. We really enjoyed our meals in the dining tent.
Migration Camp's food was the best... it was like dining in a fine restaurant.
Overall, the food was all good. Good coffee. We especially enjoyed the soups before dinner.
Entrees were excellent. The boxed lunches and breakfasts had a lot of variety: sandwiches, fried chicken, baked goods, boiled eggs, fruit, fruit juice, etc.
Wildlife
We saw it all... the big five, although our leopard experience was very distant. We saw countless elephants, including many baby elephants, so close we could touch them.
We saw many lions (my favourite), also so close we could touch them. We learned to love warthogs. We saw buffalo, giraffe, baboon and many other monkeys.
We saw birds I've never seen before. I love the saddle-billed storks. Zebra and wildebeest were everywhere... cheetah, hyena, jackals, I could go on and on.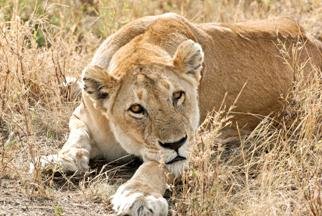 Our highlight was our last full day in the Serengeti we came upon two lion "couples" lying across the road from each other. It was just us and one other vehicle.
There was a long spell of them just lazily watching us. They are such beautiful creatures. After a long while, they got up and moved further into the grass.
We were so close; we could have leaned out of the jeep and touched them. Obviously, we didn't.
Typical Day
Each day was long and tiring, in a very good way.
There's nothing like going out on an early game viewing ride in the morning with a boxed breakfast, seeing amazing wildlife in their natural habitat.
Then maybe going back to camp for lunch to relax a little, having a wonderful dinner later with your guide to discuss the day's activities and plan the next day.
Or, maybe getting a little later start after breakfast at the camp, going out with a boxed lunch, then back to camp again for the evening meal.
Going to sleep was no problem!
Tips and Advice
Enjoy! If you can, a private safari is the way to go. Have it your way!
Also, a pop-top vehicle is really important for 360-degree viewing and protection from the sun.
Be sure to have lots of bottled water. Ours was provided in a cooler in the vehicle along with juices.
Besides my camera equipment (which I assume everyone would include), sun screen and insect repellent were most useful. We had no run-ins with insects, but we did use our repellent every day. Plus, we had sprayed all of our clothing before we left home.
Everything met our expectations. Our only regret might be that we didn't stay longer, especially in the Serengeti.
My husband enjoyed it immensely as well. We thought it would be once in a lifetime... but, we're going back next year. I doubt I could ever get enough!
Nancy's Safari Details:

Rating: 10/10

Safari company used: Access2Tanzania (make an enquiry)

Parks visited: Arusha NP, Tarangire NP, Lake Manyara NP, Ngorongoro Crater and Serengeti NP

Date of safari: 3 October for 8 days

More Access2Tanzania reviews »

More Serengeti Safari Reviews