Unoto Retreat Review
by Diane and Gary Rumsey
(USA)
We visited a Masai village when we were at the Unoto Retreat. It was one of the highlights of the trip. The people were so gracious and so excited to show us their homes and let us see how they lived.
Safari Operator Performance
Access 2 Tanzania was fantastic! They did not miss a beat.
Someone was always waiting for us. Our guide was wonderful. He was very knowledgeable and a joy to be with.
He catered to our every need and was always willing to take us and show us anything we wanted to see.
Accommodation
Zanzibar Palace is a wonderful old hotel in Stone Town, very accessible and well located for walking around Stone Town.
Matemwe Beach Lodge, Zanzibar, is a beautiful accommodation and beach. We did scuba diving there.
Manta Reef Lodge, Pemba, had a view that will take your breath away and accommodations to match. We did scuba diving there as well.
Dik-Dik in Arusha has very beautiful grounds and wonderful food and service.
Unoto Retreat, Masai Land, is our favorite lodge. The huts were modeled after Masai huts with a beautiful view of the rift valley below.
We were assigned our own Masai, who served as our waiter and guide, did laundry for us and cleaned our room.
He was fantastic and we fell in love with him. He was so knowledgeable and helpful. We wished we could have stayed longer and didn't want to go back.
We stayed in a lodge on the rim of Ngorongoro crater, an old lodge with old rooms, but a breathtaking view and beautiful lobby.
Lobo Lodge, Serengeti, has an incredible lodge built around the native boulders. Wonderful!
Food
All of the food was wonderful. All places served typical European style breakfasts. We usually had a packed cold lunch when we were game touring.
The food in all the lodges was great. Very tasty and well prepared.
We ate at several restaurants in Stone Town in Zanzibar.
We ate a lot of seafood while we were there and it was all delicious. We ate "BBQ" at a local café at Kilimanjaro with our guide. It was not to our taste but enjoyed the experience.
Wildlife Highlights
We saw every animal that you would expect to see in Africa - elephants, giraffe, rhino, lion, cheetah, monkey, baboon, lion, Cape buffalo, wildebeest, hartebeest, topi, impala, gazelle, etc.
Our favorite viewing places were the Ngorongoro Crater and the Serengeti.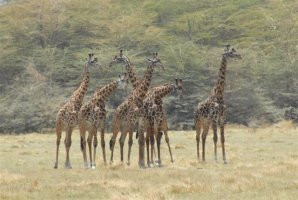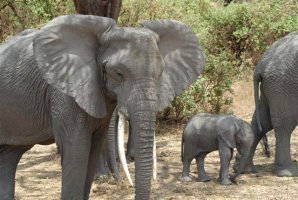 Typical Day
We usually arose early and had breakfast. We would be picked up by our guide at a prearranged time.
We would always talk about what we wanted the see and do the night before. If we were doing game viewing we would drive around looking at game and taking pictures.
If we came across something unusual, such as fresh kill, we would park and observe.
We would usually have a box lunch at a picnic sight and then spent the rest of the day viewing.
We would return to the lodge in the late afternoon in time to clean up for drinks and dinner.
We were usually ready for bed shortly after dinner. Some days we would arise to go to a viewing spot for sunrise or go back out after dinner for sunset.
Other Activities
We went scuba diving in Zanzibar and Pemba. Both diving companies were well organized and the dives were incredible.
We hiked through the village below Mt. Kilimanjaro with a guide. We got to visit his home. It was very interesting.
We then hiked into a canyon to view a beautiful waterfall.
We also took a hike to a nearby waterfall which was beautiful. We walked through the rift valley through dome palms, papyrus, rice and banana fields.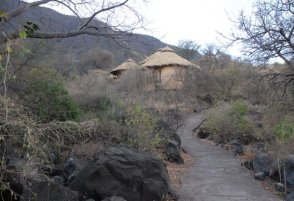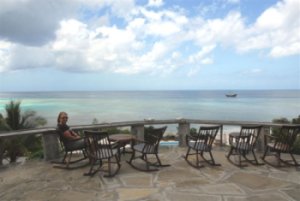 Tips and Advice
Take it all in and relish in the different culture and the beautiful people.
Remember a hat, sunglasses and sunscreen!
Diane and Gary's Safari Details:

Rating: 10+/10

Safari company used: Access 2 Tanzania (make an enquiry)

Places and parks visited: Zanzibar, Pemba, Arusha, Manyara, Masai Land, Kilimanjaro, Ngorongoro Crater, and the Serengeti

Date of safari: September-October for 13 days

More Access2Tanzania reviews »

More Ngorongoro Safari Reviews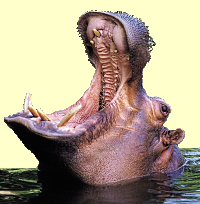 Join in and write your own page! It's easy to do. How? Simply click here to return to Access2Tanzania.