Wildlife and Tribes
by Tjeerd Drost and Tine Duiverman
(The Netherlands)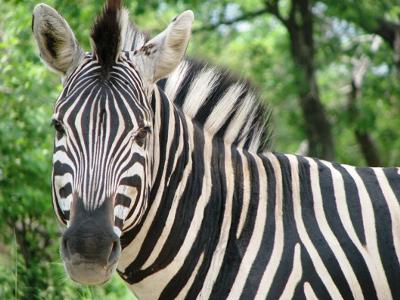 Zebra © www.african-safari-journals.com
The colors, the landscape, the atmosphere, the people, the children - it was all a highlight. The only disappointment was to have to leave; the only regret that we did not plan a longer trip.
Safari Company Performance
We found Flash Safaris on the internet. They performed excellent!
We liked the wonderful custom-made trip and all the personal contacts; everything was thought about by them.
The guide, Godlove, was nice and a good guide. We (5 persons) had a good time with him and learned a lot about animals and birds.
Accommodation and Food
We stayed at Tarangire River Camp, wonderful; Rhotia Valley, wonderful; Lake Eyasi, the tents were good, food was not okay; Mbuzi Mawe Tented Lodge, Serengeti, wonderful: Ngorongoro Serena Lodge, wonderful.
The food was typically -
Breakfast: fruit, eggs, pancakes, bread, juice;
Lunch: picnic when in the park, or lunch with starter, main dish, dessert;
Dinner with starter, main dish and dessert.
We ate traditionally as well as different.
Wildlife
We saw a lot of wildlife, f.i. giraffes, elephant, zebra, gnu, lion, buffalo, monkeys, hyena, jackals, dikdik, gazelle, hartbeest, impala, caracal, many birds, leopard, etc etc etc.
Our highlight: a group of lions who were hunting.
Safari Activities
On a typical day we would have early breakfast, game drive, lunch, game drive, arrival at tented lodge, drink, rest, dinner, drink, sleep.
We also visited the Iraqw tribe (near Rhotia), the Hadzabe Tribe, the Datoga tribe (near Lake Eyasi); Masaai Boma. That was very interesting, we are very glad to have seen it and have met those people.
We also visited 2 orphan houses and a market in Arusha.
Tips and Advice
My advice to others is to stay longer in the Serengeti.
Don't forget to pack Deet and the guides of animals and birds.
More Ngorongoro Safari Reviews