Private Safari Of The Highest Order
We saw probably 40 lions and 20 cheetahs, zillions of zebra; it was a lot of fun watching the wildebeest. We did see part of the migration, at one point Peter thought we were looking at three or four thousand wildebeest in one location and it was amazing to watch how they walk in those straight lines or they make a zig-zag path.
Which safari company did you travel with?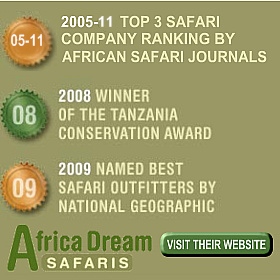 Africa Dream Safaris.
Was it a pre-designed itinerary or tailor-made for you?
We took their exact agenda of where to go and how many days, but there were one or two of the lodges or the camps that we decided we wanted to stay at in stead of what they had recommended.
I have one daughter who was really excited about Mvalageti and the Ngorongoro Crater Lodge. So we were able to take one night at the Ngorongoro Crater Lodge and one night at the Serena Lodge and then staying at the Serengeti Serena brought the cost down. We evened out the prices to get what we wanted.
And how did you get to hear about Africa Dream Safaris?
The internet, searching. I eliminated a lot of possibilities. I was not going to go to a strange country, having never been on a safari, and do camping in a tent. I didn't want to get that rustic. I camp here in the US, in a tent on the ground but with Africa, there're wild animals you know!
We took a combination of their mid-range and their luxury lodging and made it work for us.
How did they perform? Was there anything special you liked about the service they provided before and during your safari?
They were absolutely awesome.
I talked to Michael Wischner, the owner, numerous times via e-mail and on the phone asking all kinds of questions, "Can we do this?" and "Do we have to do that?" and all he kept saying was "It's your trip, you can do what you want to do."
Given it was our first time, there were certain things that I wanted and certain things that I didn't care about so I wanted to get it right, because it might be my only chance.
They also briefed us very thoroughly: except for the fact that they didn't tell us (and that was okay because that made it special) that every place you went to you were greeted with a warm wet cloth and a fresh drink. But everything else was exactly the way they lined it out for us, the way they identified each place.
And they told us what to expect with regards to tipping too: most of the places have general tip boxes like in the main area of the lodge and it is shared among the staff, like the maid and the person who does the laundry. We contributed to the tip boxes but we pretty much tipped the individuals as well.
Was there anything you didn't you like about them?
I don't think so. They were always totally most accommodating.
If I sent an e-mail I got a response that day, or the next day. If I called and left a message I got called that day or the next day.
The staff in Africa was totally terrific.
If I could go again I would go through them and I wouldn't think twice about it.
How was your guide?
We had the same guide the entire time. His name was Peter and he was the best, he was fabulous. As a matter of fact if or when we go back, I'm hoping he's still there.
He was very accommodating, very gentlemanly. He knew his animals and birds; how to get from one point to another. He certainly knew how to drive in the rain in the Crater which was a scary thing... we weren't scared, but it was still treacherous. We didn't get stuck in the mud, he was an awesome driver and had an awesome personality.
During one of our "bush" lunches you could see him looking at something
(you get used to your guide and he had this certain look on his face)
; he could see a
cheetah
walking up a hillside about 2km away. Where he pointed out we could see something moving and when we got our binoculars we could see it was a cheetah, but his eyes! We would never have known it was a cheetah without the binoculars.
We kept asking him "how do you do that?!" and he just said "This is my office", you know. He was the best.
My adult daughter went with me and the two of them got on famously.
He had to get us back to camp by nightfall but if we wanted to sit and watch the elephants for an hour, we could. He never said "let's go", it was always whatever we wanted to do.
When we wanted to rest the one afternoon at the Serengeti Serena, he dropped us off after lunch and he said if we changed our minds and wanted to go out later, to just find him.
He drove for hours and hours. We were able to get up and down in the truck and take photos, but he just sat in his seat the whole time. He was working, you know. And even just watching him holding on to the steering wheel, going down all those dirt roads. I know he's used to it but he was still very good about all of it.
He was fabulous.
How big was the group you travelled with?
Just my daughter and I. We were on a private safari.
I didn't want to be in a bus or truck with other people that I didn't know and who might have different interests. Again, we were spending a lot of money going to a strange place doing something new, I don't know anyone who'd gone on safari before, so it was the best thing to do. We could sit for an hour at game sightings and it didn't irritate anybody.
Would you recommend somebody else use them for their safari?
Absolutely.
| | |
| --- | --- |
| Where did you stay during your private safari and what was the accommodation like? | |
The first place we stayed at the night we got there was the KIA Lodge, right there by the airport and that was okay. The room was clean, the food was good but you wouldn't want to stay there a long time because the rooms themselves were small. But for stopping over (got there 10pm and left at 7am so you don't really care) it was fine.
Then we stayed at Migration Camp for two nights and that was a blast, perfect for a private safari. The managers were very accommodating - we had a minor electrical issue in the tent and they jumped right on it, it was fixed before we got back from dinner.

I absolutely loved listening to the hippos and the lions from the tent, all night long. I'm a lion lover and for that to be my first real night out in the open so to speak, was awesome.

The camp is set in open landscape. We were slightly up a hill so our view also included the two tents that were a bit down but there's this huge hill that's your background scenery and that's where, if you looked hard enough with your binoculars, you could see giraffes.

The giraffes came into camp as well. We had baboons in the backyard and on the neighbour's deck, they were right there. They were fairly timid.

You're escorted to and from your tent at night, another fabulous touch to our private safari.

The hippos were quite noisy at night; it was wonderful. But my daughter slept through it, so it doesn't necessarily keep you awake. To me, it was part of the atmosphere.

Our next private safari stop was Mvalageti Camp (situated on the Mvalageti River) inside the Serengeti and we were fortunate enough to stay in the presidential suite; that was awesome! There are two presidential suites and they are huge. It's a large tent with some canvas walls, some wood and stone walls but it was two bedrooms, two huge full bathrooms, it still had the canvas windows that you could roll up and have the screen. It was great!

You were inside but you were outside. They had massages, they had raincoats and umbrellas for you (and it did rain), they had books there and candles. My daughter had a massage.

We were only there two nights on our private safari but they're well equipped for a longer stay.

For one night you don't get to enjoy everything, like we only got in one pool the whole trip. Not that we went there to go swimming in a pool, but if you had a little extra time you might do it.

Next we were at the Serengeti Serena Lodge for two nights. It was very nice; but a larger set up: I think they have 132 rooms but clustered in threes. We were in the upstairs room and then there were two below us.

That was a smaller room, but the view from the balcony was very nice and we saw birds too... just a pretty view of where you are.

Again, you're escorted to and from your room at night.

The staff there was really terrific because they knew our names and room number every time we showed up for a meal and it was pretty fully booked. We got the same table every meal which was nice because we knew where to go. I was impressed. I call it customer service!

I think that was also the place where I finally got to use a phone to call home and tell them we got to Africa in one piece, 5 days later.

Serena had a buffet instead of a set meal from a menu. So it is more designed for larger groups than for private safaris... and that was fine too.

That was the one place we did get in the pool. We told Peter to take the afternoon and the evening off and we just sat in the pool and chilled. It was needed at that point, maybe it was jet lag catching up ... it was time to take a mini break.

When we left the Serena, we went on a hot air balloon safari. That was one of those things where if you're going, you may as well do it all! It's not cheap, but if you're spending 8000 bucks, $360 isn't that much extra.

The balloon holds 12 and there were 10 of us. It was okay, it was good company. As soon as we were in the air we saw a lioness with three cubs below us and we saw a variety of everything else: wildebeest, zebra, giraffe, eland, bat eared foxes,we saw plenty. I think he said we never went more than 1000 ft up, so you do stay fairly low.

You're only up in the air about an hour depending on the wind. When you land, you get the champagne breakfast, which was very neat to have breakfast for 10 people out in the bush; it was amazing!

Then we went to the Ngorongoro Serena Lodge for one night. It's set on the Crater rim. The view all day is nice but in the morning, with those clouds sitting at the top of the rim, is beautiful. It feels like you're in another world.

Although there are no fences, the lodge is kind of built with rock walls, so an elephant couldn't get to your room but if you left whatever he wanted to eat on your deck, he could stick his trunk over and get to it.

The hotel staff said they do get animals, but there was no cause for fear.

The rooms were really nice - again, it was a larger, more hotel-like set up. The bathroom was huge, three people could have done what they needed to do in the bathroom! The room was just okay, it wasn't huge or anything exciting, it was one of the more moderately priced ones on our private safari itinerary. It is what it is, but it was fine. The only thing I didn't get there was coffee served in the room in the morning!

They had heat in the rooms… it cools down at night, but I understand it can get colder (because of the altitude)... we were there in summer.

There were some Maasai dancers in the bar at night.

Again we were well greeted and well taken care of.

We also stayed at the Ngorongoro Crater Lodge for one night. That's quite fancy, we loved it. They left two dozen fresh roses at the bath tub.

They do drinks in the lounge, which is very ornate. You could tell they have a lot of historical items/antiques there. And then apparently they do a very formal style dinner there but we chose to eat in our room because butler service is also offered and it was already included in the price.

In the main room where the bed is, there are also two chairs and a little table in front of the fireplace. They put a fire in the fireplace, put extra cushions in the chairs and set up the table so that you could sit at a decent level with the table.

That was my biggest thing: everywhere we went, except for one place, they could see what your next need was going to be and they filled it. It was just … for them to put the cushions on the chairs so that you won't have to reach up to the table, I thought it was just pretty good for customer service.

Every place we went on our private safari we had four-course meals and here too: the butler just kept bringing in the food ... it was lovely.

So we had two days in the Crater and we loved that, it was terrific.

Then came the only down side of the trip: Plantation Lodge. Supposedly most people like it and the room was clean and the food was good; but I thought the service was horrible.

You could tell the difference: we were not greeted by the owner or the manager like we were at all the other places. We could tell there was a large party of people arriving and they were getting the attention.

It was raining and chilly and damp, but the windows are designed so that there's an open screen area over the windows so you couldn't even close out the cold and the dampness and that was not pleasant to me.

My daughter scheduled for another massage and after they were 40 minutes late, she went out in the rain - no umbrella - to the front desk to find out what happened. She was being quite patient waiting in her room (they come and do the massages in your room), but 40 minutes!

The front desk didn't offer any explanation for the delay; the guy just looked at her, disappeared and came back to say the lady would be right there. Indeed the girl said nobody told her about the booking until 10 minutes before.

They don't have coffee in the main lodge first thing in the morning or late at night.

There were too many things adding up.

I told Michael Wischner I would never go back there. He of course said he was going to call because usually they get very good reviews from folks but our experience was not pleasant up to and including dinner. It was just the one night, we were in a private dining room with maybe another two couples, and they bring in your different courses, only the kept not coming back. We didn't know if we were going to get dessert, or coffee… they took so long in between. It could be they were focussing on that group again; we'd never know.

It was disappointing, but it was one day out of the whole bunch. Certainly not the one thing I'm going to remember about our private safari, I'm going to remember a lot of other things first.

Then we went to Swala Camp in Tarangire for two nights - that was fabulous. The tents were a little smaller than at Migration Camp but they still had bathroom facilities and were very nice.

Sam was the manager and he greeted you royally.

We had walkie talkies in our room at night in case we had a problem (one of the places had a whistle and one of them had a bell) … they had different ways for getting help should you have a problem.

At Swala everybody eats at one table, family style. Those were the last two nights of our private safari and by then we were ready for company. Again it was great food, great service. It was nice because we started the trip with lions at night and at Swala we ended the trip with lions at night.

We met some neat people and had fun running to the rest room in the rain (with umbrellas). It was about 50 ft up the hill and of course you have to have an escort. It was fun! I had flip flops on and rolled my pants up so I didn't get soaking wet. When I got back the women found out we went, off they went too… so it just became a fun thing. The game was to be camping so to speak, even though it was luxury camping… so you have to get wet and dirty and have bugs in your tent, you know!

But we did have what I call "flushies" everywhere we went on the private safari, and I didn't think that was going to be the case. So that was a bonus.
Laundry was included in some places and some it was not.
But because of the itinerary and the information on the ADS website and the booklet they send you once you make final firm plans, we knew who was going to do our laundry for free and who wasn't; we knew what kind of cash to take to get through.
| | |
| --- | --- |
| How was the food during your private safari? | |
Every place we stayed we could eat the fruit and the vegetables and nobody got sick. Every place we went to except one (one of the Serena lodges) had bottled water for you in the bathroom because they didn't want you drinking the water. I was worried about that because you read so much. We ate fruit & veggies till we could bust.
Everywhere we went on our private safari, the food was just wonderful, even when the bugs landed in the butter! That's when you learn to put your napkin over your drink!
Everywhere, except for the one place with the buffet, it was all four-course meals. Drinks were included in most of the places we stayed.
At some of our private safari accommodations they made us boxed lunches or breakfasts which were all fabulous - there was more food in each box than one person could eat: always fruit, a drink and a chocolate bar. A lot of things were the type of food that didn't need to be kept cold, like hot dogs. We had hard boiled eggs; I had my first cucumber sandwich - and not in England! - cooked chicken ... like I said nobody got sick.
Everywhere we had boxed lunches, we ate them under a tree, except in the Crater. Peter had chairs and a table in bags and put up the little table and we'd have lunch in the wild - very enjoyable.
| | |
| --- | --- |
| How was the weather during your private safari? | |
The two days in the Crater were mostly rainy days and it was disappointing but it didn't stop us from going. You can close the roof on the truck. I had a couple of bandanas and I put them over the cameras' lenses, stuck it out the window and took pictures anyway. It was kind of funny looking at wet animals.
You have to put up with some things, just like you have to put up with taking 16 hours to fly where you want to go. If we only had a day and a half of rain out of 12 days, it was pretty good. We had some showers, but they lasted only half an hour or so, and nothing that stopped us from going where we wanted to.
| | |
| --- | --- |
| Apart from what you've already mentioned, what wildlife did you see while on your private safari? | |
It was all fascinating. We had elephants charging the truck a couple of times and Peter was awesome… he had his hand on the ignition and was ready to go. It was fascinating especially in Tarangire to see zillions and zillions of elephants all at once. I enjoyed that.
We only saw two leopards the whole trip - only for about 45 seconds each. You could say you saw them but you couldn't say you watched them.
We only saw one rhino. He was lying down and we sat for an hour in the rain and waited for him to get up. He did after an hour! It was our last day in the Crater and our last chance to see a rhino. All the other trucks left and Peter said "we're going to sit", and we sat, and we won! That is the advantage of a private safari.
We saw everything. The only snake we saw was flying away (a big bird had caught it), so that was okay!
We a dung beetle, dwarf mongoose, regular mongoose, impala, gazelles… the Thommies (Thompson's Gazelle) are adorable! As far as I'm concerned we saw pretty much everything we wanted to see.
The only thing I would have still liked to see was the Colobus monkey but I guess we weren't in the right place at the right time. Certainly no complaints.
What was your wildlife highlight?
To me, the highlight would always be the lions. I wish we could have seen another 40! The big cats are my thing, and has been since I was a little girl.
I also loved the giraffes, they're so elegant and so much fun to watch, they're very interesting. Loved the warthogs.
We saw a lion chasing a giraffe but nothing happened. We saw a cheetah going towards a herd of wildebeest and nothing happened, so we didn't get any of that sort of excitement, but we thought we were going to and that was also exciting!
| | |
| --- | --- |
| Did you get to meet any local people? | |
We went to one Maasai village right near the Crater, near Olduvai Gorge and I would love to go back there for two whole days and learn more about these people and talk to them.
I know at some you can't take a whole lot of pictures but at this one the son of the chief, who was our tour guide so to speak, greeted us royally and said we could take as many pictures we wanted and ask all the questions we wanted. So with the door being opened that way, we did, we even videoed their welcome dance they did for us.
We took a lot of pictures, went into one of the huts and he explained the set up in the huts. We saw the children; they were beautiful. We saw the little kindergarten which doesn't even have a roof over it yet. The children are learning English, Swahili and their native/tribal tongue. But I would love to go back there for two whole days, because I have more questions than I have answers.
They weren't asking us questions really, I think there were very few people who could speak good English. My daughter's 28 and the women were very inquisitive of her: Does she have any children? Is she married? That was clearly their priority. Their wealth is their children and their livestock. But they are learning more in that one particular village, math and spelling. That was very impressive and I'd want to go back to that village. I didn't get the feeling of a tourist attraction at all, again an advantage of our private safari. They were very welcoming, it was fascinating.
| | |
| --- | --- |
| Did you have problems with mosquitoes or other bugs? | |
We had some trouble with the tsetse flies - they loved our ankles and actually when we got off the airplane in New York and drove home we went straight to the emergency room with my daughter because her leg was so swollen. She had more bites than I did and I also think it was from 16 hours in the plane with that leg hanging down.
We took every medication they (ADS) told us to take. We took them all but we didn't use them.
And she got a mild case of sun poisoning, so I would highly recommend using the sunscreen even if you don't think you need to. We were fortunate that it didn't make her very sick and her blisters weren't that bad.
So I would highly recommend the sun screen. We were fortunate in the long run and even her sun poisoning wasn't a bad case; it was mild.
| | |
| --- | --- |
| Was there anything that didn't meet your expectations on your private safari; any disappointments or regrets? | |
Except for Plantation Lodge, there was nothing that disappointed me that entire trip, except not seeing a whole bunch of flamingos, when we got to Lake Manyara the lake was dry somewhat (end of the dry season) and apparently where they were wasn't where the public could see them.
But we did see some in the Crater, and you know what, you can't have it all.
Can you offer any tips and advice to others planning a similar safari?
I think they need to do a lot of research in order to get what they want. My three tips would be:
Leave your make up at home! I never touched my make up, nor my curling tong. It didn't matter if you did your hair: the windows were open in the car - why bother?! It didn't bother me, but I felt bad for the guide because he ends up seeing all these women that look so scraggily, you know!
If you want to come back with some really good pictures: I had a very good digital camera and two good 35mm cameras, but none of my lenses were bigger than 300mm. We could have had better pictures with a bigger lens. 300mm will do the job (whether digital or 35mm) but if you're really a camera freak, like I am, or an animal freak… you want the next step up.

We kept our cameras in their bags when the truck was rolling and it was dusty but when we stopped it wasn't dusty. Except when we drove from the Serengeti to the Crater, there were these little dust tornado things, that was pretty nasty. We were advised to bring Zip-lock bags for the cameras but we really didn't use them.

» More about wildlife photography for your private safari

I read this in a book, I never saw it on anybody's website or any of the things I looked at and it's very important: if you take a credit card, is to notify your credit card company before you leave of exactly where you're going and when you'll be there, so that they honour the charges only during those dates. It would be dreadful to get over there and have the charge not honoured because you're so far from home.

I used my cards mostly for two shopping expeditions during our private safari. We took about $2000 in cash which covered tips, drinks and laundry as per our calculations according to the private safari preparation notes. There were two gift shops where we used the cards because then you don't have to use your cash. I used both Visa and Master cards with no trouble whatsoever. My daughter has an American Express but I don't know if she used it or not.
Also, I took my tripod but never used it.
» Get African Safari Journals' safari packing list...
| | |
| --- | --- |
| How would you rate your total private safari, on a scale of 1 to 10? | |
Oh, it was a 10!
I wouldn't let that one little thing with Plantation Lodge ruin the rest of it.
It was everything, we were explained everything beautifully, we got to see just about everything we wanted, we had our own schedule, the food was good, the rooms were good, it was the time of my life.
| | |
| --- | --- |
| Safari Location: | Tanzania: Lake Manyara, Serengeti National Park, the Ngorongoro Crater and Tarangire National Park |
| Safari Company Used: | Africa Dream Safaris - More Africa Dream Safaris trip reviews |
| Duration: | 12 days, November 2006 |
| Traveller Details: | Pat Eacho, USA |
| Rates & Availability: | Plan your own safari. Make an enquiry |
More Serengeti Safari Reviews