Thomson Family Safari Review
by RJ
(USA)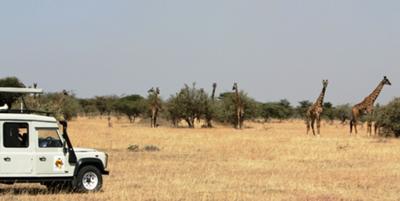 Giraffes in Enashiva Game Reserve
This was amazing and unbelievable; the trip of a lifetime for my extended family. What a gorgeous place! You cannot help enjoying it there.
Safari Operator Performance
We saw Thomson on the web. We did their Signature family safari.
Thomson was brilliant. They excelled in both key aspects: (a) their local knowledge was excellent, and (b) their organization was flawless.
The trip more than lived up to my expectations - both in terms of the places that we visited and in terms of the arrangements by Thomson.
Accommodation and Food
We stayed in the Thomson Nyumba camps everywhere.
We were a group of 8 people (4 seniors, 2 adults and 2 children), all of Indian descent, with the time spent away from India being generally more for the younger folks. So, our overall preference was for spicy food.
At the time of our trip, the camps were sparsely occupied; so, it was possible to accommodate our taste and we ate Tanzanian/Indian food.
Wildlife
We saw the Big 9. Of course, we saw the rhinos only at Ngorongoro.
At both Serengeti and Tarangire, we saw lions, leopards, cheetahs, buffalos, elephants, zebras, giraffes, wild-beest, monkeys and birds of various kinds.
We also saw glimpses of the great migration in the northern Serengeti.
We had read before going that some felt that a Safari is a process ("nishkamkarma" in Sanskrit), and our experiences largely confirmed this view. The cats are brilliant, but are merely punctuation points on a journey that witnesses the fullest fecundity of nature.
A few moments will however stand out. We saw a spectacular procession of giraffes in a small sanctuary called Enashiva. At the same place, we also stayed for a while with a cheetah that was patiently setting up its prey.
The massive groups of elephants in the northern Serengeti and Tarangire were unbelievably close.
I could go on and on...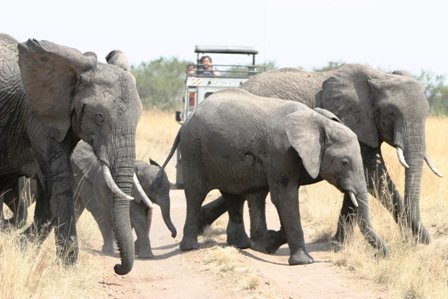 Typical Day
We woke up around 7 am. We headed out on a safari trip around 8. This typically lasted for about 3-4 hours.
We ate lunch, snoozed a bit, and headed out again around 2. Another round, perhaps slightly shorter than the morning before we returned, showered and headed out to dinner.
Other Activities
We visited a Maasai village and a Makonde village and a village school. The school was particularly meaningful to our group with its several teachers.
We also dropped into Oldupai Gorge for a brief visit. It was hard not to be moved by the persistence of the researchers and their benefactors, a true ode to the curiosity of the human spirit.
Tips and Advice
Don't forget to bring: camera, hand wash, aspirin.
We are not experienced photographers. We used
Better Safari Photography
as a first cut at what to expect. Tips on dust were very useful. We used a Canon Rebel with a 70-200 f 2.8 L and a 2x extender.
More Serengeti Safari Reviews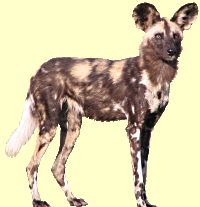 Join in and write your own page! It's easy to do. How? Simply click here to return to Safari Tanzania.