Gamewatchers Safaris Trip Report - Full Version
I had a short e-mail interview with Kevin Guidera of the UK about his week-long Kenya safari. He also submitted his wonderfully detailed journal:
Travelling to Kenya
Arriving at Heathrow, Terminal 4, the Kenya Airways check in procedure was seamless and took about 10 minutes. For those travelling on short notice, you simply scan your passport in the machine provided, while in the queue and your boarding pass pops out within seconds.
The security now is less rigid than about six months ago, (i.e. you can keep your boots on etc.) and the airside aspect is very user friendly and has plenty to fill in your waiting time.
We were called to our gate in plenty of time and boarding was a relaxed and composed procedure. We departed on time.
The one exception was the lack of an amenities kit, which most airlines supply as standard. It is a minor point but I feel it is a welcoming aspect, particularly on an overnight flight. I raised the subject with Nita Nagi, the sales manager from Kenya Airways later in the trip, when I met her at the Carnivore in Nairobi. (So they may well instigate this in the future.)
I chatted with my neighbours in row 21 who were from Connemara in Ireland. They were going on a "mystery safari", paid for by their children. Apparently John and Ann had only recently married after living together for a number of years, so it was a kind of honeymoon treat.
During the flight I chatted with Christine, a member of the crew and found her to be very friendly, and smiley. She lives in Nairobi and has been aircrew for 3 years and loves it, even the odd shifts she has to occasionally work. She tells me the crew often stay at Whitesands Hotel in Mombasa when they have free time. I was pleased to tell her that we feature that hotel at Africa Sky. There is something endearing and contagious about that "African Smile", which I was to see replicated in every location that lay ahead. Christine enquired when I was returning and it transpired that she would be on the Nairobi - Mombasa sector of my flight on the following Saturday.
The catering onboard was quite delightful and I think they could only improve it with a Kenya Airways "Karibu" chocolate as a finishing touch. Perhaps on the homeward journey they could provide a "Kwa herini or Kwa heri" treat. Suggested to Nita as well.
Setting my watch 2 hours forward, I relaxed and enjoyed a movie with a complimentary gin & tonic and managed some sleep before arriving in Nairobi on time, a little after 6:30 Sunday morning.
Article: Cheapest flights to Kenya »
The safari begins
After clearing customs and immigration and paying my $50.00 visa, I was met by Johnson and Ben from Gamewatchers, who took our small group to the Aeroclub for (yet another) breakfast. Located next to Wilson Airport, it was a pleasure to have a brief description as to what lay in store for us and an outline of how Gamewatchers operated. I was looking forward to the whole experience and, I am happy to report, I was not to be disappointed.
The Masai Mara
Our Cessna Caravan carried us through some cloud and deposited us safely at Mara airstrip about 40 minutes later. We were welcomed by Steve (our guide for the next 2 days) and on the way to Porini Lion Camp; we enjoyed a game drive seeing giraffe, zebra and a host of antelope as well as some beautiful birds.
On arrival we were greeted by Alphonse (camp manager) and a cool drink to rid our throats of the dust collected on the way there. Shortly afterwards we were all shown to our tents, all named after local wildlife. I got "Twiga" (giraffe in Swahili). The camp is situated along the Ntiakatiak River and has 10 tents situated a comfortable distance from each other, providing peace and inviting privacy.
Touch up on your Swahili with Lonely Planet's Swahili Phrase Book »
After a little while relaxing we headed off on our first game drive proper with Steve and our spotter (whose name, I am sorry to say escaped me - but he was very quiet).
We stopped at an elephant herd, including some babies and a little further on surprised a crocodile (the feeling was mutual!). His size was impressive; about 14 feet in length and as we got a little closer he slithered into the river and only his eyes and nostrils were in view. Other stunning creatures we saw included zebra, impala, wildebeest and Cape buffalo, amongst them some of the "grumpy old men" who were kicked out of the herd. These are the most feared of buffalo due to their unpredictability, so we kept moving. Sensible manoeuvre!
Steven took us for our first Kenyan sundowner, where other staff had arranged a campfire and seating, a table loaded with drinks and a lovely sunset (though I'm not sure they can really take credit for that final ingredient). My small group had an easygoing nature and were a pleasure to spend time with. The next five days was looking good.
Back at camp: delicious lamb, potatoes carrots and salad that certainly hit the spot, followed tasty mushroom soup. The pecan pie draped in chocolate accompanied by an orange and cream sauce was a real treat. We all adjourned to the campfire for more chat and some wine and arranged our early morning calls. This ritual is identical in all the Porini camps. Coffee and cake is delivered to your tent and shortly after 20 litres of hot water is hoisted from outside to allow you a refreshing quick shower inside. Tonight, we were all pleased to discover a hot water bottle in our respective beds (nice touch). I was soon out like the proverbial (solar powered) light and slept soundly.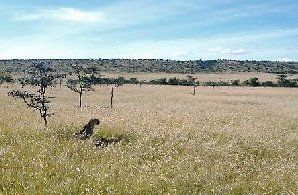 The following morning, after a hearty cooked breakfast, we had a full day safari. Our introduction to today's experience began with spotting a couple of cheetah in the long grass standing over a kill (Thompson's gazelle). They were guarding it well and so we kept a respectful distance.
We headed down to the Mara River, where the giraffe and wildebeest had gathered. The migration was due quite soon, so there was a welcoming committee on the riverbanks of crocodiles and hippos, some with babies.
Some of the braver zebras took a drink at the rivers edge, but they all seemed very skittish and on several occasions, panic would strike and they would run away to the safer savannah, obviously aware of the proximity of danger.
We parked up in a relatively safe spot for lunch in sight of more hippo on the opposite riverbank. The only active jaws today belonged to us, the Porini guests. Afterward, we chanced upon a lioness, stalking a wildebeest but in the heat of the afternoon, she didn't look all that energetic (mostly they hunt at night) and the wildebeest wasn't seriously challenged.
Heading back to camp before sunset, we took the opportunity to rest up (Land Rover bouncing can make you a little weary sometimes) and freshened up for dinner before our night drive.
Another feast was commendably provided after we had convened with a few drinks around the campfire. After dinner, the Masai dancers gave us a bit of a floorshow, and I realised why this tent had higher ceilings, when one considers how well these guys can jump!
The night drive itself was a little lacking in wildlife until we approached a hillock with about 15 lions reclining on it! It was a stunning end to what could have been a rather uneventful pursuit. Tired but happy we made camp for around 10:45 and went to keep our hot water bottles company for the night.
Tuesday already, and we made an early start with just coffee and muffins, for a short game drive where we found some of last nights lions devouring a wildebeest, that, Steve thought was actually killed by a pack of hyenas and then poached from them by the lions. There was a bit of an argument going on between the male and several of the hyenas, and one of them managed to steal the entrails and make off with a good mouthful. Breakfast anyone?
On the way back we saw some bat-eared foxes and giraffe with a small herd of elephant just outside camp. After our own feeding time we were invited to inspect the camps kitchen and meet Amos and Isaac and the rest of the kitchen staff. With eco-friendly and very limited facilities I was amazed at the skill involved in turning out fabulous bush tucker!
Transfer to Amboseli
Having sorted out the tips box and signed the guest book we were on our way with a friendly farewell from Alphonse and the rest of the staff. Steve took us over to Mara Intrepids, very close to the airstrip and we had a quick tour with Benjamin. The facilities here are entirely different. It is a secured hotel, with swimming pool, kids club activities and there are no dawn game drives and no wildlife excursions after sunset. In my opinion it is good for families and those that would prefer not to have animals too close to them. There was a large posse of departing Americans who seemed to have had a relaxing stay, but is that why one would come to Kenya?
Our safari link aircraft ran a bit late and we dropped a couple of guests at Governors Camp a short distance (6 minutes) away before heading off to Wilson airport again. Flying at 5,000 feet on a sunny day is highly recommended with fabulous views over the Mara and countryside.
On arrival at Wilson, Ray and Benson greeted us, and we were given the chance to get some batteries and nibbles at the supermarket for the long drive to Amboseli Porini Camp.
The road to Amboseli is being upgraded and should be a lot more comfortable and provide a quicker journey, when it is completed around the end of the year. The work is carrying on 24 hours a day and will be a vast improvement on our experience. I would highly recommend flying to Amboseli (45 minutes) instead of the drive, even if it means an overnight in Nairobi on arrival, perhaps combined with a lunchtime departure from London.
Our drive took about 4 ½ hours and some of it allowed us on the new road, and the other half was over rough gravel.
Amboseli
We arrived after 4:00pm and were warmly welcomed by Oscar Okello, the manager here. He is a very jolly 60 years old and I liked him straight away. Amboseli Porini is actually located in the Selenkay conservancy and is a few miles north of Amboseli National Park. The facilities and service are a mirror image of Porini Lion Camp although the staff here differed inasmuch as they had more limited English, but Oscar more than compensated for any shortcomings.
My impression was of a well run, established camp, that was a little frayed at the edges but contained a warm African heart, and even had it's own friendly resident bushbuck!
After a quick refresh in the tent, we headed off for a sundowner / game drive and views of Kilimanjaro. There was some cloud around today but the mountain was, nonetheless, quite discernable.
Our guides for this part of the trip were Felix and Wilson (quite a ladies man) and what they didn't know would be found in the half a dozen or so reference books they carried in the Land Rover. Hardly anything went unexplained and where the camp may not have been absolutely perfect, the wilderness experiences were truly special. Again the staff had arranged a campfire and seats for us and when we apparently ran out of tonic, Felix ordered it up from camp and it duly arrived!
Wilson, a Masai, was so knowledgeable and he really seemed to welcome all the questions we bombarded him with and Felix was very well versed in all things connected with the animal kingdom. We saw lion, elephant; a few rare Gerenuks before heading happily back to Oscar's camp.
Wednesday June 18th commenced with a great African dawn chorus before we headed out on a full days drive. Lions don't often appear near Enkongu Narok Swamp in Amboseli, but they were here for us today, much to Felix's surprise and our delight. There were around 9 of them dotted across the area and also some gazelles and zebra keeping a wary eye on them from a retreatable distance, but at this time of day (about 10am) most were catching up on their 16 hours of required sleep per day.
We were out for a full days game drive and fully enjoyed the entire display from nature, from mammoth sized elephants to the tiny Superb starlings and blacksmith plover, the latter of which had created a nest complete with egg in the middle of the road! Felix stopped and collected some rocks, which he then put around the nest in the hope of making vehicles go around rather that over it. We also spotted a Malachite kingfisher hunting its lunch.
Malachite Kingfisher is a small bird, 13 cm in length. The general colour of the upper parts of the adult bird is bright metallic blue. The head has a short crest of black and blue feathers, which gives rise to the scientific name. The face, cheeks and under parts are rufous and there are white patches on the throat and rear neck sides. The bill is black in young birds and reddish orange in adults; the legs are bright red. Sexes are similar, but juveniles are a duller version of the adult. The flight of the Malachite Kingfisher is rapid, the short rounded wings whirring until they appear a mere blur. It usually flies low over water.
Superb Starling: A very common bird, the only way to avoid seeing it in Kenya is to keep your eyes permanently closed. In suitable areas it's quite often seen in company with the less common Hildebrandt's Starling. It's quite easy to miss the Hildebrandt's because of the considerable similarity between the two birds. The Superb Starling differs from Hildebrandt's in having white, not red, eyes and a white breast-band. The colour and markings can be, or seem to be, quite variable. In some lights the entire head, back and wings can seem to be a glossy blue with no markings at all.
The Blacksmith Plover is a striking bird and has a very distinctive call which resembles the sound of someone hammering a piece of metal. It is found on muddy shores and in short grass near water. They're very common at Amboseli and can frequently be seen wandering around the grounds at Ol Tukai lodge.
Today's safari involved literally thousands of wildebeest, zebra, buffalo, elephant, hippo, ostrich, gazelle, and it was all taken at a "pole, pole" pace. The elephant population here is quite large due to the presence of wheat and maize fields at the base of Mount Kilimanjaro, which have forced them to find pasture in Amboseli. A more relaxing day than others as Felix stopped under a tree and he and Wilson laid out lunch for us.
Afterwards, we climbed the observation hill, known locally as Noomotio, a Masai word meaning 'hill of inward hollow curved rocks filled with water'. It was formed during the Pleistocene period when Mt. Kilimanjaro had volcanic activity. The rocks scattered around it are granite, which is the hardest volcanic rock. This is a lovely spot to take lunch or sip on your sundowner as the sun bids farewell to another beautiful day and invites the galaxies of shimmering stars into view..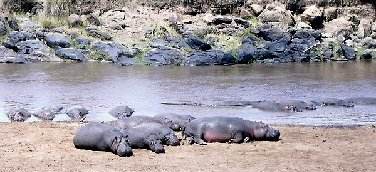 Masai Culture
After returning to camp, we had a quick break then headed off to the local Masai Village, with Wilson explaining and pointing out items of interest along the way. Masai, 2 up ahead of us and one follwing the group, escorted the walk. They showed us spear throwing and we were welcomed into their village by all the villagers singing and dancing. They do not try and sell anything here. The children do not beg. There are demonstrations of fire making; beadwork, games and we were allowed to see inside one of their homes made from wood and cow dung. They are meant to be temporary, since the migration of the cow population means that the Masai move as well. If one is interested in assisting the community by buying anything there is a small curio shop at Porini Amboseli, which can open at a convenient time for guests.
The Masai are a people who are continually trying to preserve their own ways in an increasingly modern world. They live along the border of Kenya and Tanzania, moving their homes from time to time to follow their cattle, the source of their livelihood. The Masai depend on their cattle for many parts of their life: they drink cow's milk and blood as a sacred drink. They use the cows' dung to cover and seal their homes. They don't slaughter their cattle for food; but if a cow is killed, then the horns are used for containers; the hides are used to make shoes, clothing, ropes, and bed coverings; and the hooves and bones are made into ornaments.
They have become known as a tribe of morani, or warriors, protecting their cattle against lions and other predators. Only men are warriors. They wear their hair in long braids, which are dyed with red clay. They can have more than one wife. The more cattle a man owns, the richer he is considered to be. A man who owns 50 or fewer cattle is considered poor. "Rich" men have a thousand or more. The cattle, though owned by the men, are considered to belong to the man's entire family. The family names the cattle and can recognize each animal's distinct voice.
Women build and take care of the home, fixing food and making clothing. They also make necklaces, dresses, and headdresses out of beads. Women and children keep their heads shaved. Women can also become elders, once they have given birth to four healthy children.
The visit was very enlightening and enjoyed by all and we thanked them all and made our departures, to another song from the village people (no, not those ones!) . We headed back to camp to get ready for our sundowner. We invited Oscar as well and he graciously accepted. Our final dinner at Amboseli was a delight, combined, as it was, with gleeful chatter and expressions of our very good fortune.
Tiredness was catching up with us all now so it wasn't a late night and we had a lot of miles to cover tomorrow so it was a relatively "early to bed" scenario to listen for the lions roar somewhere out there in the magical African darkness.
Transfer to Ol Pejeta Conservancy
An early coffee and shower, bag packing and a fond farewell to Oscar and his staff, saw us leaving at 07:30. Amboseli airstrip is about a 90-minute drive from camp; depending on how many animals you may want to see on the way. We took a very brief stop off at Old Tukai Lodge (a bit like Mara Intrepids).
Safari Link was a little late (this is not unusual) this morning but the airstrip has "facilities". A fond farewell to Felix and Wilson from us all, and we were on our way. Ben, our pilot said the trip may be a little bumpy (but, thankfully it wasn't) and we arrived into Wilson at 10:45, about 30 minutes later.
We were allowed a quick pit stop before boarding again on to Nanyuki. On the way there we dropped two ladies at Joys Camp near Shaba, adjoining Samburu and Buffalo Springs Reserve. Their luggage labels indicated they'd booked through Rainbow Tours. It is a Cheli & Peacock property and has all the comforts of a top class camp.
Onwards to our last bush camp (this time around). Porini Rhino Camp for one night only. We arrived into Nanyuki at 12:15 (late again) and were driven over the equator by Harry and Issa (his spotter).
We stopped briefly at the Equator Sign and had to avoid a few hawkers. A few of the group made purchases and we were on our way, now just north of the equator. We arrived passing by more giraffe, zebra, waterbuck and wildebeest but this time added a white (Weit) rhino into the mix!
Ol Pejeta Conservancy
We arrived and met Paul (the manager) who invited us to join him for lunch once we settled our things into the tents (same routine here; solar energy, escorted to and from tents when dark, hot showers and morning coffees etc…
After lunch, which was delicious again, we were taken on a short walk with three Masais who demonstrated their skills with the spears, as to who could hurl them farthest.
Harry collected us a little later and headed for the hills for our sundowner. The weather had changed and it was quite chilly and drizzly so it was a little shorter than normal, and we headed back for dinner. Anticipating a longish day tomorrow, I don't think I was the only one who needed their bed not long after tonight's dessert. I had more notes to write up and wanted to read up on some of the things I'd seen.
Final day in the bush: we had a 12:30 departure out of Nanyuki so had time to see yet more animals. Today was different in as much as we collected a lion tracker whom, we were assured, would deliver us the pride!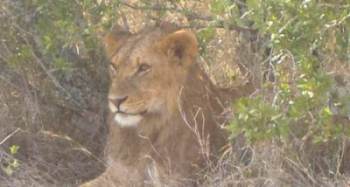 And so he did. About a mile from the Rongai gate on the Ol Pejeta Conservancy (about 40 minutes from camp) we tracked into the bush and after a little clever manoeuvring from Harry, we saw them…
I counted 8 lions but they were so bunched up, most of them sleeping that I can't be totally certain. But what a great sighting and so close (about 12 feet away from them). Our tracker seemed happy to have found them so quickly and we sat there and silently wondered at these fantastic creatures. One of them even raised his paw when were leaving as if to bid us farewell!
A short drive from here took us to the Sweetwaters Chimpanzee Sanctuary and there were a few visitors there (some of the first we crossed paths with) and it is worth the brief stop if you like apes, and perhaps want to adopt one. I found it a little like a zoo and so didn't take the full tour. There was one more treat to come before we left Ol Pejeta and it came as a surprise to us all.
Black Rhino Sanctuary
Old Pejeta is home to the largest Black Rhino sanctuary in East Africa. With the current weather conditions, I was very happy to see the white rhino on the way to camp on the day of our arrival. However, I hadn't seen Black Rhino. Yet.
The Ol Pejeta conservancy occupies the plains between the foothills of the Aberdares and the magnificent snow-capped Mount Kenya. The Conservancy comprises extensive savannah grasslands and the riverine forests that border the Ewaso Nyiro River. A visit to Ol Pejeta is ideal for nature, cultural fun and leisure lovers. Those who want to enjoy the adventures of the African bush (including the Big Five) within the confines of the modern comforts will have chosen wisely if they stay in this area.
Harry and Issa took us from the Chimp sanctuary back in the direction of the camp but took a left turn towards "Morani's Boma".
The Ol Pejeta conservancy is home to 77 black rhinos after the single largest rhino translocation ever undertaken in East Africa on February 3, 2007.
Morani was a tame black Rhino born in 1974, rescued as a baby after he was found wandering near his mother who had been killed by poachers in Amboseli National Park. After having been taken to three or four other locations where unfortunately his safety was put at risk by both the presence of poachers and attacks by other rhinos, Morani came to Sweetwaters Game Reserve where he lived in his own 100-acre enclosure, protected 24-hours by armed guards. He lived to be 34 years old, missing some of his primary horn.
Although Morani was classed as tame, all animals are unpredictable so, with that comforting thought in mind I went and met the animal today and considered the possibility of meeting my Maker too!
In Kenya the number of black rhino dropped from an estimated 20,000 in the 1970s to less than 300 animals in the 1980s. Through various efforts the remaining black rhino population has been protected from intense poaching and the current population in Kenya is estimated at 539. By 2010 Kenya will aim to increase its black rhino numbers to 650. One major challenge in coping with the gradual but steady increase in rhino numbers will be the limited availability of areas with suitable habitat and adequate security, the expansion of the Ol Pejeta Conservancy will help in this regard by providing a further 75,000 acres of prime black rhino habitat.
At the time we arrived and took the few hundred yards stroll through the bush, Frederick called to him and barely got a response other than a twitching of and eyelid. We were invited to get as close as we liked while Frederick kept his experienced eyes open for any signs of concern (from the rhino, not us).
I have to say I cannot ever remember stroking a rhino so I had a go. Having seen the power and majesty of the previous day's beautiful specimens of nature, this was an absolute delight. Morani was relaxing in the mid morning sun and seemed unconcerned by us and perhaps a little sad in his solitude. Perhaps he knew he was not long for this life?
He had a girlfriend called Carol, a warthog somewhere around here, but she was not in evidence this morning. Perhaps he was just a very laid back contented rhino? (I am using the past tense here, as since my return, I have read that he died on August 09th, 2008, 2 months after our visit. He'd had a tough life until being given his own space at Sweetwaters.
Morani's story is one of survival and strength. Born in Amboseli National Park, Morani was orphaned at the age of six months after his mother was poached. He was rescued by the Kenya Wildlife Service and moved to the Nairobi Animal Orphanage. It was at the orphanage that he was named Morani, meaning "young warrior" in Maa.
Once he was weaned and able to fend for himself he was moved back to Amboseli National Park. However, the dominant male rhinos constantly harassed Morani, forcing him to seek refuge in one of the lodges, where he was treated more kindly, but didn't quite fit in with the human residents. It was decided to move him back to the Nairobi Orphanage where he stayed until the Lewa Wildlife Conservancy offered him a home in its newly created Black Rhino Sanctuary.
On Lewa, Morani mated with a female black rhino named Shaba. While trying to establish his territory and fighting against another male, Morani was seriously injured. It was decided to take him back to Nairobi for treatment. He stayed at the Nairobi Orphanage until he fully recovered. In 1989, when the Sweetwaters Game Reserve (now Ol Pejeta Conservancy) was opened as a Black Rhino Sanctuary, Morani was relocated and became the sanctuary's first black rhino. Ol Pejeta Conservancy provided Morani with a 100-acre enclosure of ideal habitat and round-the-clock security. Sadly, Morani was never released into the wild again due to his history of injuries, which prevented him defending himself against predators or other rhinos.
All true characters must come to an end. Morani was a fantastic draw for Ol Pejeta visitors, through his good nature and willingness to allow them to get a hands-on experience and an insight into the day-to-day life of a black rhino. During their visits, young and old were educated about the plight of black rhinos in Africa, and what must be done to ensure their survival. "Morani was the best Ambassador for all black rhinos in Africa for many years" says Batian Craig, Wildlife and Security Manager on Ol Pejeta. "We at Ol Pejeta feel an immense sense of loss, not only for ourselves, but also for the species in general. Morani will be impossible to replace."
On this YouTube video you can see him in happier times:
So, another thank you to the guys of Ol Pejeta and we were on our way out of the park bound for Nanyuki for our sixth flight in as many days. We arrived to find out that Safari Link was delayed, which would have a bit of a knock on effect for our hopes of making Nairobi and the Holiday Inn on time for a chance to freshen up before the workshop and dinner that was to follow later on today.
Our flight arrived about an hour late and thankfully, was a direct service to Wilson and the waiting Ray from Gamewatchers who had taken us to Amboseli on Tuesday. It was collectively agreed that we must go straight to the Safari Park Hotel for the workshop, which was due to start imminently.
Nairobi
Now, I'm not going to labour the point, but after several stunning and memorable days in the bush, nothing can prepare you for the polluted turmoil that is Nairobi. The traffic, the fumes, pedestrians seemingly carrying a death wish in their souls, and some crazy motorists do not make for pleasant driving. The streets were infested with thick snail-like rivers of polluted traffic, much of which was caused by the local matatus. And, just why do they call it the rush hour when nothing moves?
However, the issue is being addressed and improvements are slowly but surely happening. They simply have to. From a tour operator's perspective, I would always recommend flying to destinations until the infrastructure joins the rest of us in the 21st century. Kenya WILL get there, we just need a little patience.
The tourist is rarely affected by crime. In fact, I have rarely felt so safe and watched over. Kenya is not Zimbabwe. (Kibaki is not Mugabe.) Kenya is not Rwanda (whose tired and tortured heart is now recovering). Kenya is a safe destination for tourists, as long as they are in the hands of knowledgeable experts and simply follow simple and obvious rules and are willing to heed the advice of those that know.
I attended a Tourism conference, enjoyed a banquet at The Carnivore Restaurant and headed back to The Mayfair Hotel, tired but happy with the trip.
Going home
The next morning at Nairobi Airport, and flew via Mombasa (on the ground for 45 minutes) then headed for London on a half full flight! This gave me the chance of chatting with some of the friendly crew (I can truly recommend Kenya Airways for customer care and comfort).
The crew serving my part of the cabin were again friendly and I had a good chat with Washington, my steward for the day. We arrived a little early into Heathrow (4:40pm) and the usual ritual then slowed everyone down a bit. Immigration, baggage reclaim and customs, always fills me with wonder. (I wonder if I'll see my luggage.)
However, all was well and I headed home about 2 hours after landing. And on the way, and ever since, I recalled the wonderful experiences that await the keen safari traveller, in this magical part of the timeless continent that is AFRICA!
Back to Kevin's e-mail interview »
Comment on Kevin's trip report »
| | |
| --- | --- |
| Safari Location: | Masai Mara, Amboseli and Ol Pejeta Conservancy in Kenya |
| Safari Company Used: | Gamewatchers Safaris |
| Duration: | June 14-21 |
| Traveller Details: | Kevin Guidera, UK |
| Rates & Availability: | Plan your own safari. Make an enquiry |
More Masai Mara Safari Reviews