Tanzania Camping Safari Review
Arik used this site to help plan a Tanzania camping safari for him and his 13-year old son. He got in touch afterwards to tell me how it went...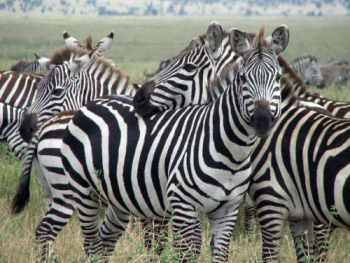 We found Good Earth Tours on african-safari-journals.com, but it took a while before I got up the courage to part with so much money over the internet. It turned out to be an excellent decision. Apart from the recommendation on ASJ, I was pleased with the swift and detailed response that they sent to my initial enquiry, and with the helpful advice that they gave while we were crystalising our ideas for an itinerary - I think we exchanged something like 15 emails while we were changing our minds. We were interested in all kinds of extras, such as a night time safari and also hiking. In the end we explained what we wanted an they built an itinerary which fitted the 7 days perfectly.
The trip was for my 13 year old son, whose dream was to go on a safari to the Serengeti. It's true to say that his dream was realised - and exceeded.
Our guide
Our guide, Ben was excellent. I recommend him to anyone who goes with Good Earth Tours, and I recommend Good Earth to anyone who goes on safari.
He was very experienced (11 years as a guide), which makes a big difference. Not only could he spot animals that we couldn't see even if we were on top of them, he had a feel for everything that drew us in to the whole experience.
He was very knowleagable about the animals, which was really good because both my son and I are too... but we learnt lots of new stuff. Several times he would stop the jeep and say, "Those zebras look nervous. I think there's a lion over there". After waiting for a few minutes, we'd see a tail flick above the grass - it was quite incredible.
Just as important was his humour and friendliness - truly an ideal person to spend a week in the savannah with. His professionalism also extended to the driving - which can be uncomfortable at best and treacherous at worst. On the first day we passed a jeep of disgruntled tourists with a flat tire. Ben gave the driver (from another company) a jack and we moved on - it seems that they'd only just discovered that their jack wasn't working, whereas Ben always takes a spare.
Group size
We travelled just the two of us, with our driver/guide and cook, and hit it off really well with them. My son is now teaching all his school friends the Swahili that he learnt from Osman the cook during our Tanzania camping safari.
We wanted a Tanzania camping safari, but Good Earth recommended two nights in lodges; one to allow us to do a night time game drive outside of a park, and the second so that we could explore the northern Serengeti as well as just the more crowded south.
In the Serengeti National Park we stayed in Seronera at the Pimbi campsite. "Pimbi" means hyrax in Swahili, although we didn't see any hyraxes there, there were wildebeest and zebra grazing in the field next to the tents. Apart from that, the animals didn't seem to come too close. Beni said he heard lions roaring at night but I'm afraid I was too exhausted and fell asleep immediately when we got into our tent. There were enclosures for cooking and eating (caged, so that baboons wouldn't come and steal your food while you're eating), a water tank and tap for washing, and an outhouse. "Outhouse" sounds quite poetic, but it's really just a hole in the ground, and definitely caused several campers some discomfort. Fortunately, when we were there they were almost finished building a new set of toilets and showers, which hopefully will be a bit more comfortable. One of the things you have to get used to on a Tanzania camping safari is toilets without flushing. But other places had at least a seat, which makes the process somewhat more tolerable.
In the Ngorongoro rim we stayed at the Simba campsite - very picturesque, especially in the early morning shrouded in cloud. But it was COLD. Fortunately, the sleeping bags we hired from Good Earth were Kilimanjaro quality - the ones we brought with us (which didn't arrive) would have been problematic.
We also stayed one night at the Lobo lodge in northern Serengeti. It's very beautiful, with a lovely view and interestingly designed dining room built on top of and incorporating a kopje, and of course it's a relief to have a break and use a flushing toilet from time to time. But I was pleased to move on; it's a bit too much like a western hotel, and is lacking the character that makes an African safari special. I preferred sitting at a camp table with Beni and Osman teaching us Swahili, to being waited on by uniformed hotel staff who won't let you carry your bag by yourself.
Near Tarangire, we stayed at the Kikoti camp, which was a nice compromise between the two. Separate accommodation (on stilts) and an open hut dining room and lounge. This was our first night in Africa, so it was an exciting surprise to be told that we couldn't walk to and from our hut without armed escort, because of the possibility of animals wandering into the camp. So we had to go to and fro with a camp worker armed with a spear, or sometimes a bow and arrow. I don't know how much of that was for the tourist benefit, but it was certainly unique.
One thing to watch for is that everywhere charges you for water with meals. If you have plenty of bottled water in the jeep, bring it with you when you eat, because the lodges charge three times the street price.
Given the simple conditions, I think that Osman did a good job providing variety in the food we ate during our Tanzania camping safari. Most meals we had soup, and some kind of stew (fish, meat, chicken) with rice and vegetables, or sometimes vegetable omelette. It was simple, but tasty and filling. For breakfast, fruit, omelette and sausages. When we were out on game drives for lunch, we had boxed lunches, based around grilled chicken.
The food was certainly reasonable, although not the focal point of the safari.
I guess we expected Africa to be hot and steamy, but we were so pleasantly surprised when we stepped off the plane. It was cool and pleasant throughout our Tanzania camping safari. Perhaps it's because we come from a very hot country, but for us the weather was ideal.
The exception was Ngorongoro which was simply cold. When we did the game drive down in the crater, it was late in the morning before it warmed up enough so we could take our sweaters off.
One thing to look out for, though. Although the temperature was cooler than we are used to, the tropical sun rises much more steeply, so even at 9am, and in the late afternoon, it's strong enough to burn. It was partly cloudy the whole time we were there, but when the sun did come out, you needed protection against it.
We spent most of the days doing long game drives at our own pace - or more accurately at my son's pace. We saw just about everything.
The biggest highlights of our Tanzania camping safari were:
two cheetahs chasing, and catching, a gazelle
two lionesses with a kindergarten of 7 lion cubs
a huge - I mean huge - herd of migrating wildebeest. We sat in the jeep while at least 2000 streamed across the road both in front and behind us.
We saw four leopards (including two that I was very proud to have spotted myself in long grass!), two servals, lions mating, lions stalking wildebeest, elephants charging us... in every way it exceeded our expectations.
Ben would usually suggest what we should do any particular day, and we took his advice. One morning he suggest leaving before sunrise (that was the time we saw the cheetah kill), and then, because my son was still restless after returning for breakfast, he took us on an extra game drive before lunch.
We did two extra activities, both arranged for us by Good Earth, but neither run by them. I can't help thinking that they would have been better if Good Earth had done them, though.
The first was a night time drive at Kikoti. It was quite fun, with some poor guy sitting on an exposed seat attached to the outside of the jeep, shining a spotlight around the bushes. The only problem was that we didn't see very much. I'm sure that if Beni had been driving, we would have continued until we'd found some interesting animals, but as it was, there was 45 minutes and then time up.
The other thing that we did was a hike in the Ngorongoro rim. We had (probably unrealistically) wanted to do a hike where we could see animals too, but for obvious reasons, they don't allow that. As it was, we had to take an armed ranger with us just to go walking on the mountainside. Again, not much to see, but if you like hiking (as we do), it's challenging. Starting from 2500m (higher than any mountain peak where we come from) we hiked to 3000m, and the effect of the altitude is very hard on the inexperienced like us - but that's what made it somewhat special.
I have plenty of advice for people planning a Tanzania camping safari:
First, as you pack, ask yourself of every item, "If it got lost, would it ruin my trip?". If the answer is "yes", PUT IT IN YOUR HAND LUGGAGE. We traveled Ethiopian Airlines via Addis Ababa, and our checked baggage simply didn't make it onto the plane to Kilimanjaro. When it didn't appear (and the staff had rummaged around in the aircraft hold looking for it), we joined the long line of people reporting lost baggage... Fortunately, the only important things there were our sleeping bags, and Good Earth rented us some replacements.
Secondly, bring a video camera. Everything on safari is very dynamic, whether it's a dramatic cheetah hunt, or just a herd of gazelles wagging their tails in unison. I took loads of video on my digital camera, but the resolution is low, and it eats up memory cards.
Also, bring a wooly hat. Those early morning game drives standing in an open top jeep can be hard on the ears. In general, we found that we needed more warm clothes rather than cool ones on our Tanzania camping safari, especially in Ngorongoro. More safari clothing tips...
Bring a car adapter for your battery charger. It's good piece of mind that you've always got a spare set of batteries on charge.
Also binoculars are important, they bring you right up close to those animals you can't get to. We brought some cheap ($50) 10x50 ones, although I understand that 8x40 is more usual.
Regarding photography, there's lots to say:
The most important thing is, don't bury yourself in the camera. There's so much going on and so much to see, your pictures can only remind you of the experiences - you have to experience them yourself. Having said that, it's wonderful to catch everything on camera, and the pictures do come out great! I found that I would run off a few shots at the first opportunity of something interesting, then sit and watch for a while, then take a couple of more thoughtfully composed pictures.
I'm not a serious amateur photographer, but here's my setup. We took a Canon S3 digital, which has an excellent 410mm zoom lens - perfect for safari. True it's not like a $2000 DSLR with a couple of lenses, but for $350 it's as close to perfect as you'll get for a reasonably price. Although the powerful zoom (x12, image stabilised) is very useful, the animals do get very close, and you could manage with a lot less. As with everything, you should take a backup.
Even a little point-and-shoot in case something goes wrong. We also took an old film SLR of mine, with a 600mm mirror telephoto. Since the digital was our main camera, I only took 6 rolls of film with that one, which we used mostly for the more distant shots, or where we wanted a real close up. As for memory cards, we used almost 6Gb during our Tanzania camping safari... expensive, but worth it. Shoot everything on maximum resolution with "superfine" compression - these are the kind of pictures that lend themselves to enlargement, after all.
More African wildlife photography tips ...
| | |
| --- | --- |
| Tanzania Camping Safari: Rating (on a scale of 1 to 10) | |
Although there were a few things that weren't perfect, so many things on our Tanzania camping safari exceeded our expectations, I'd have to give it a 10. We just didn't expect to see so many animals, and so close and so "alive", that we definitely came away with a feeling that we'd been treated to an experience that was beyond what we'd bargained for.
In summary, we had the experience of a lifetime. No regrets, no disappointments, it all worked out exactly as we wanted - and better.
| | |
| --- | --- |
| Safari Location: | Tanzania: Tarangire and Serengeti National Parks, and the Ngorongoro Conservation Area |
| Safari Company Used: | Good Earth Tours |
| Duration: | 7 days, July 2007 |
| Traveller Details: | Arik Kershenbaum, Israel |
| Rates & Availability: | Plan your own safari. Make a Tanzania camping safari enquiry |
More Serengeti Safari Reviews