Tarangire And The Northern Circuit
I think it would not be unfair to say that at the Tarangire river park we saw 500 elephants, probably a 100 of them the first afternoon. We saw everything, including 3 leopards, lions and cheetahs. We watched a cheetah kill from a distance, through the binoculars.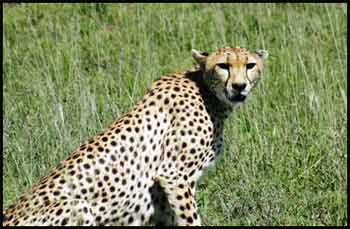 Where did you find the tour operator and how did they perform?
I've been saving newspaper articles out of our local newspaper here in Houston for years on safaris, and there were several articles in the past naming Ker & Downey as a great company to try for a private safari and so we contacted them via the internet. It turned out they were about 15 miles from our home!
So we did all our arrangements through them locally in Texas and they contacted Kibo Safaris to set it all up. When we arrived in Arusha, we were greeted by Kibo and from there on to Tarangire and everywhere it was handled.
It was so professionally done, it was wonderful. I can't say enough wonderful things about our guide. His name was Eric, he was local from Arusha. From the moment they picked us up late at night in Arusha at Kilimanjaro Airport untill they delivered us back, it was just handled perfectly.
| | |
| --- | --- |
| How was your accommodation? | |
The first two nights at the Tarangire river camp were in luxury permanent tents, hardwood floors, area rugs, wrought iron beds with mosquito netting, en-suite bathroom & shower, it was absolutely gorgeous on an escarpment overlooking the river. The Tarangire lodge was built round one of those huge, old baobab trees and all open air, so that was lovely.
The Ngorongoro Farm House, just outside the crater park, was again lovely. Apparently it was a working farm so we had all organic food at the lodge, that was beautiful. With bungalows spread out among the fields, so that was also lovely.
And then of course my favourite was the four days in our private camp where we had our own staff, our dining hall, our personal tent and the mess hall. It was just incredible.
| | |
| --- | --- |
| How about the food? What would a typical breakfast and dinner consist of? | |
Ah! Our food in Tarangire and the rest was wonderful. We had a full breakfast: eggs the way you ordered them, porridge, French toast, fruits, juices, great coffee I might add.
For lunch, the majority of our lunches we took as box lunches since we were anxious to be out viewing game as much as we could. But they were wonderful: hard boiled eggs, chicken, pieces of pizza and quiche.
The dinners were elegant. We had wonderful soups, wonderful salads, fresh vegetables, we had chicken, we had lamb, we had pork chops, we had spaghetti one day, it was wonderful.
| | |
| --- | --- |
| Concerning the weather... did the drought affect your safari? | |
Yes they were having a drought. What we found with Tarangire, being always water in that river, it was very green and just tons and tons of animals in Tarangire.
We were lucky when we got to the Serengeti we had one day of rain, one afternoon of rain really but it filled up the ruts in the road so the animals were out drinking on the roadways, and actually the land was fairly green considering they were still waiting for the big rain.
| | |
| --- | --- |
| What kind of wildlife did you see, and what was your wildlife spotting highlight? | |
I have to tell you, my husband and I had no idea what to expect and we thought that if we saw 10 elephants, 5 giraffes and maybe 3 lions we would just be on top of the world.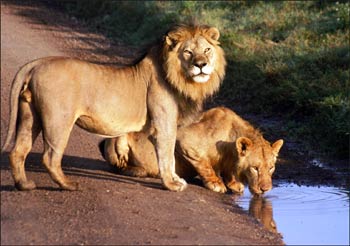 We saw the rhinos in the Crater, I don't think there was a thing we missed, it was fabulous!
One night we had a male lion about 20 ft from our tent and he was very agitated because he couldn't get his pride to answer him. He was calling them early in the evening and just kept it up all night. They were obviously hunting and surrounded by wildebeest so they didn't answer but he was very upset - our guide thought there were other lions in the area.
There are no fences around the camp. We had a machete under our bed and a whistle in our tent for the worst possible emergency but we just lay quietly and listened.
Did you manage to see wild dog in Tarangire or elsewhere?
No, we read some articles recently about the wild dog and supposedly they're making a small come back in the centre of the Serengeti but we did not see any on this trip.
I understand they're quite rare. Everybody that sees them get so excited.
But it sounds like you saw everything else, that sounds amazing.
It was just incredible. The number of wildlife that we saw amazed us. We had three great days with the migration right in our area of the Serengeti so we probably saw a million wildebeest with our own eyes, it was terrific.
So was the guide pretty good at spotting these animals?
Our guide was exceptional. He had quite a background in the national parks service and he'd been a hunting guide before, so he was non-stop information and had great eyes. I mean he would spot it and point it to us, so we could find it with our binoculars and we had just tremendous luck seeing the animals.
Did you go on any Tarangire guided walks?
No, we stayed in the vehicle for the most part. We got out of the car a couple of times to climb up a kopje in the Serengeti and that kind of thing but we did not make any actual walks.
| | |
| --- | --- |
| Could you describe a typical day in Tarangire or in general, say from the moment you woke up until you went to bed in the evening? | |
In the Serengeti we were usually up at 05:30 or 6 o'clock. Our camp manager would come towards our tent with hot coffee and warm water for our basin where we washed our faces. The guide picked us up at 06:15 and we were out on the plains by sunrise.
It was amazing because when you see those animals early in that beautiful light, it was unbelievable. We would sometimes have our breakfast while we were driving - maybe some fruit and hard boiled eggs and come back to the camp at maybe 11 o'clock for a large brunch.
In the afternoon we'd maybe take a small nap or just sit in the shade and talk about the fabulous animals we'd seen in the morning.
Usually at 3 or 3:30pm we were back out making our game drive. The afternoons were terrific. We were usually back in camp by I would say 5 o'clock. And they always greeted us with a hot towel to wash all the dust off our faces and hands and a cocktail. We had a camp fire at about 6 in the evening and talked about our plans for the next day and the experiences we've had, then a lovely dinner by candle light around 7:30pm.
To be honest, once you saw those beautiful stars at 9 o'clock they walked us back to our camp and that was it for us! It was paradise!
| | |
| --- | --- |
| Would you say there was anything that didn't meet your expectations, or any disappointments on your trip? | |
To be perfectly honest, there was nothing that disappointed us. Everything was so efficiently run, the schedules for Tarangire, Ngorongoro, Manyara and Serengeti were all so well set up that we never had a delay or any kind of hitch in the plans. If he said we were going to leave at 8 o'clock, we left at 8 o'clock.
The country was amazing, the people were friendly, everything surpassed our expectations.
| | |
| --- | --- |
| Did you learn anything about the culture of the people themselves? | |
Through talking with our guide, Eric, every night over the campfire and dinner, we learnt quite a bit about the culture and of course he had an ongoing talk to us as we'd pass the villagers about their lives and schools, the children, so yes, we did have the opportunity to learn about the culture.
Certainly we were impressed with his pride in his country and he imparted that almost every night.
| | |
| --- | --- |
| Any tips or advice you'd give to people who are planning a similar safari? | |
Don't wait! Go now! It's just such a fabulous experience and it can be done so easily if you have a good company to arrange it. It's just an experience I think everyone should have, it's just unbelievable.
Would you say the length of time that you went to Tarangire and the other parks was about right?
I always think it's never going to be long enough when I'm going and when I get back I look back and I think it wasn't long enough. But I think 10 days is a very good length of time, you don't want to be exhausted and you want to enjoy every day and I think 10 days was great. It was 12 days when you include travelling, but I thought that was a great length of time.
| | |
| --- | --- |
| What was the most useful item in your luggage, something you couldn't do without on safari? | |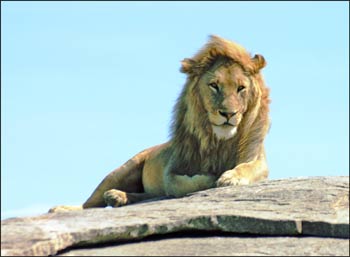 I would say it would have to be my camera.
I laid it around my neck from 6 o'clock in the morning until 9 o'clock at night and there were just so many opportunities to take shots of everything - animals, birds, trees, scenery. You cant live without a camera.
I have a fairly new digital camera, I'm still so excited about my pictures I can't stand it! I narrowed it down to 712!
| | |
| --- | --- |
| Last, but not least, how would you rate your Tarangire safari overall? | |
As the experience of a lifetime. On a scale of 1 to 10, I'd give it a 12. It was fabulous, absolutely more than we ever expected.
| | |
| --- | --- |
| Safari Location: | Tanzania - Tarangire National Park, Lake Manyara, Ngorongoro Crater, Serengeti National Park |
| Safari Company Used: | Booked with: Ker & Downey, local operator: Kibo Safaris |
| Duration: | 10 days, April 2006 |
| Traveller Details: | Kathy Adams, USA |
| Rates & Availability: | Plan your own safari. Make a Tarangire enquiry |
More Serengeti Safari Reviews