Superb Tanzania Wildlife Safari
Before she went, Peggy was concerned as to which tour operator to choose for her Tanzania wildlife safari. I spoke with her on the phone to get a review on how it turned out...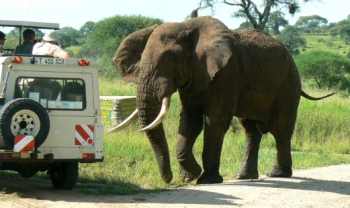 Thomson Safaris.
Was it a pre-designed itinerary or tailor-made for you?
Pre-designed. There was a tour group of 16 people. We met at the airport and stayed together for the entire 10-day wildlife safari. We had the itinerary ahead of time so we knew exactly where we were going and how long we were going to be at each place.
It worked out really well; it was paced nicely. We had some time where we just did a lot of driving, watching the scenery, seeing the people in the villages and that just gave us a chance to relax, talk and bond before we went to the next park.
We had good opportunity to mingle with the other guests. I have to say we still keep in touch now [May 07 - Ed]. We bonded so well, we were such a good group. There were different ages, some single women travelling together, young married couples, older married couples, my son and I were together ... so it was a nice mix of people. We got along extremely well and we just had a great time.
How did Thomson Safaris perform?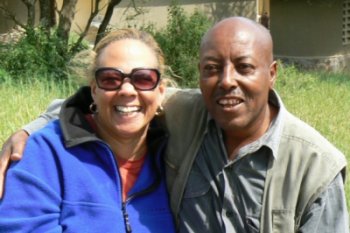 They were wonderful from the very moment they picked us up from the airport. They took really good care of us; the wildlife safari guides were very knowledgeable - they were able to answer all of our questions and were very patient with us.
Sometimes we wanted to stop and watch a herd [or "dazzle" - Ed] of zebra for an hour and they just sat with us, talked to us about them, explained their different habits. They talked about the country and their lives,they were just really good to us.
At night they stayed with us. We'd have dinner and talk about different personal things and in the mornings we were excited to see them and we would switch trucks up and go with different guides every day ... they just were really great.
Would you recommend somebody else use them for their wildlife safari?
Absolutely, without hesitation.
The only thing I have to say is that I've done a lot of internet research and I think you could probably have done a wildlife safari for a little cheaper than we paid for it, but I can't say for sure.
I have no problem whatsoever with the amount of money we spent. It was well worth it and we were well taken care of.
What vehicle(s) did you use for wildlife safari viewing?
There were 3 safari trucks. We had our head guide and a driver in one truck and then we had two other trucks.
Our first night was nice. Of course we got there very late after 18 hours of travelling so we had a nice lodge not too far from the airport right outside of Arusha.
In Tarangire we only stayed during the day then we started heading towards the Crater, where we stayed at the permanent tented camps of Thomson Safaris.
We loved those wildlife safari tents - they were very comfortable, very cosy. At night they put lanterns outside and we would relax. We could hear all the animals at night. We would sit around the camp fire most nights, just talking with the group and with our guide.
One night in the Crater was extremely cold and we had the hot water bottles in our beds - that was nice.
We found the showers interesting - we were not used to it. We loved the idea of them bringing the hot water to the showers.
We were just well taken care of and it was truly a wonderful experience.
The food on our wildlife safari was excellent. I was very surprised.
Our breakfasts were great: a variety of fruits, yoghurts and cereals. Then we had sausage, bacon, eggs, pancakes, potatoes and all kinds of toast and fresh orange juice, fresh mango juice which I fell in love with, coffee and tea.
The dinners always started off with a delicious soup and then meat, vegetables and a starch.
We had rain the first day when we got to the Crater. We were so excited to go into the Crater and didn't think we could do it but then it let up just enough to enable us to enjoy a wildlife safari inside the Crater for a couple of hours ... then it started pouring again.
One night we got a really bad thunder storm which was actually pretty exciting. Then maybe it rained a little bit one more day. So not much rain at all.
And it was very hot.
It was all wonderful. We spent a day at Tarangire, three at the Crater and four days in the Serengeti.
My favourite will have to be Tarangire. I thought it was absolutely beautiful, the trees were so bright green, the land was lush, there were a million elephants! They were just everywhere and with the creek or river that ran through the park and see the elephants on every side, it was just beautiful to me.
Besides the elephants that were unbelievable at Tarangire, we saw our first pride of lions at Tarangire also, so of course that was amazing to pull up right beside to a whole pride of lions and just sit there watching them, so that was very exciting.
The other thing I really loved, was we touched on part of the wildebeest migration - so to see thousands of zebra and wildebeest was overwhelming. We were able to see - oh I can't even tell you how many - wildebeest being born while we sat there and watched them; that was just unbelievable.
It's a great time. There were wildebeest and zebra as far as you could see.
Were there predators hanging around the new-born wildebeest?
Yes, many. You could see them all around the outskirts. They were just kind of laying around, just had a watch. We didn't see a kill or anything - which is fine with me, I didn't want to see that - but yes, they were all around. Cheetah and hyena
Unbelievably, we saw two leopard. We saw one in a tree with an impala; we were able to see one pretty close up on a huge rock. Absolutely the most beautiful animal I've ever seen in my life. Their coat is so beautiful and they just stare at you, they're so beautiful.
We were told that some people can go on a wildlife safari many times and never see a leopard and we saw two.
Were you happy with the amount of wildlife that you saw?
Yes, absolutely. An abundance of absolutely everything. We saw monkeys and baboons and beautiful birds… the only thing we didn't see was a snake, and that was okay with me!
We went to a Maasai village. I have to say that I didn't feel very comfortable going into the village because I felt like this was their private homes and I didn't want to feel like an intruder. They kept reassuring us that we were more than welcome. But I stayed outside of the village and I talked to some of the people outside.
They would come by our tent and say "Jambo, jambo", which is "good morning" and they would bring us our bottle of water. Then we'd get up, go and wash up and quickly go to breakfast. So we'd all go into the tent and breakfast would be ready.
Our guide would go over what we were going to do for the day. We'd finish breakfast and pile out with our duffel bags or day packs and decide who was riding in what truck and get ready for our day.
The day started anywhere between 7 and 8am. We'd have a little lunch that we'd pack up, get into the trucks and be out for the entire day, getting back to camp probably 4, 4:30pm in time to relax and wash up for dinner.
Did you eat your lunch in the vehicle or get out?
Most of the time we would get out. The guides would of course select the areas that they felt were safe and then they would get out and check the areas out themselves and then if everything was okay we just get out … we'd sit in the grass, or on rocks - it was just beautiful.
It was reasonably flat because we wanted to be able to see what's coming our way. There were a couple of times when things didn't look too comfortable so we sat in the trucks and ate.
Was the wildlife safari program tiring?
No… the days were very active: we got up early and were out all day. But we were just so in love with Africa, the animals and everything that by the end of the day we were, yes, physically tired but we stayed up late talking and we were just excited at the end of every day and couldn't wait for the next day of our wildlife safari.
I do have to admit that when we finally did get into our tent at night, we went right to sleep and slept all night.
Except for a few nights when we heard some animals outside which woke us up!
There were hyenas outside our tent one night. There were monkeys or something else running across the top of our tent, and we could hear lions roaring in the background.We had the Askari (guide) out front at night and the next morning he told us that the lions were far away so he wasn't worried about it.
Read another account of hyenas around the tent at night...
I have to say: absolutely nothing. I wasn't disappointed in any way about anything - really. The wildlife safari was just as wonderful as I thought it would be, and more. It was my first trip to Africa and I intend to go back many many more times.
Make sure your clothes are comfortable.
Oh, you asked me about disappointment - I do have to say one thing. The weather was cold and rainy on the days that we needed to do laundry. So we had to wear relatively dirty for a couple of days. That was no one's fault, it's just the weather. I wished I'd brought more underwear, more socks. I would suggest that people bring enough underwear and socks for every day and an extra pair just in case. Because you do get really dirty on a wildlife safari.
What was the most useful item in your luggage?
Plenty of hand wipes and the wipes you can use as toilet paper - those came in very handy.
How about protection against mosquitoes... did they bother you?
We did not get bitten one time by mosquitoes but the tsetse flies are horrible. In Tarangire park they were really bad. But we kind of expected to see them and we just kind of fought them off and laughed about it.
I wasn't bitten by anything at all.
| | |
| --- | --- |
| How would you rate your total wildlife safari, on a scale of 1 to 10? | |
I'm going to give it a 10. It was just so wonderful, I have to give it a 10!
It was just a great experience; I can't wait to go back. I'm trying to go back to South Africa or Tanzania next year.
| | |
| --- | --- |
| Safari Location: | Tanzania: Tarangire NP, Ngorongoro Conservation Area, Serengeti NP |
| Safari Company Used: | Thomson Safaris |
| Duration: | 10 days, February 2007 (+ 3 days travelling) |
| Traveller Details: | Peggy Brydie, USA |
| Rates & Availability: | Plan your own safari. Make a wildlife safari enquiry |
More Ngorongoro Safari Reviews